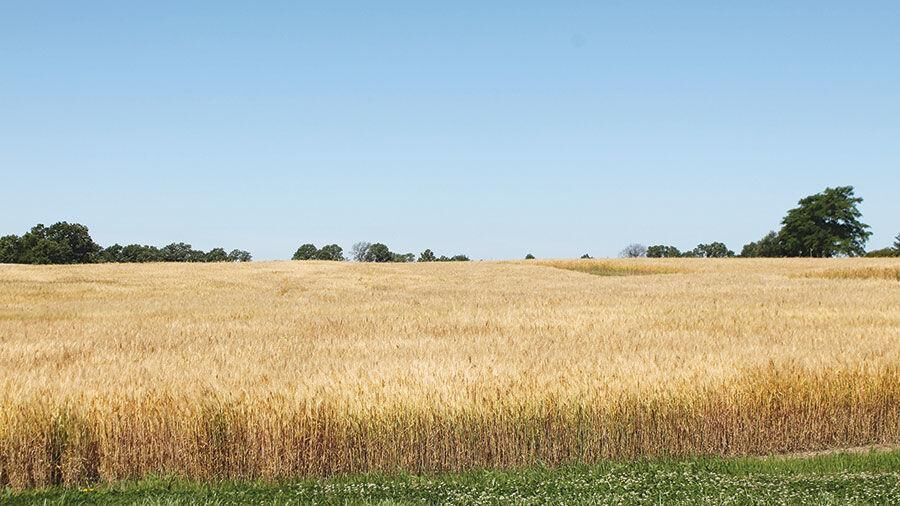 Immediately following July 4, the wheat market saw some sell-offs, which brought prices lower.
"We hit the Fourth of July fireworks in terms of volatility, not necessarily moving markets to the high side," said Jim Peterson, market director for the North Dakota Wheat Commission.
"For the spring wheat market prior to the Fourth of July, the major concern in the market was obviously the extended period of hot temperatures and lack of rain and really the poor condition of the spring wheat crop," he continued. "We saw September futures approach the $8.50 level, which was up from $7.50 in mid-June, but right after July 4 we've seen some pretty major sell-offs in the market. We were down 50 cents on the Minneapolis futures."
What's driving it is the fact the region did pick up some rains and some of the nearby forecasts were calling for more seasonal temperatures.
"In my mind the question is: Is it more of a reaction to the benefit this is going to have for corn and soybeans and the overall commodity market as opposed to really benefiting the spring wheat crop? Time will tell," he said.
The reality, according to Peterson, is that a lot of the spring wheat crop is in tough shape and yield improvement is non-existent, especially for the early portion of the crop and probably even some of the mid-portion of the crop.
"It's really only the later planted crop that can benefit in terms of yield enhancement from a cooler July and more rains," he said. "But I think overall there's more of the crop that pretty much has its yields set. The benefit from rain and cooler temps would be better kernel fill, which we certainly need to maintain some quality in a lower yielding crop."
Spring wheat wasn't the only crop that saw prices move lower following July 4 as corn was down 50 cents a bushel and soybeans were down 70 cents.
"That's kind of what the overall market is reacting to," he said.
Peterson pointed out that spring wheat has "struck out on its own" due to the intense drought conditions, not just in North Dakota and South Dakota, but expanding into Montana and Minnesota, as well as parts of Canada. The question is how much independence it can maintain going forward.
Looking at current market spreads, Minneapolis wheat is at a $2 premium to Kansas City winter wheat and about $1.60 to Chicago. Peterson noted that both those markets will be under pressure going forward, especially if the Corn Belt continues to receive rain simply because they're competing with corn for feed demand and those two classes are competing more directly with world wheat values.
Also, both Europe and Russia are looking at improved crop prospects and are getting into their harvest, so the market can certainly expect some nearby pressure there.
"We'll see, going forward, if Minneapolis can catch fire again," he said. "I know in a lot of producers' eyes that values should be higher and I think producers will be tight holders of inventory."
Peterson feels a lot of decisions will be made in the next few weeks on what portion of the 2021 crop, especially in North Dakota and South Dakota, goes into forage for livestock or is abandoned simply because the yield expectations are so low.
As of July 5, the latest crop condition rating for spring wheat shows that 16 percent of the national crop was rated in good-to-excellent condition, while 50 percent was rated poor-to-very poor. That compares to 69 percent rated good-to-excellent and only 6 percent poor-to-very poor last year at this time.
In mid-June a major part of the drought was in North Dakota and still is, but, Peterson pointed out, what got the market more concerned was at the end of the month it started expanding into Montana and Minnesota where crops had been holding much better. Currently in South Dakota and Montana, about 60 percent of the crop is rated in poor-to-very poor condition and in North Dakota 50 percent is rated poor-to-very poor, while Minnesota is about 30 percent poor-to-very poor.
Looking at crop development, maturity has been pushed by the hot temps with about 50 percent already headed as of late June. Normally only about 40 percent is headed at this time and last year only about one-third was headed.
"So the growth cycle in the crop has definitely been accelerated, which will lead to an early harvest. It's also a factor that's going to lead to lower yields," he said.
In other news for spring wheat, USDA released an updated planted acres report on June 30 that showed overall U.S. planted spring wheat acres total 11.6 million acres, which is down 4.5 percent from a year ago. In March, the trade was expecting 11.75 million acres.
Surprisingly, North Dakota saw an increase in planted spring wheat acres and is now up to 5.95 million acres. That compares to 5.6 million that was expected in March and 5.7 million last year.
"I think that in areas that were too dry to plant canola, some of those acres got rolled into spring wheat," he said. "We also had a lot of prevented plant acres last year in the central and eastern part of the state and producers kind of split the acres between corn, soybeans, and spring wheat.
"On the upside, we do have more planted acres in North Dakota, but we're obviously not going to harvest what we typically do each year due to the drought," he continued. "Nonetheless, we need to look at the overall U.S. picture. Montana acres are down almost 20 percent from a year ago and Minnesota is down about 12 percent. So a lot of focus is on yield."
USDA will release its first yield estimate for spring wheat on July 12. In its current production numbers, USDA was using historical yields for its June estimates.
"Those are probably 100 million bushels too high considering acres and yields, so we'll see how the market reacts to that in July," he said.
On the demand side, once the market gets a better handle on production, we'll see where demand goes. Right now, U.S. exports are struggling a little bit, according to Peterson. As of the end of June, export sales were about 12 percent behind a year ago.
"I think that's in two parts: one is that U.S. values have moved to a premium over the world market; and with better Russian and European crops we're struggling a little bit there," he said.
"Also, on soft white wheat, there's a pretty intense drought in the Pacific Northwest, so customers of soft white wheat are a little more hesitant on purchases, and exporters are a little more hesitant on aggressive sales simply because they don't know the quantity or quality of that harvest," he added.
Looking at spring wheat specifically, sales are about 8 percent behind with 70 million bushels (MB) in sales compared to 77 MB a year ago. The U.S. is seeing stronger demand to Mexico, Dominican Republic, and Indonesia, but sales lag behind in the Philippines and Japan, the two biggest markets for the U.S.
"I think that's because of a little sticker shock for some customers," he said.
One demand variable that is positive for spring wheat, according to Peterson, is there's going to be a demand for protein, not only in the world market, but in the U.S., as well. The early hard red winter wheat harvest has good yields, but he noted that protein has been subpar, though not historically low. With 20 percent of the crop surveyed, protein is averaging about 11. 2 percent. That compares to 11.9 percent a year ago.
"Mills are certainly trying to find protein and are going to need to use more spring wheat, but the question is: at what price level will producers sell and will prices go higher than they currently are for spring wheat?" he asked.
He also noted that winter wheat harvest is about a third complete, which is slightly behind normal. Harvest is half done in Kansas and is just getting started in Nebraska and Colorado. "Also, in South Dakota, Montana, and North Dakota, with the drought I think there's an expectation there will be more protein, but we'll see going forward," he said.
"With that, we'll see what the rest of July brings. But the first trading day after the Fourth of July was not a good day from a producer's perspective with the sharp sell-off. Obviously the harvest and July conditions will dictate how much spring wheat is available going forward," he concluded.