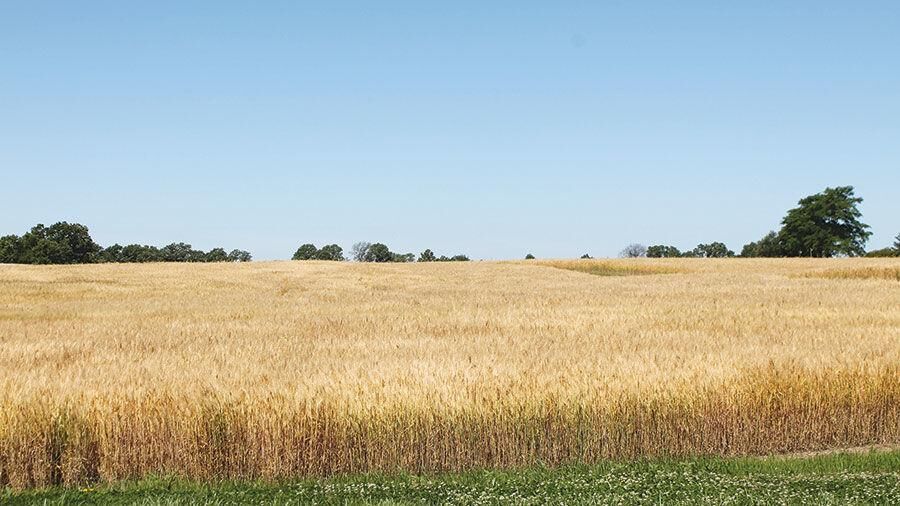 Good weather and planting progress, coupled with some funds exiting the market, all combined to help pressure wheat prices.
"We've seen prices take some hard hits recently. The Minneapolis July futures have lost over $1 in the last two weeks," said Erica Olson, market development and research manager for the North Dakota Wheat Commission. "That's after reaching a high of close to $8, and today (May 24) we fell below $7. That brings cash prices down to $6.20-$6.50."
Olson said there are a few factors that have contributed to the slide in prices.
"First, we saw the funds really exiting their positions and selling off, so that pushed prices down a bit," she said. "We also had some weather, good weather, and obviously that pressured prices. And it also looks like the hard red winter wheat crop might be better than expected."
In mid-May, the Wheat Quality Council toured the hard red winter wheat region and the tour came up with a yield estimate of 58 bushels per acre, which would be the highest in at least 20 years. The Kansas winter wheat crop was estimated at 365 million bushels (MB), which compares to the USDA estimate of 331 MB.
"That surprised the market, especially because (that region) dealt with dry conditions earlier in the season, so those are some pretty strong yields," she said.
As noted above, weather has been a big factor in prices. There was rain in most of the "I" states – Iowa, Illinois and Indiana – which are the big corn producing states, and parts of the Northern Plains, as well.
"So that obviously pressured the row crops and wheat follows along," Olson said.
The weekend of May 22 brought precipitation across the spring wheat region. Many producers got good precipitation, while others missed out. In the spring wheat region, amounts ranged from just a trace to 2 inches, while some isolated areas saw much higher rainfall.
"Obviously this is helping. It was definitely needed," she said. "I don't think it's going to be a cure all as some producers missed out and for some of the crop it was too late. So we are going to need timely additional precipitation to further develop the crop."
USDA released its first crop progress report on May 24, which showed that spring wheat planting was wrapping up. According to the report, 94 percent of the crop in the U.S. has been planted. Just North Dakota and Montana still have a bit of planting left to complete. Most of that should wrap up by the first week in June.
"Some producers were waiting to see if they were going to get more moisture before they finished planting," she said, adding the report also indicated that about two-thirds of the crop had emerged. "Emergence issues are still there. We're still hearing of uneven crop stands and some of it not emerging, so hopefully the rain will help out with this," she said.
This was the first report in which USDA included crop condition ratings for the 2021 crops. For spring wheat nationwide, 45 percent of the crop is rated in good-to-excellent condition. Usually this time of year that number is around 70 percent. North Dakota's spring wheat crop was rated only 31 percent good-to-excellent.
"I'm not sure if we've ever seen it that low this early. Minnesota, on the other hand, was rated 84 percent good-to-excellent, so condition ratings are pretty variable," she said.
Looking to the north, Canada has been very dry, as well, although they also got some recent precipitation. Planting is ahead of average there.
"It's good for producers, but, obviously, these weather events put pressure on the market," she said.
On the demand side, specifically exports, Olson noted the U.S. was nearing the end of the marketing year – May 31. In its May WASDE report (World Agricultural Supply and Demand Estimate), USDA lowered the total wheat export forecast from 985 MB to 965 MB, which would be the same as last year. Part of that cut was for spring wheat as USDA lowered the export number by 10 MB, putting the new estimate at 275 MB.
"Those changes were not surprising. For spring wheat we've sold 284 billion bushels, but only 260 million has been shipped," Olson said, adding those sales won't be shipped in the marketing year ending May 31.
"One good sign with the export sales, if we look at the new crop sales, they are at a higher than normal pace, which is a good sign for demand," she said. "In fact, they are the highest we've seen in eight years. So we'll see where that takes us the rest of the crop year."
With that export adjustment, spring wheat ending stocks were projected a bit higher and were up 12 MB to 267 MB in May. That's still lower than last year however.
The May WASDE report is actually the first look at U.S. and world production and supply and demand estimates for the new crop year. For U.S. wheat, production was estimated slightly higher than last year at 1.9 billion bushels.
"But we're starting out the year with lower beginning stocks and projecting lower supplies for the year and slightly higher domestic use," she said. "And then a big change is the export forecast, which is now at 900 million bushels, which is quite a bit lower than last year due to expected stronger competition from other exporting countries."
Ending stocks are also starting to decline and are down 11 percent.
Looking at world numbers, although it's early in the year, USDA is projecting higher supplies. Production is expected to increase in the European Union and United Kingdom, and Morocco. All of those regions had production issues last year. In Russia, production is looking to be similar to a year ago, while lower production is projected for Canada and Australia.
"We'll see how those estimates develop over time, but so far, we've seen fairly good growing conditions," Olson said. "The big thing for spring wheat now is to see how much this recent precipitation helped the crop and if we continue to get more."