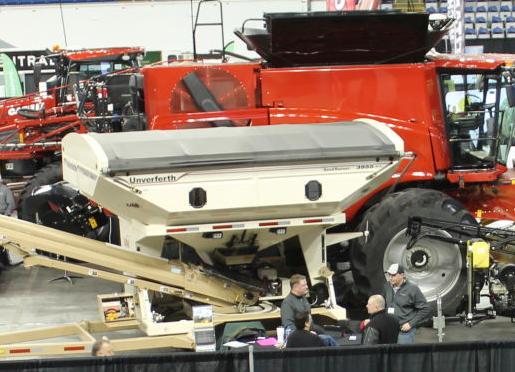 FARGO, N.D. – Farmers plan ahead to book inputs early for next spring's planting and growing season, but this year, shortages and high costs for fertilizer are impacting their decisions.
They may also have concerns about equipment and parts availability or questions about crop production, but the annual Northern Ag Expo is a great place to find out answers to crop questions.
The Northern Ag Expo, organized by the North Dakota Ag Association (NDAA), will be held Nov. 30-Dec. 1 at the FargoDome.
The trade show is the main event, opening both days at 8:30 a.m. The trade show closes at 4:30 p.m., on Tuesday, Nov. 30, and an hour earlier on Wednesday, Dec. 1, at 3:30 p.m.
The packed trade show plans to have ag vendors with booths displaying everything from seed, crop protection products, crop nutrients, such as fertilizer, farm equipment, and all kinds of ag services and products.
Admission to the show is free and the public is invited to attend.
Gary Knutson, who has been NDAA show manager for most of the show's run, said the Northern Ag Expo is built around the trade show. It is the NDAA's largest event of the year.
"When we started in the early 1990s, we had about 50 exhibitors at the trade show, and this year, we will have around 200," Knutson said. "Our show is exclusively related to crop production."
Knutson enjoys managing the huge show every year.
"I like to bring people together, build relationships with people – and the one-year hiatus has been tough on everyone. But we are back in business this year and we invite everyone to come out and visit the Expo."
Dealers will be bringing the latest technologies in farm equipment to the trade show, so growers will be able to see what's new for 2022.
Educational and informational seminars will be held both days.
Craig Hanson, president of the NDAA and a BASF representative, said he expects many producers will attend the show this year considering how high attendance has been at other farm shows recently, and the fact there was no show last year due to COVID.
"We're expecting this to be one of the larger attended farm shows because we took last year off, so everyone is excited about coming," Hanson said. "Also, we've seen that other in-person farm shows around the region have experienced high attendance this year, and we are expecting the same."
In addition, the Expo has always attracted a large number of growers who want to find out about crop production in the 2022 growing season.
The seminars both days will have a number of hot topics, including the carbon credit program and a talk from former U.S. Rep. Collin Peterson.
Producers who may be wondering about their crop insurance and Farm Service Agency (FSA) programs will find the information they need at one of the seminars with FSA state staff on the afternoon of Dec. 1.
"After this year and the drought we had, people are certainly looking at their crop insurance and the programs that are provided through the different government subsidized programs," Hanson said. "We re-energized that seminar because there are a lot of claims coming in because of the drought."
Hanson pointed out they are planning to have sessions for everyone involved in agriculture.
"We try to gear the sessions for all of agriculture, so some are from a farmer standpoint and some are from a retailer standpoint," he said, explaining NDAA members are primarily retailers. "We sell to and service growers, as well, so we try to offer seminars that deal with crop protection products, seed products, and equipment and crop nutrients, such as fertilizer."
Fertilizer availability and prices are a major concern this year and Hanson said there would be a seminar devoted to that topic. Josh Linville, StoneX financial director of fertilizer, will speak to growers on Tuesday, Nov. 30.
Hanson pointed out that fertilizer prices are high right now and N is always based in natural gas pricing.
"It seems like when corn prices go up, natural gas prices go up; N fertilizer goes up and it seems it spiked a lot higher earlier," he said. "I am hearing corn acres are going to be relatively flat up here in North Dakota. I have been in the business for 30 years and I have really never seen corn acres swing more than 10 percent either way."
The NDAA has also been looking at input availability from a crop protection standpoint, especially regarding herbicides and fertilizer, for quite some time.
"I compare it to oil and gas and diesel availability. If everybody wanted their diesel fuel tank filled today for the next year, it just wouldn't happen. The refineries run 24 hours a day, seven days a week (and keep producing)," Hanson said. "It is that way with crop protection products. Some are made overseas and some are made here in the U.S. But the crop protection products, just like fuel, are produced 24 hours a day, seven days a week. If everyone wants their crop protection products right now, it is like the fuel, it won't happen."
Hanson explained that producers want to lock in their inputs before the end of the year, including seed purchasing and booking fertilizer, but what is different this fall is producers also wanted to take possession of their inputs right now. He urges growers to be patient.
"The products are produced between now and next June. As it is being produced, it is being shipped to retailers and retailers are sending it right out to growers. But not everything is produced yet," he said. "It is four or five months before the first kernel goes in the ground and six months before something needs to be sprayed."
The NDAA retailers are anticipating there will be enough input products available for next spring, barring either a freeze or a ship getting locked in a canal.
Another grower concern this year is equipment. New equipment has been difficult to find with supply chain shortages and issues.
Instead, growers are looking for good used equipment to fix up themselves on the farm.
"There has always been a demand for good used equipment. But watching the recent farm auctions, the market for good used equipment is huge this year," he said. "There is a 10-20 percent increase for used equipment in the market right now."
New equipment has been supply-challenged, he pointed out. Growers are trying to keep their own equipment running another year or two, or they are buying older equipment.
"The equipment that is selling for the highest price, 20 percent or more, is the equipment that is 8-15 years old. Not the less than 5-year-old stuff, which is harder to fix," Hanson said. "There are also a lot more people trying to fix their own equipment and keep it running for a year or two more. That surprised me."
Knutson said they have planned a great trade show, along with many seminars, to give growers a chance to meet with crop production retailers and to find out more about the upcoming growing season.
"We're excited to bring a two-day trade show packed with all the latest in ag products, equipment and services, where growers can meet retailers and ask any questions they many have about crop production," Knutson concluded.
More information on the show can be found on the NDAA website at www.ndag.org or by calling the office at 701-282-9432.