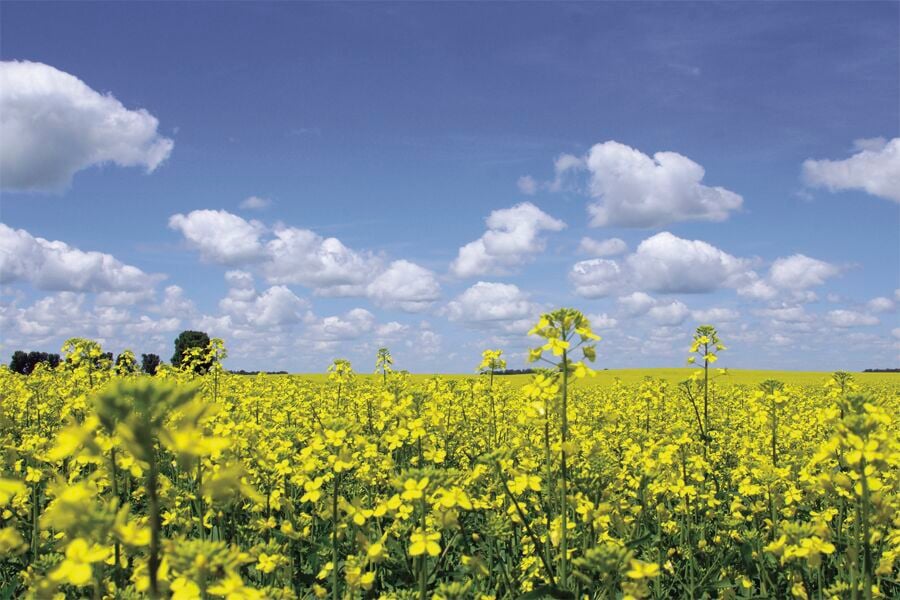 InVigor canola hybrids continue to be a beneficial option for growers thanks to their vigorous early season growth, uniformity in height and maturity, enhanced genetic yield potential and the ability to outperform other hybrids, even under stressful growing conditions.
"The InVigor brand has been around for a long time, and what sets it apart is its pod shatter reduction trait, which has been a big growth mechanism for us in canola," said Matt Smith, agronomic solutions advisor with BASF. "It's an actual trait in the plant that reduces the amount of shatter we get in the pods during harvest. It's been really revolutionary for the canola industry."
"On top of that, our breeding and genetics are second to none. We released our 300 series of hybrids last year, which is our next wave of genetics. We're continually breeding and pushing for higher yields in canola with InVigor," he added.
Smith, who was born and raised on a family farm in Dagmar, Mont., earned a Bachelor of Science Degree in Agriculture from Dickinson State University and a Master of Science Degree in Agriculture from Washington State University. He has 14 years of agronomy experience in Montana and North Dakota at the retail and manufacturer level.
Smith highlighted a number of InVigor canola hybrids that could be beneficial to growers in the neighboring states:
L233P
According to Smith, InVigor L233P is the most commonly grown canola hybrid in the U.S. and Canada, due in part to its proven brand and early maturity.
"You could say 233 is the 'market standard.' It's what we compare all our other hybrids to in our plot data," he said.
The "2" in L233P stands for the series of genetics – so the 200 series in this case.
"Every 4-5 years they'll release a new series of genetics, so we've moved into our 300 series now – our newer genetics – and we really like what we see there," Smith said.
L345
InVigor L345 is the flagship hybrid of BASF's 300 series brand.
"It's our top yielding hybrid on average," Smith said. "What I like about 345 is that we see good yields in good growing conditions, but we also see the bottom end of 345 hold up well in tough growing conditions like we're seeing this year, so it has a good stress tolerance package."
L345 has a little longer maturity and is a bigger plant than L233P.
"If growers have lower stand counts or they're seeding at lower rates with equipment, like planters or some of the new drills, it compensates for itself really well since it's such a big plant," he said.
L340PC
For growers looking for a direct replacement as far as plant height and maturity, InVigor L340PC is very similar to L233P.
"If you put them side-by-side in the field, you wouldn't notice a lot of difference there, but with those 300 series genetics, the 340 is offering top end yield advantages over 233 in our North Dakota and Montana field data," Smith said.
The "P" in the hybrid name stands of pod shatter and the "C" stands for clubroot, a disease Smith says he's starting to find more signs of in other parts of North Dakota that haven't been found traditionally.
"In North Dakota, clubroot has traditionally been isolated to the northeastern corner of the state by Langdon, but we are finding the resting spores now in other parts of the state with the soil pH that's conducive for that disease," he explained.
L343PC
InVigor L343PC is a brand new hybrid for 2021. As for maturity, the hybrid falls somewhere between the L340PC and the L345.
"We don't know a lot about L343PC as far as our U.S. yield data is concerned yet, but we like what we see so far," Smith said. "We like how it looks in our DSTs (demonstration strip trial). We'll be rolling out full yield data on this specific hybrid and launching it next season."
L343PC has two gene resistances to clubroot, where some of the other hybrids only have one.
L357P (ND and MN only)
According to Smith, the "5" in the hybrid name signifies the longest maturity of the 300 series.
"This hybrid is going to be a fit the further north and east we go in North Dakota," he said. "If we get the conditions to support it, these later maturing hybrids yield more than early maturing hybrids, just as we see with maturities in any other crop. We like what we see in pod length, as well."
L255PC (ND, MT irrigation, and MD only)
InVigor L255PC, part of the 200 series, is a later maturing product that is a good fit and proven performer in the later maturing, cooler and wetter areas of North Dakota.
"It's a good hybrid if the grower wants a product they can either swath or straight cut," Smith said. "The stand strength is excellent if the grower is looking for a hybrid for aggressive conditions or irrigation as well."
LR344PC
The "L" in the title of all the InVigor hybrids stands for Liberty, and the "R," in the case of InVigor LR344PC, stands for Roundup Ready TruFlex.
"It's a stacked hybrid," Smith said. "It's interesting to see some of the things we've done with chemistry – having the flexibility to go Roundup or Liberty, or tank mixing those two herbicides, allowing us to get weeds at the same time in one application that other herbicides themselves wouldn't be totally effective on."
Not only does LR344PC have that stacked herbicide trait, but it's also a really early maturing 300 series hybrid.
"LR344PC is a really good yielding hybrid, regardless of the herbicide flexibility advantages," Smith concluded.
For more information on InVigor canola hybrids, please visit https://agriculture.basf.us/crop-protection/products/seeds/invigor.html.