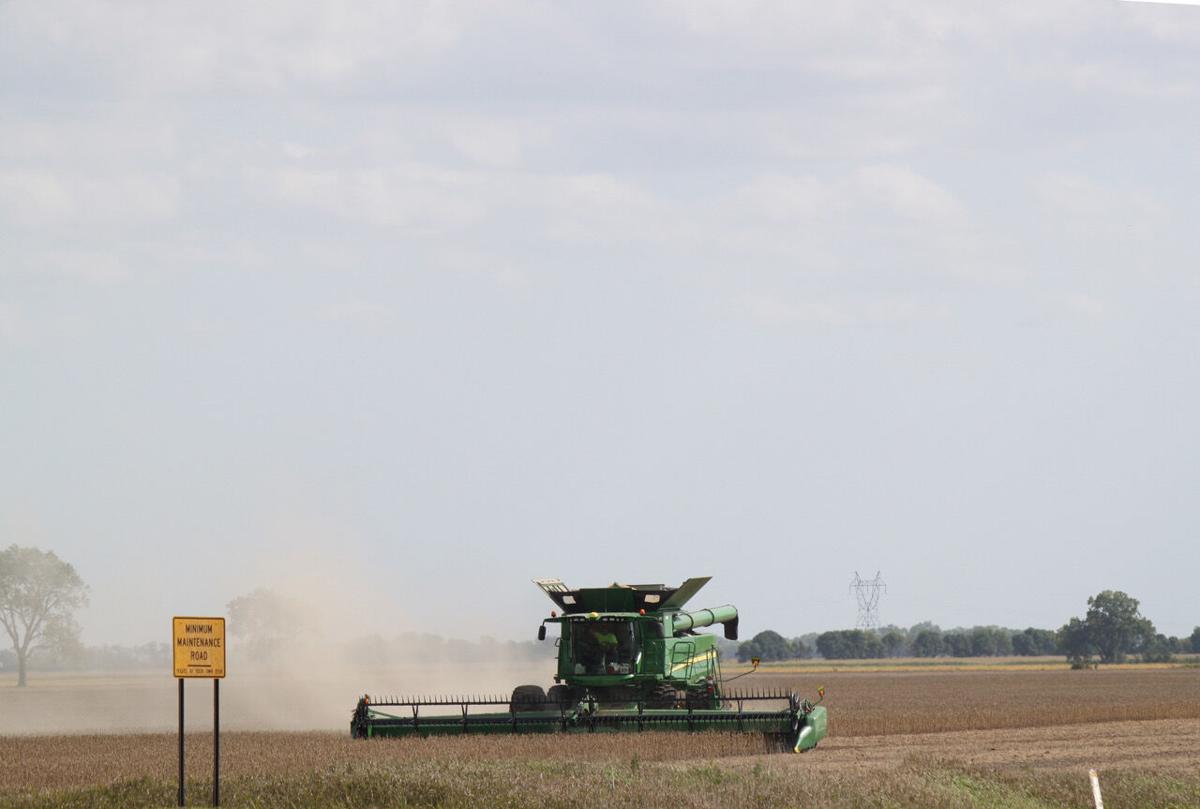 With spring coolness in 2021, followed by severe drought and heat stress in June and July, this year's crop has a lot of variation – based on how much moisture was available.
Poor pollination and grain filling due to drought could result in small and larger corn kernels.
"The drought-stressed corn ended up with a lot of variation in kernel size and maturity within a single cob," said Ken Hellevang, North Dakota State University, professor in the Department of Agricultural and Biosystems Engineering.
Hellevang answered questions from farmers during Big Iron at the Red River Valley Fairgrounds in West Fargo, N.D.
Just like a can of mixed nuts – where the Brazil nuts are pushed higher as the smaller peanuts tumble down – the 2021 corn is going to segregate based on size, shape, and density.
"Small kernels and foreign material will end up in the center core, and the larger kernels will move to the outside," he said. "Some of that happens every year, but this year, we're going to see a lot more of that because of the varying kernel sizes on the cob."
This condition makes it unsafe to enter a grain bin. In addition, airflow will be inconsistent. Storage management will require more thought, and the grain's "shelf life" will be shortened.
"You'll likely see more potential for storage problems as we go into next spring and summer," he said.
Corn is not the only crop affected by the drought. There's variability in soybeans.
Due to the drought, it's common to find green soybeans that had enough moisture to keep going and mature soybeans that completed their life cycle early.
The green soybeans contain chlorophyll that can result in a discount or rejection at the elevator. The mature soybean pods are shattering.
"Ideally, we would leave everything in the field to mature and dry down, but at least some reports talk about seeing the pods shelling off the beans," he said. "That means we can't just leave them out in the field to dry down."
Drying soybeans may be necessary – whether that's running the soybeans through a high temperature dryer or using a drying bin. There are pros and cons with both methods.
"Limited research indicates that as we dry those green soybeans, they will change color some, but the oil that is inside the beans still will likely have that chlorophyll in it," he said.
Some of the chlorophyll and oil will leave immature soybeans after six months of storage, but that means longer-term storage of what is not necessarily a great quality crop. Farmers will want to offer the elevator a better product six months down the road than what is available today. There will be some moisture movement from the wet beans to the dry beans, but it's not going to totally equalize out, Hellevang said.
Storage won't turn poor quality, immature soybeans into good quality beans.
Temperatures during Big Iron ranged from a high near 90 degrees to a low in the lower 50s. The area hadn't received a frost.
A frost will kill all of the soybeans plants, but dry down will still need to occur. In a normal year, the frost results in a color change and rapid dry down. If shelling is already occurring with the mature pods, the frost isn't likely to create higher quality soybeans across the board – although there could be exceptions.
Farmers will want to check their fields often to see the maturity and moisture. They also will want to slow down combine speeds to save more of the soybeans.
"Anytime we have low moisture content in soybeans, what we recommend is that we harvest in the morning – when there is some moisture," he said. "The soybean pods will hold together with a little morning dew."
If that's the case, the soybeans still need to be run through a high temperature dryer or stored in a natural air bin.
"We're early enough that natural air drying should be a good option, but it means that we are going to need at least 1 CFM (cubic feet per minute) per bushel air flow rates," he said.
If the bin is not set up for air drying, there could be only 2/10ths of the CFM per bushel. At 2/10ths CFM, the farmer can change the temperature of the grain, but not the moisture of the grain.
Farmers may also take some discounts to sell the crop to the elevator.
"It's between a rock and a hard place," Hellevang said. "We can't leave the beans out there if they are all shelling out; but then we have to be prepared to deal with the green beans."