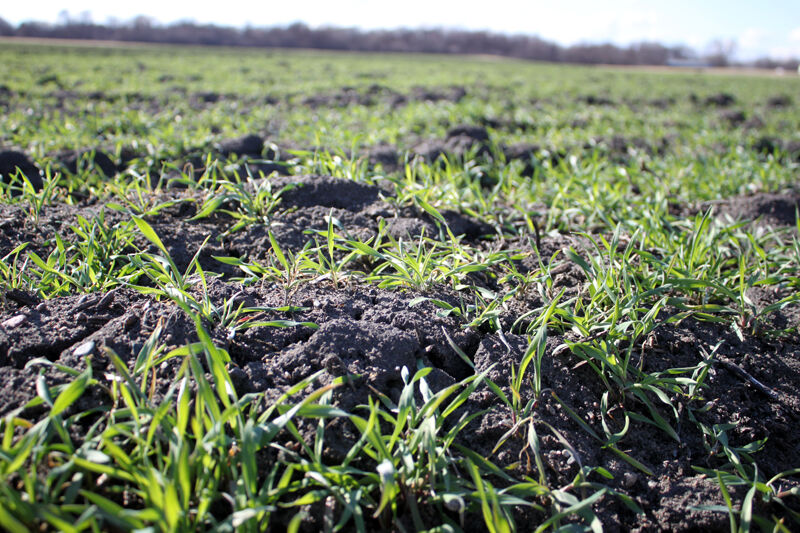 Some people have a knack for successfully growing profitable cover crops, anywhere, under any conditions. For others, successfully planting cover crops in drought conditions may be difficult to achieve.
To increase the potential for success, farmers might ask themselves what their goals are for planting cover crops. Reduction of wind and water erosion, additional livestock feed, or better soil health and water retention are common reasons for planting a cover crop.
But there are so many questions to answer. Will there be enough moisture for germination? What temperatures will we have? Will we be able to terminate the cover crop properly to maximize crop production? Will there be an economic return from growing cover crops?
These topics were discussed by the University of Minnesota (U of M) Extension crops team during the final "Strategic Farming: Field Notes" podcast held live on Aug. 25.
The Extension educators included: Troy Salzer, Jared Goplen, Ryan Miller and Liz Stahl, as well as Anna Cates, Minnesota State Soil Health specialist.
Once we've picked our goals for cover crops, here are some things to consider:
Reduction of wind and water erosion
During the 2020-21 open winter, wind blew away topsoil in many regions.
For farmers who want to reduce wind erosion, planting an inexpensive cover crop could help.
Winter rye seems to have a slight advantage over winter wheat or triticale, said the educators. The former is a little cheaper than the latter two choices.
"Rye is more drought tolerant and better adapted to dry conditions, so I would imagine a small advantage for rye – but anything needs water," Goplen said.
The team recommended drilling seed vs. broadcasting and using a seeding rate of around 60 pounds per acre when drilling winter rye. Not much research has been done on seeding rates, but this rate has been commonly used in research and falls within NRCS guidelines.
An early September harvest is expected due to the drought speeding along the 2021 crop maturation.
That might work in favor of planting cover crops to reduce erosion. Some rain fell across the region in August and could provide the moisture needed to germinate winter rye or wheat in September or October.
Another concern is termination of cover crops in the spring ahead of seeding.
"Anything we plant this fall…if we do stay dry and those covers go dormant, it might be extra challenging to terminate those," he said.
In 2021, Minnesota experienced relatively cool conditions throughout April and much of May. In June, temperatures reached 90 degrees or higher. The educators said that some cover crops were difficult to terminate early due to the cool conditions. That's because glyphosate only works on plants that are actively growing.
"Even in later May, we had those challenges," Stahl said. "I think that's where we ran into some trouble – some growers had a tough time getting their cover crop successfully terminated."
She talked with one organic farmer who tried using a roller crimper on their cover crop. It wasn't successful for termination in 2021, although it worked the year before.
"We looked at planting green – planting into a living cover crop – with soybeans and corn last year," she said. At the Southwest Outreach and Research Center in Lamberton, Minn., a study looked at the impact of terminating cover crops 10 days before planting, at planting, and 9 days after.
"We didn't see an impact on yield in soybeans, but we did in corn," she said. "Compared to that early termination, yield was lower at the later termination dates. With this year's drought conditions, we might see some impacts on soybeans, too, just because moisture has been so limiting."
Studies near Rochester, Minn., suggest that terminating the cover crop is important for top yields in both corn and soybeans, Miller said.
"Where we had cover crops (cereal rye) there were some visual differences early on in the growing season," he said. "As things turned hot and dry, it was clearly affecting soybean growth."
Soybeans raised in cover crops were slower to green up, he added.
"We're going to take that to yield and see if there were any impacts," Miller said.
Additional livestock feed
The ability to grow a cover crop affords an opportunity to grow higher-quality forage that can be blended/mixed with low-quality forage, Salzer suggested.
"If we look at annuals like oats – it produces good forage with high quality," he said. "It stays vegetative and will grow in very cold conditions."
For producers who want to graze or bale their cover crops, be sure to read herbicide labels.
"For example, several pre-emergence herbicides that are used fairly commonly – they are more restrictive on rye compared to winter wheat," Goplen said. "So, if you are grazing and you use some of those products, legally, you can't plant rye, but you can plant winter wheat."
Goplen added that he thinks livestock farmers are likely to get a return-on-investment when grazing costs are kept to $30 per acre on seed and seeding costs.
"Even with poor growth, fall or spring, it will be pretty easy to recoup that $30 considering the cost of hay," he said. "Livestock wastes plenty of forage, too, so you will still have plenty of residue out there."
Salzer added that if crop farmers raise high quality cover crops – consider offering it to their livestock farmer neighbors to bale or graze. The cover crops could be a great help in 2021-22 in the right situations.
Better soil health and water retention
Cover crops in Minnesota in 2021 have been a mixed bag. Cover crops improve soil microbes, add living biodiversity to the soil, increase the soil's water holding capacity, protect the soil from erosion, reduce water evaporation, and suppress weeds.
Cover crops can also be difficult to start, difficult to terminate, and potentially competitive with row crops.
"For this year – in a dry year – there are going to be some concerns with moisture in the spring, and it would be helpful to have a crystal ball (the only way we'll know how much rain we'll get)," Cates said.
We need to continue to study, research, and try to raise cover crops in Minnesota, she added. Cover crops use water, but they provide residue so that over the long term, the soils will have increased water retention.
Cates has data showing that on slopes, crops look a little better when the land has been managed with cover crops vs. slopes that haven't been managed with cover crops, because water infiltration is improved, especially with heavy rains.
She encourages farmers to plant an inexpensive cover crop this fall and watch for the best timing window to drill that crop into exposed soil to get it growing.
"You want something to get on the ground, something that is not going to cost you a ton of money," Cates said. "Cover crops can give you some of that erosion cover. This is Minnesota. It will rain again."
The Strategic Farming: Field Notes podcast will begin again when the winter season approaches. Visit extension.umn.edu/crop-production to learn more.