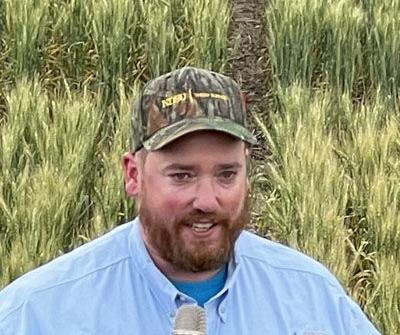 HETTINGER, N.D. – Kochia was one of the main weeds producers across the state found in abundance in their fields during this drought year.
"It has been a good year for growing kochia and it has dominated my phone calls as weed of the year," said Joe Ikley, NDSU Extension weed specialist. "But if you have some cattle and need emergency feed, it may be a good feed."
Many producers skipped the burndown application during the spring because of a lack of weeds growing in the fields due to the dry conditions.
"I did get phone calls saying those that applied pre-emergent herbicides found they worked in 2021, and we did not anticipate a lot of residual weed control in our products to control that first flush of weeds," Ikley said.
For producers that waited for the weeds to show up in 2021 for in-crop spraying, determining when to spray was difficult and the herbicides did not work as well as during a more normal year.
"In a drought year, post-emergent herbicides do not work as well as we would like," he said.
For that reason, pre- and post-harvest weed control was vital to do this year to get rid of some noxious and persistent weeds. If drought conditions continue into 2022, it will be the same next year.
In some of the drier areas across the state, rain arrived in August, which caused a new flush of weeds in fields that did not have much for crop canopy.
Fall weed applications are important for kochia.
In some areas of the state, fall applications were missed in 2020.
"What happened in some areas last year was that after harvest people were just kind of done with 2020, so not a whole lot of herbicide was applied in the fall," Ikley said. That may have spurred kochia growth, as well.
Kochia growth remains heavy throughout the state this fall, especially for producers who missed a spring burndown.
"In some areas, we ran out of Valor by the time we got rain," he said.
Is Dec. 15 was too late to apply Valor to get rid of kochia?
"The goal is to rid fields of kochia and other weeds and apply a broad spectrum herbicide as close as possible to freeze up in order not to lose out on some residual control in the spring," Ikley said. But he has seen as much as 90 percent control of kochia in the spring by treatment with Valor in the fall.
Preparing for next year, Sharpen is one herbicide that can be "helpful" for kochia in the spring.
"Apply 3-4 ounces of Sharpen to get some residual control in the spring," he said.
In addition, producers should clean up waterhemp in fields this fall to prevent a spring weed flush.
"Only the female waterhemp plants produce seeds. The main focus after harvest is to clean up weeds to minimize seed production for next year's crop," he said.
How many seeds might a female waterhemp plant contain?
Ikley took a 1-foot-tall plant that had a small seed head and flushed out 88 seeds, which is a lot.
Producers asked about herbicide carryover from 2020 into 2021, and if that could happen again.
Looking back, 2020 was a generally dry fall. The winter of 2020-21 was also dry, and it was followed up by a dry year in 2021.
"When we think about herbicide carryover, we think about persistence of herbicide and the selectivity of herbicide on the crop you planted last year," he said. "Herbicide carryover is usually from the longer-lived herbicides in the soil."
The most concern in the state is with a growth regulator used on corn and small grains, which is in Widematch and Stinger, for example.
"With Widematch, when used in small grains and when you rotate to sunflower, peas, or soybeans, the pea label is most restrictive," he said. "The most restrictive label is for peas, where you need 5.5 inches of rain, and in a lot of areas, we did not get that."
Group 2 herbicides can be long-lived, such as Pursuit and Raptor.
"The label says 3-4 years for sugarbeets on some herbicides. Most crops have more tolerance," he said.
Ikley recommended producers spend time this winter checking herbicide labels.
"We always want crop flexibility, but with some of these herbicides, we need to closely looks at labels and figure out what crops we can actually rotate to," he said.
Herbicide degradation stops after freeze up.
"Yes, we are getting rain, but microbes slow down in the cold weather," he added.
There are concerns this fall from herbicide applied in pasture or rangeland ending up in cropland.
If producers applied a long-lived herbicide in the fall, and mowed and baled the grass it was applied to, and rolled it out on cropland where livestock are being overwintered, it is a concern.
"That is where we can see herbicide carryover from pasture and rangeland showing up in cropland, and we have seen that," Ikley said.
Ikley recommended producers talk to their Extension agent or agronomist to find out which crops you can rotate to next spring.