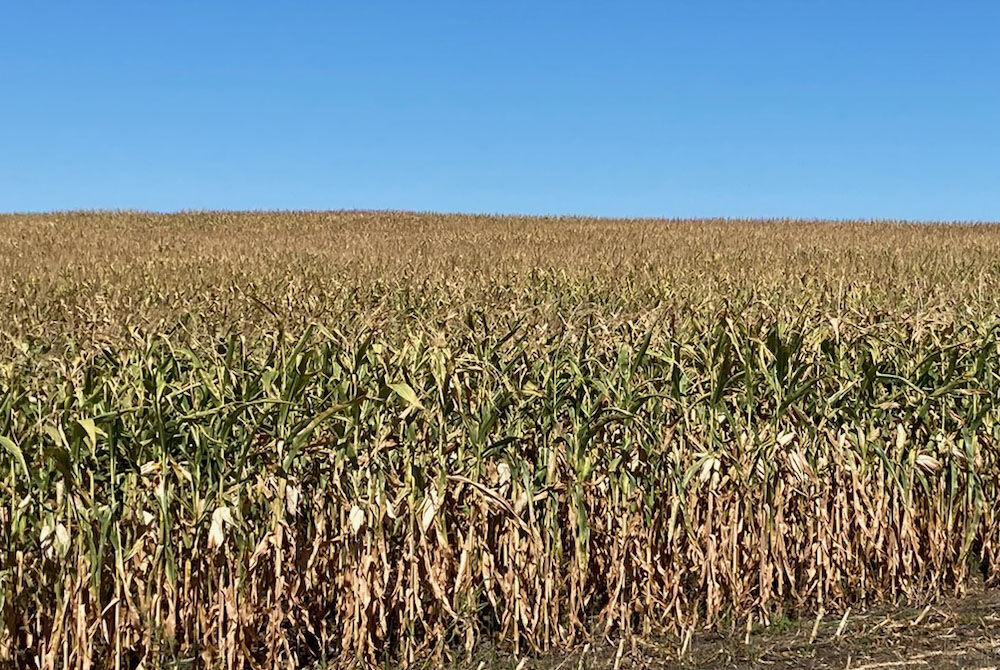 As light showers through the first couple weeks of September have brought relief to drought-stricken areas throughout the state – 0.5-3 inches depending on location – the impacts from one of the driest summers farmers and ranchers can remember continues to persist.
As harvest continues, yields have been mostly average to some areas reporting well below average yields.
Some producers, especially in the central region of the state, are continuing to harvest crops for hay instead of grain.
However, some pockets in the state did receive precipitation and are experiencing a mostly normal harvest.
Soybeans are dropping leaves, ahead of the average, with beans in 16 percent good-to-excellent condition and 42 percent fair condition. Some 4 percent of beans have been harvested.
Corn is three-fourths in the dented stage and 22 percent mature. Across the state, corn condition is rated 17 percent good-to-excellent and 41 percent fair.
Jeff Gale, NDSU Extension agent in Foster County, said corn and soybeans are rapidly losing color. However, dry down is very uneven in the fields.
"The big issue for producers is uneven ripening within fields, which makes harvest a challenge," Gale said. "There are soybean fields where part of the field is getting close to harvest, while there is still green in other parts of the field."
On Sept. 14, Gale said harvest for corn and soybeans was two weeks away.
"I think we are still a couple of weeks away from harvest here, but things are changing quickly," he said.
Producers in his county are watching weather patterns and seeing how they are developing.
"We have gotten about 3 inches of rain in the last month, but we are still running about 53 percent of normal since April 1," he said. "Until now (Sept. 14), we received 7.2 inches of precipitation at Carrington, according to the NDAWN station."
In the western central area of the state, the same problem exists with uneven ripening.
Dryland corn is shorter than the average with some cobs not filling kernels in the drought areas. Irrigated corn looks good as long as the water hit it.
In Mercer County, NDSU Extension agent Craig Askim said there were "many different levels of maturity" and "a lot of variability" in the fields.
"You go to some places and everything is okay, but you go down the road a mile or two and there are many unknowns, along with variability in the crop ripening in the fields. There is just no common ground to anything this year," he said.
But crops are progressing "a little better than they were three weeks ago" with the rain they received in Mercer and other counties.
"With our small grain crop, 50 percent of it was harvested for grain, and the rest of it was harvested for forage," he said.
The corn and soybeans "are in the same boat" as small grains with maturity levels.
"About half of the corn and soybeans will be harvested and half of them won't be harvested because they didn't mature in the drought conditions," he said.
Those who planted later will have something to harvest. However, other producers are already grazing crops or baling them for hay.
"I have been getting a lot of calls on that, so I know guys are grazing or baling their soybeans for hay instead of harvesting them for seed," he said.
Small grains, wheat, and barley are being harvested at 50 percent loss of normal yield, according to Askim.
But it depends on where farms are located in the county. Some received more rainfall than other areas.
"With soybeans and corn, those who planted later and have a crop expect to still have a 30-40 percent loss compared to normal," he said.
Throughout the state, the NASS reports subsoil moisture percentile is still at 74 percent short-to-very short and topsoil at 63 percent short-to-very short.
The percentage of the state in exceptional and extreme drought shrunk slightly due to those light showers, but over 99 percent of the state remains in dry conditions as of Sept. 7.
Pasture and range is 77 percent in poor-to-very poor condition.
In Mercer County, Askim said some producers don't have the grass they need to graze their cattle. Pastures are in poor condition.
"In many cases, there is no grass out there, so guys have pulled livestock off pasture early," he said. "We have had guys starting to sell off cattle because they don't have the pasture necessary or the hay or feed resources to feed the amount of herd they have."
Producers in some areas of the county have abandoned their crops and are grazing them or baling them for hay. Some corn is being chopped for silage.
"It still must be somewhat fit for silage. To put up silage properly, you have to watch moisture levels, and surprisingly, there are some fields that are too wet to take for silage," he said.
County agents are still checking for nitrates and sulfates in water.
"Even with the recent rains we had, there are still samples coming in extremely high and I would caution producers to keep checking for sulfate and nitrate levels," he said.
The North Dakota Emergency Commission has approved $2.5 million to reactivate the Emergency Feed Transportation Assistance Program to help reimburse a portion of hay transportation expenses for eligible livestock producers who have lost feed supplies due to drought.
Producers seeking more information about the program may email haytransport@nd.gov or call 1-844-642-4752. Applications will be available on the Department of Agriculture's website at www.nd.gov/ndda in mid-September and will close Dec. 15, 2021.
Sunflowers are in better condition than many other crops in the state with 37 percent rated in fair condition and bracts turning brown at 22 percent, slightly behind last year, but near the average.
In addition, sugarbeets in the Red River Valley are doing well with 65 percent in good-to-excellent condition and about 7 percent harvested.
According to NASS, percentages of other crops harvested include: flax, 81 percent; oats, 97 percent; potatoes, 13 percent; canola, 72 percent; spring wheat, 97 percent; soybeans, 4 percent; and second cutting alfalfa, 91 percent, which is ahead of last year and the average.