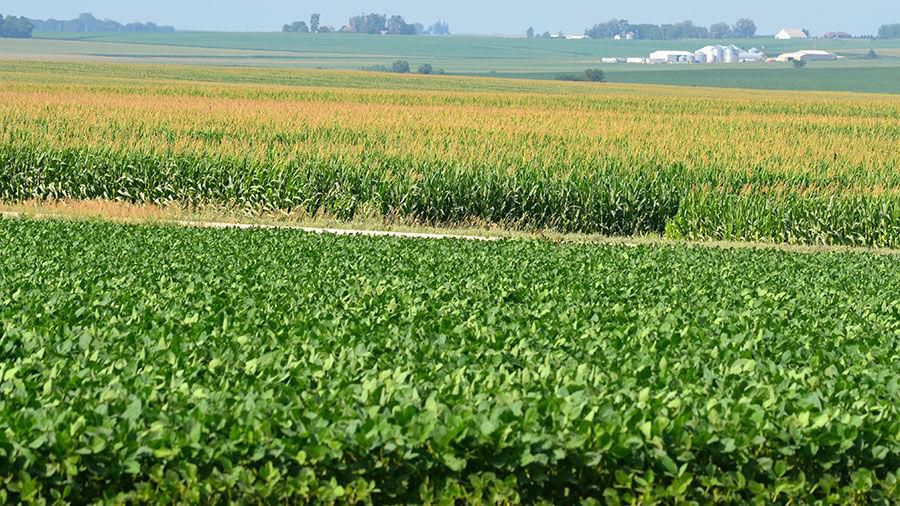 As with corn, the soybean market is turning its attention to the weather after the release of the June 30 final acreage report from the U.S. Department of Agriculture (USDA).
"Same thing as with corn, it's a weather market," said Ed Usset, professor emeritus and grain marketing economist with the University of Minnesota. "It's all weather, even though July, weather really doesn't impact soybeans as much as it does with corn. Nevertheless, it's still a big issue."
In its end of June report, USDA estimated a smaller-than-expected soybean acreage for 2020, as well as a smaller corn crop than was suggested in the March planting intentions report. The news in the final acreage report pushed new crop soybean futures up to near $8.90 per bushel, their highest price since early March.
However, neither piece of news was anything to get too excited about. New crop soy futures are nearly 80 cents per bushel lower than their Jan. 1 price and new crop corn futures, even after the rise, remain a solid 25 cents per bushel lower than when 2020 began.
And although the report was bullish, analysts weren't ready to call it a bullish market.
"I do note this, soybean prices have held up. This is surprising," Usset said. "I'm looking at old crop bids in southwestern Minnesota, southern Minnesota, at $8.40 a bushel. That's the best we've seen since mid-January. Way back in early January we were in the upper $8 range – $8.70-$8.80 or maybe even $8.90 in a specific spot or two – and we've been under $8 since then, but we're back up to $8.40. That's semi-impressive."
Usset noted that new crop bids for soybeans is $8.30 in southern Minnesota, give or take a dime, and that's 70 cents off lows.
At one local elevator in west central Minnesota regularly followed in this column, as of July 6, the July cash price for soybeans was $8.41 and basis was -57 cents under. The October 2020 futures price was listed at $9.06 and basis was up 10 cents.
"For the first time in a while, we're looking at prices that have to make you rub your chin and think, 'Well, if I haven't done anything, if I've got nothing on the books, so maybe I need to take a deep breath and get something done.' And again, it's all weather, weather, weather," he said.
On the demand side, Usset was less than optimistic that China would be able to meet the amount of imports as described the Phase One trade agreement between China and the U.S.
"This Chinese trade deal, we debate it, we throw numbers out there, we've got an administration telling us we're going to go for it," he said. "It's not going to happen. It's just not going to happen.
"I don't know how it will resolve itself – the negotiations between two countries – we've got a lot of tension over there in Hong Kong, and I'm not sure how it's going to resolve itself, except it will not be resolved by us exporting as much as the trade agreement indicates," he said. "We're just so far behind, it's something else. I just don't see how it happens."