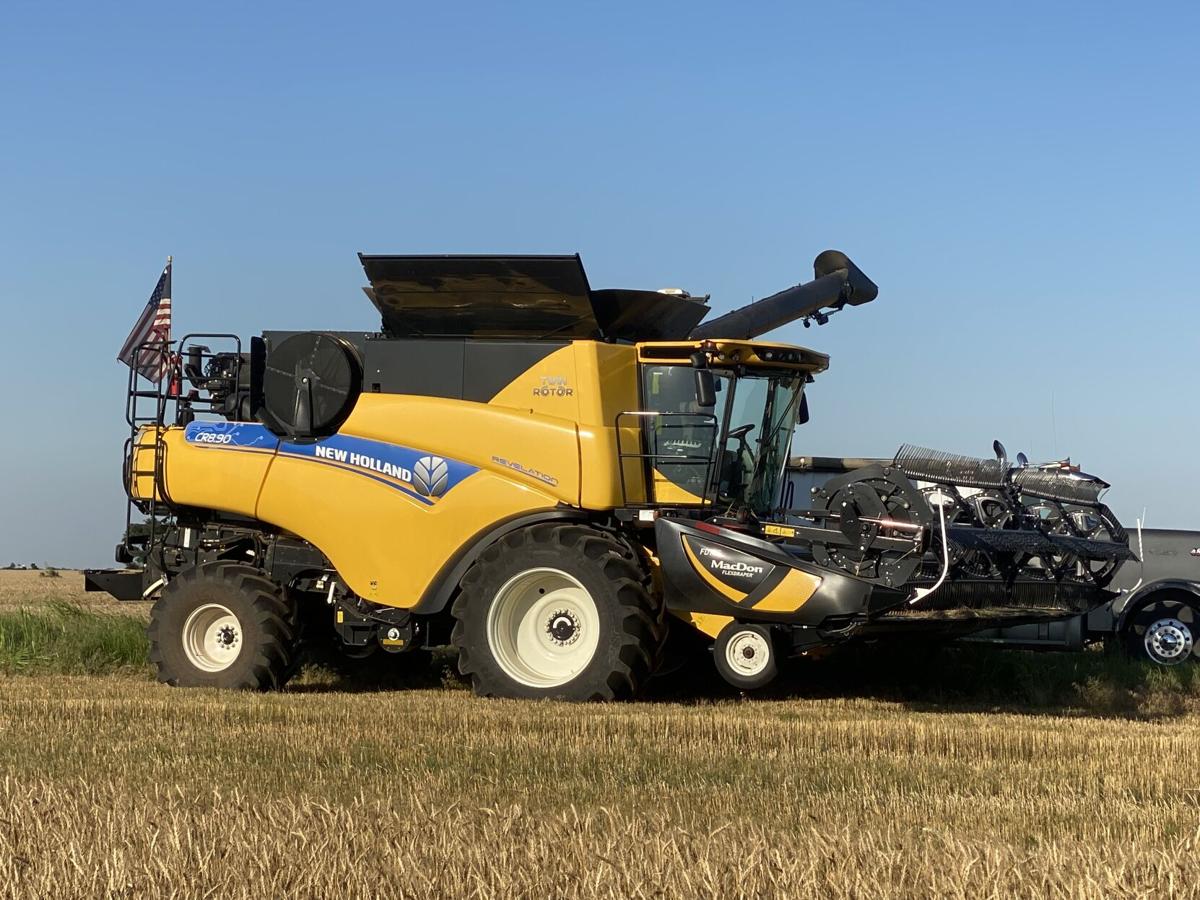 Somewhere in the wilds of Kansas, close to the Colorado boarder, Tracy Zeorian of Zeorian Harvesting and Trucking is behind the wheel of her beloved Freightliner, Frank. The sounds of life whooshing by at 65 miles per hour can be heard in the background as Tracy called in for a phone update on July 7.
"I am driving with the windows down in my truck. It's such a nice day. I'd hate to ruin the smells of the summertime with air conditioning," Tracy chimed.
Tracy and her husband, Jim, wrapped up harvesting on July 5 in Chase, Kans., so after a day of cleaning equipment, it is on to the next.
Wheat in Chase looked "pretty alright," Tracy reported. It yielded somewhere around 60 bushels per acre with the yield monitor picking up patches as thick as 100 bushels per acre. At this particular location, Tracy gave up the seat behind her beloved combine and drove the grain truck instead. Allowing Jim the rare treat of manning the couple's distinctly yellow New Holland combine.
By and large, things in Chase went smoothly. A blast of rain that turned into the Zeorians being unable to harvest for eight days was a bit of a hiccup, but Tracy is never one to complain. The eight-day break did get a little long, she said, but it was nice to be able to catch up on bills, laundry, and of course, precious sleep.
Most special of all, Tracy and Jim's daughter and granddaughter came to visit while harvesting was shut down. It takes a supportive family to be understanding of the life Tracy and Jim lead, but as expected, they raised their daughters to appreciate the lifestyle. The visit from family helped the time pass, so when the fields finally dried out, Tracy and Jim were ready to rock and roll.
"It only took us three days to finish once we got back into the field, so it's not like we had a lot left," Tracy said.
The rain delay meant Jim and Tracy were working on the Fourth of July, but this is certainly not the first time that has happened. In fact, Tracy recounted a very special year when her and her daughters watched fireworks from the top of a loaded grain truck.
"We had the perfect sitting spot to watch the fireworks," Tracy reflected about the experience.
There is just something incredibly Americana about watching fireworks on the Fourth of July from the top of a truck loaded with a product from our country's fruited plains. Keeping with tradition, Tracy again watched fireworks from her grain truck this year.
After Chase, Jim and Tracy are on to a new, never-before-been-too stop outside of Fort Morgan, Colo. The drought this year has made scheduling unpredictable, but Tracy and Jim are always down for an adventure and they are just thankful to have another opportunity to help a farmer harvest their crop.
Unfortunately, after Fort Morgan, things are a bit unknown for Tracy and Jim. The couple received the devastating news that there will be no crop to harvest in Jordan, Mont., this year. Reports are the drought and the grasshoppers have completely decimated the crop.
Tracy can only remember one other time when the northern harvesting run was thwarted due to a failed crop. That year, not surprisingly, being in 1989.
"This drought is not just affecting us, it is all of agriculture, and then there is the trickle-down effect as it impacts everyone in the community," Tracy pointed out.
Looking north across Montana and the Dakotas, crops are reportedly not good. It is not only the wheat and other late summer crops that have been impacted, but Tracy has heard fall crops are not looking great either.
Like so many others across the Western and Northern Plains, all Tracy and Jim can do is continue to pray for rain.
"It is definitely going to be a faith-led adventure this year," she said.
With their schedule suddenly opened up after their stop in Fort Morgan, Tracy and Jim are more than willing to offer their expertise and help. Please reach out to Tracy at zcrew82@gmail.com if you happen to have any acres that need cutting.