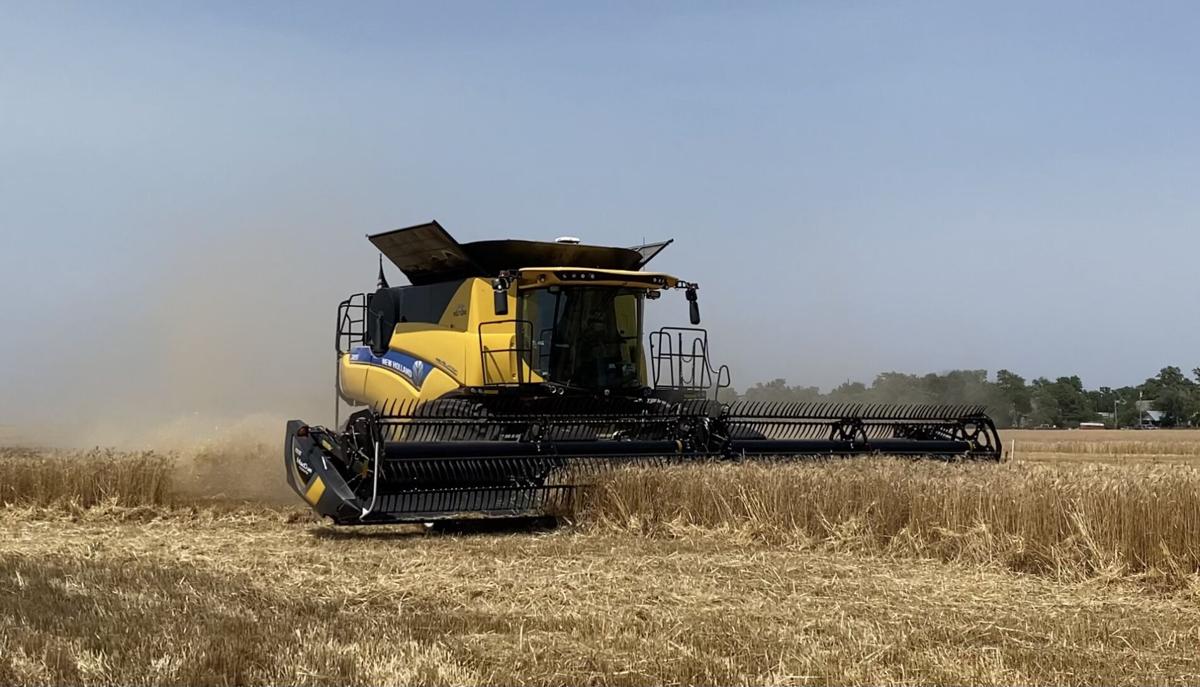 The 2021 wheat run is officially underway for Zeorian Harvesting and Trucking, owned and operated by the husband and wife team of Jim and Tracy Zeorian. The couple headed south to Medicine Lodge, Kan., with their first load of equipment on June 13 and were eager to sink their header into some wheat. Crop conditions weren't necessarily "ideal" in Medicine Lodge, but after years in the business, Jim and Tracy have learned to take it all as it comes.
By Tuesday, June 22, Jim and Tracy where on the move again shuttling their second load of equipment north to their next stop in Chase, Kan. Even though the harvest run is in its early days, Tracy is already beginning to feel the days run together.
"When you do this job, you start into harvest time and with harvest time you have no idea what day it is. All you know is the sun is shining and you work," Tracy chuckled.
Jim and Tracy are just a two-man harvesting crew, so that means the couple must take advantage of every hour of daylight in order to get their jobs done. This equates to a steady string of early mornings and late nights. Amazingly, Tracy confesses she can maintain this pace without the need of much caffeinated assistance.
"I think it is just the 'go' in me," she said.
Tracy has grown up in the custom harvesting lifestyle and she and Jim have built a marriage and a life around the industry, too. It's the adrenaline and simply knowing the job must be done that keeps Tracy clipping along, she says.
Moving days may very well be the longest of days. Again, with only Jim and Tracy as crew members, moving from one job site to the other requires back-to-back trips in order to get all the necessary equipment. After 39 years and hundreds of moves, Tracy attests she and Jim are a well-orchestrated moving team when it comes to shuttling loads.
"Load number one is always the Peterbilt that pulls the job trailer. It has a box on the trailer that holds our equipment and parts and that trailer also carries our service truck. Jim drives that and I drive the Freightliner with the header trailer," Tracy explained.
After the first load is safely dropped off at the new location, Jim and Tracy immediately hop into the Peterbilt and backtrack to grab another load. For load number two, the Peterbilt is hooked onto the combine trailer and grain trailer, which Jim again drives. Tracy always drives the dually pickup, which pulls the couple's trailer house.
Jim's second load is a beast. The Peterbilt, combine trailer, and grain trailer hook together for a grand total length of 81.5 feet. The load isn't skinny either, measuring 15 feet across.
"Jim refers to it as our train," Tracy said with a laugh.
Jim's long hitch isn't the only piece of equipment with a name on the Zeorian Harvesting and Trucking crew. Their beloved trucks, which come to be a part of the family, Tracy says, are also affectionately given names. The Peterbilt is referred to as "Pete" or "Petey" and the Freightliner is named "Frankenstein" or "Frank" for short. Petey and Frank are cherished members of the crew, but right now they are a bit expensive to feed.
As Jim and Tracy move north, they continue to take one day and one job at a time. The farmer in Chase, Kan., is speculating it will be 50-60 bushel wheat, which has Tracy excited.
"It is always a great feeling to cut a good yield for your farmer," she said.
Looking north, stressed crops are a concern, but Tracy remains hopeful for the farmers and like so many others, she is praying for rain.