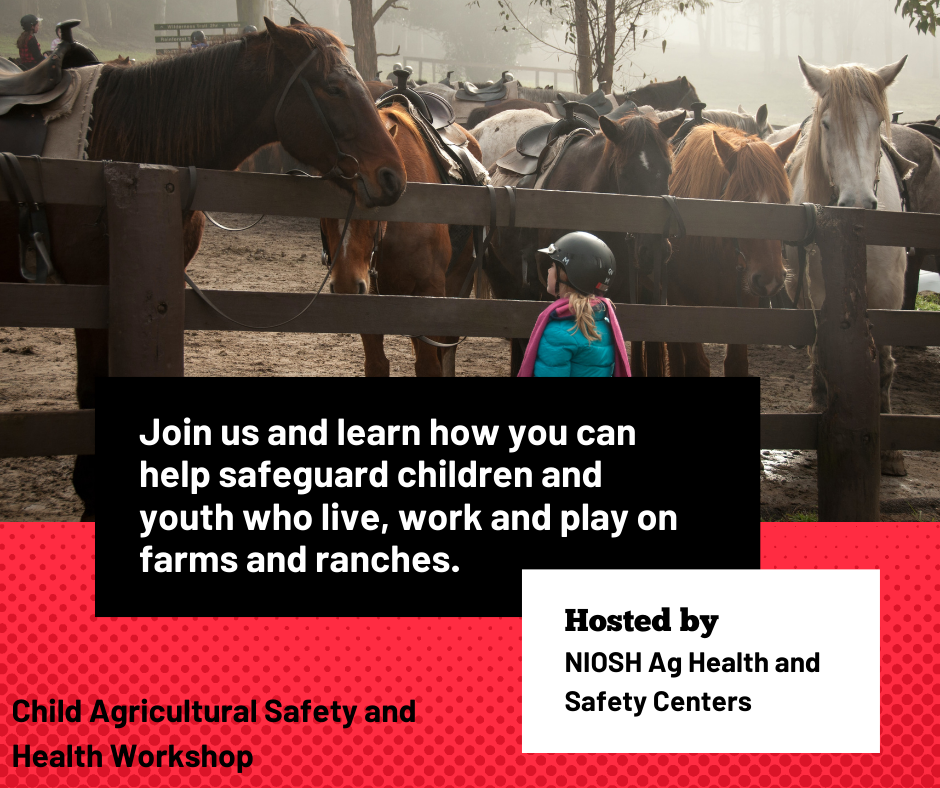 Chores on the farm take on new meaning when children are young and need continual care.
To help professionals and farmers learn more about child ag safety, a Child Agricultural Safety and Health Workshop will be held online the afternoons (Noon-4 p.m.) of Sept. 14, 21, and 28.
The interactive workshop is being hosted by the National Children's Center for Rural and Agricultural Health and Safety, part of the National Farm Medicine Center at Marshfield Clinic Research Institute.
It's co-hosted with 10 other agricultural centers funded by the National Institute for Occupational Safety and Health.
By the end of the workshop, participants will understand the leading causes of injuries to children who are working or playing on farms; describe interventions most likely to be effective in preventing childhood farm injuries and illnesses; and identify their own role in helping farm children grow up happy and healthy.
"After this workshop is over, you will be able to describe interventions most likely to be effective in preventing childhood farm injuries and illnesses," said Marsha Salzwedel, an expert in child agricultural safety.
Every day, about 33 children are seriously injured in ag incidents across the U.S. In addition, one child dies every three days from injuries linked to agriculture.
"As the experts we have created some resources, and now we are trying to reach anybody who has connection with a lot of farmers," said Melissa Ploeckelman, spokesperson for the Marshfield Clinic.
She hopes that insurance professionals, agribusiness people, bankers, lenders, farm business management instructors, health care providers, Extension agents, FFA advisors, seed salespeople, agronomists, fire fighters and emergency medical services personnel will attend the three sessions.
Registration is $49 at mwww.marshfieldresearch.org/CASH-workshop.
"We can train them and give them resources," Ploeckelman said. "Then as they are going out to farms, they can be talking with farmers."
Research at Marshfield has found that farmers trust certain people to deliver farm safety resources. If an outreach specialist goes out to a farm – rather than someone who is trusted – it's not likely the farmer will feel understood. It's better, she said, to have the seed salesman or the veterinarian talk about farm safety.
The farm or ranch is a great place to raise children. Recent research indicates that kids raised on a farm are less likely to have allergies and asthma. They are less likely to get colds and flu than children of the same ages who lives in town.
There are also dangers and safety concerns that need to be addressed for children to thrive on the farm.
"It's very challenging because a lot of times when you are a farm parent, the worksite and the home overlap," she said. "You walk out the front door and you're in the worksite for families that live on farm."
A toddler may go out to play on the swing set, but the tractor coming down the driveway might look more interesting. Maybe they know there's candy in the tractor or a favorite person they want to see. With such big equipment though, it can be very difficult for the driver to see a child running into the driveway.
"The worksite and the homesite overlap, making it very dangerous for farm families and for children," she said.
Marshfield Clinic recommends that if parents are working on the farm, childcare is needed for the kids. While a lot of parents take their kids out with them to the barn, it's not safe.
"Parents can say, 'Don't go past this gate,' but if it's a gate that a child can crawl underneath or step over top of, you can expect they are probably going to if they are a toddler," Ploeckelman said. "They want to touch the dog, they want to pet the cat, they want to be by the cow, or whatever animal it is. We recommend that if you're going to be working, you should find childcare for your children, especially ages 0-5."
Marshfield Clinic also recommends that children shouldn't be taken in tractors, or any type of machinery. While a lot of parents do take their infant or toddler in the tractor cab, the National Farm Medicine Center says that it is too easy to be distracted resulting in injury to the parent and child.
"Tractors are the number one cause of injury and fatality to youth. They get bored and start to wiggle and they might get out of their car seat and hit the door handle," she said. "It's so easy for them to fall out – to get run over.
"If an adult is driving a tractor and there is a youth with them, it's so easy for them to become distracted. If they are by any slope or ditch, the likeliness of them having a rollover is very high," she continued. "We recommend you never take your children on tractors or any type of machinery."
The price and availability of childcare can be more than farm families can afford, she pointed out. It is asking a lot of farm families to pay for childcare, but the Marshfield Clinic says it is appropriate for keeping children safe.
"We say it because we care," Ploeckelman said. "At the end of the day, it's so important that every parent gets to tuck their child into bed, knowing that they are safe, they are healthy, and they are happily sleeping at home with no life-threatening situations."
For anyone who wants to learn more about child safety on the farm, please consider attending the livestreamed Child Agricultural Safety and Health Workshop that will be held online from Noon-4 p.m. on Sept. 14, 21, and 28.
For more information, please visit www.marshfieldresearch.org/CASH-workshop.