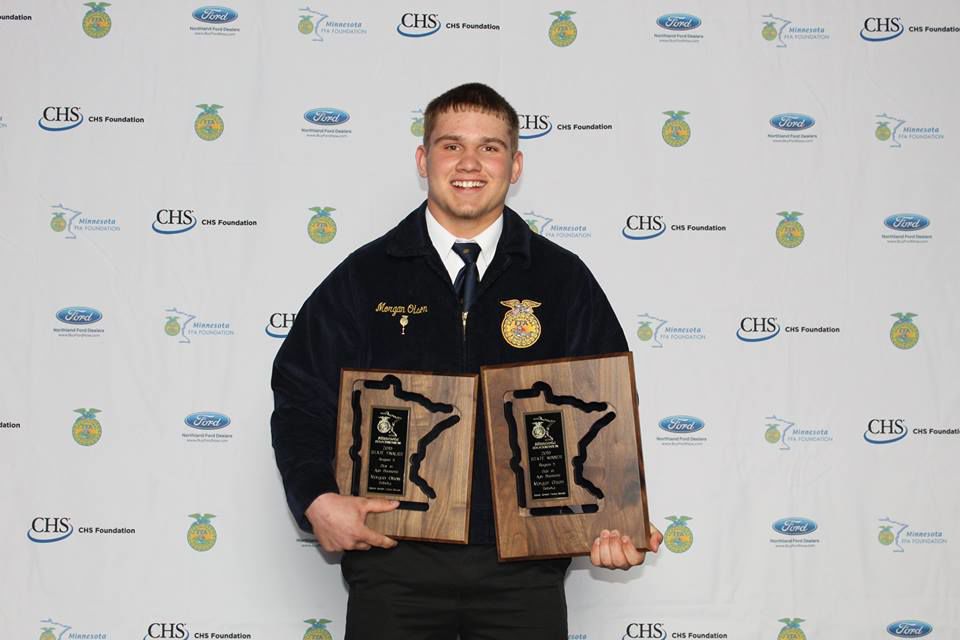 MINNEAPOLIS – (April 29, 2019) The Minnesota FFA Association named Morgan Olson the 2019 Minnesota FFA Star in Agribusiness. Olson, a Sebeka FFA member, received one of the association's highest honors at the annual awards ceremony held Monday, April 29.
Olson works with his family's business, where he focuses mainly on feed production. "When I'm not in our mill I'm driving semi, applying [crop protection tools] in the spring and running our corn dryer during the fall," Olson said.
The 2019 Star in Agribusiness recently received his commercial driver's license and is currently working toward his commercial applicator's license.
From the beginning, Olson has enjoyed helping his relatives run equipment on the farm and has been able to take that passion one step further in the family business. "Working for my dad, I've developed good financial habits, and good leadership and cooperative skills," he said.
Aside from his work at the feed mill, Olson serves as president of the Sebeka FFA Chapter and is involved in his high school's concert, jazz and pep bands.
Olson plans to attend a technical college in the fall to pursue a degree in business management.
In a Supervised Agricultural Experience (SAE) program, students apply what they are learning in the classroom. A student designs a program to gain hands-on experience and develop skills in agricultural career areas which interest them. Students are supervised by agricultural education teachers in cooperation with parents, employers and other adults who assist them in the development and achievement of their educational and career goals.
The Sebeka FFA chapter is led by agricultural education teacher and advisor Jacob Oyster.
Each year, 16 state finalists — four in each category — vie for the association's top awards: Star Farmer, Star in Agribusiness, Star in Production Placement and Star in Agriscience. These awards honor students who have developed outstanding agricultural skills through their SAE and earned the FFA State Degree. The 2019 FFA Stars over Minnesota recognition program is sponsored by Compeer Financial Services as a special project of the Minnesota FFA Foundation.
Visit mnffa.org for more details about the 90th Minnesota FFA convention. Follow along on social media or watch the general sessions on youtube.com/minnesotaffa.