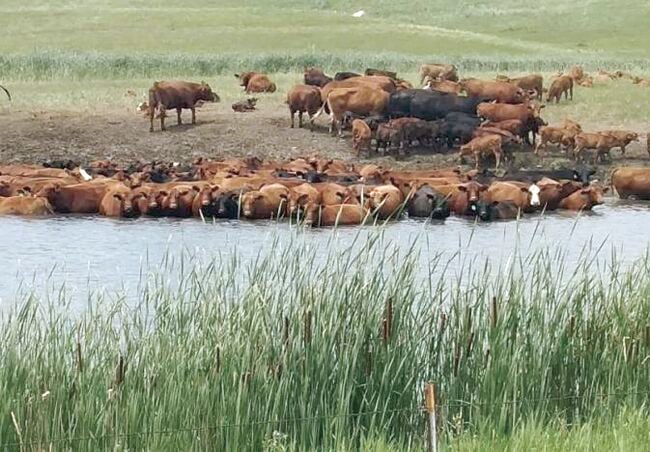 You don't have to be in the cattle business long before you realize that both heat and cold stress have an impact on the welfare and productivity of your animals. The negative results caused by heat stress are becoming more apparent due to the changing global weather patterns – with heat stress is becoming a worldwide problem, especially during the summer months.
However, research has now started to develop genetics in cattle that ultimately improve heat resistance in cattle. Two groups, Acceligen, a subsidiary of Recombinetics, Inc., and Semex have joined forces to develop these heat resistance genetics for cattle.
On Aug. 31, 2020, the Foundation for Food and Agricultural Research (FFAR) awarded a research grant of over $740,000 to Acceligen, and Semex provided a matching grant of a similar amount to make a total investment of almost $1.5 million to conduct this research in its beginning stages.
"As global temperatures continue to increase due to climate change, cattle experience heat stress more frequently and more intensely – even in traditionally temperate, non-tropical environments," said Dr. Sally Rockey, FFAR executive director. "Adapting cattle to withstand the effects of heat stress is critical to ensuring global food security."
Rockey noted, cattle, if not adapted to heat, can exhibit an extreme physical reaction to heat stress, including reductions in feed intake and milk production, slowed growth and increased disease susceptibility. These reactions decrease sustainable production and can result in severe illness or even death.
Up to now, most research for heat stress reduction in cattle has centered on improving housing conditions, using feed additives and other non-genetic interventions. However, this research grant will open up the genetic approaches to reduce heat stress.
Beyond the direct impact that heat stress has on the health and productivity of animals, the economic impact on livestock producers also needs to be considered. In 2003, a study estimated that heat stress had an annual economic burden of between $1.69 and $2.36 billion on U.S. animal agriculture industries. Within this estimate, economic losses of $897 to $1500 million were attributed to the dairy industry, with $370 million for the beef industry.
An animal's genotype is a major contributing factor to its susceptibility or tolerance to heat load. It is widely acknowledged that Bos indicus breeds (humped cattle or Brahman cattle) have greater heat tolerance compared to Bos taurus breeds (the other main type of domestic cattle).
Acceligen researchers and collaborators at the University of Florida are focusing on cattle that carry mutations, or gene variants, in the prolactin receptor gene (PRLR) that result in a slick coat or short hair. The shorter hair improves heat tolerance; however, this research further examines the impact of the mutations on molecular, genetic and physiological parameters. One aspect of this project involves employing sophisticated monitoring techniques to detect molecular differences emanating from the liver to identify key molecules for controlling metabolism prior to the onset of heat stress. This information could result in the development of more effective feed additives to ease seasonal heat stress caused by climate change in temperate zones.
In addition, scientists at Acceligen and Semex are using gene editing to introduce the mutations into both elite beef and dairy cattle to study an animal's ability to adapt to extreme heat and humidity. After the edits are introduced, the productivity and well-being of the precision-bred cattle will be compared to those that do not carry any PRLR edits. By introducing these naturally occurring gene variations into non-adapted breeds, researchers can better understand how to control heat stress and ultimately improve animal health, well-being, fertility and economic return for producers.
"Tropically-adapted cattle from the Caribbean Basin have provided us a naturally occurring trait that can be leveraged to reduce the carbon footprint of cattle globally," said Tad Sonstegard, the principal investigator of this research. "We believe this is an exceptional opportunity to contribute innovative solutions to food security challenges related to animal protein."
Further consideration needs to be extended to the selection of breeding animals. Performance-based selection of livestock has been used for numerous decades in selection of breeding stock based on the phenotypic performance of economically important traits such as high growth rates. In future years, producers will continue to select replacement breeding stock based on individual performances for traits that are deemed economically important. However, there is the potential that this will decrease thermotolerance due to the relationship that is observed between animal productivity and increasing metabolic heat production. This increase in metabolic heat production typically reduces the thermoneutral zone of these animals, and in conjunction with climate change, it may present some difficulty in managing cattle during hot weather.
The commercial viability of selection for heat tolerance needs to be evaluated. It is also important to consider that the selection for one trait may have negative consequences for another trait. It is generally accepted that improved heat tolerance comes at the cost of growth and reproduction.
It is known that high-production cows produce a greater proportion of metabolic heat. This can be most easily figured from the milk production of a cow. Cows with milk yields of 18.5 kg/d and 31.6 kg/d had 27.3 percent and 48.5 percent greater metabolic heat production when compared to dry cows. Thus, high producing cows may be more susceptible to hot weather, regardless of genomic selection.