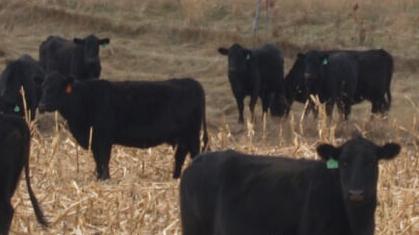 At NDSU's Central Dakota Ag Day, Bryan Neville, NDSU livestock researcher at Carrington Research Extension Center (CREC), talked about some exciting research projects going on now and in the future.
With all the hemp being grown in North Dakota, CREC would like to see if hemp could be fed primarily as a protein supplement for cattle.
"We're looking at feeding hemp meal cake as a feed ingredient in the cattle diet – trying to get some feed use instituted for producers in the state," Neville said.
Hemp and hemp by-products are currently not an approved feed or feed ingredient in livestock diets.
"We would like to see if feeding hemp would be feasible, primarily as a protein supplement," he added.
Several studies regarding feeding livestock hemp will be researched in the future at the center.
In addition to hemp, the CREC livestock teams are looking at including soybean hulls as a partial forage replacement in beef cow/calf rations in the dry lot.
"We included those soybean hulls at 25-27 percent of the diet," Neville said.
They found no differences in cow performance, very minimal impacts to milk production and no difference in the end result to calf performance on those cows.
A different research project that is being proposed would involve feeding dry distillers grains (DDGS) to calves.
CREC researchers want to use DDGS to stimulate intake in receiving cattle.
"Can we use DDGS in cattle receiving diets? Can we use it to attract calves to the bunk and does the extra feed help improve calf performance right after weaning?" Neville said.
When fed at low amounts, DDGS have a tendency to attract cattle to the feed bunk, especially newly weaned calves.
"For those of you who have been around DDGS, you know it has that appealing smell when it is fresh, like fresh cornbread coming out of the oven," he said.
The CREC livestock research team is using calves from Central Grasslands Research Extension Center in Streeter, N.D., for a maternal programming study.
The dams for these cows were managed in a way that they received access to or no access to trace minerals at two key time points – early gestation and lactation.
A quarter of these calves were born from dams that had mineral access at the two time points; a quarter of the calves had dams that had access at early gestation; a quarter had dams with access only at lactation; and a quarter of the calves had dams with no access to trace minerals at either of the time points.
"We're looking at those calves in terms of feedlot performance and the mineral status of calves when they arrive, along with some immune response factors," Neville said.
These steers were also used in the trace mineral source studies on calves during backgrounding.
"We actually saw increasing average daily gain during the first 56 days of the backgrounding phase when we used the chelated treatment mineral source versus an organic source," he said.
The weight gain, however, disappeared when they took a finishing weight on the calves.
In the future, they plan to do more trace mineral studies with beef heifers in confinement.
Dakota Feeder Calf Show calves are being used in a study to explore the impacts of roughage source on feedlot performance of beef calves.
The CREC researchers are looking at three roughages in the diet: grass hay, corn silage and sugarbeet pulp.
"The premise of the study is to examine if with all those roughages – if we feed them on the same equal roughage basis – whether they will work the same way within the rumen," he said. "To follow that up, we are looking at differences in rumen fermentation and digestibility."
CREC researchers are also studying roughage source and inclusion level.
One study was driven by the large amounts of low-quality wheat available throughout the central region of the state in 2019.
"This summer, one of the projects we had was instead of utilizing corn as our primary energy source in the diets (of feedlot steers), we used low-quality wheat," he said.
Treatments added roughage to the diet, including: 10 percent, 12 percent, 14 percent, or 16 percent wheat roughage in the final finishing diet.
"With the increased roughage, we are hoping to prevent any risks to the rumen with acidosis," Neville said. "From the standpoint of our feedlot study, we actually found very minimal impacts to feedlot performance of those steers."