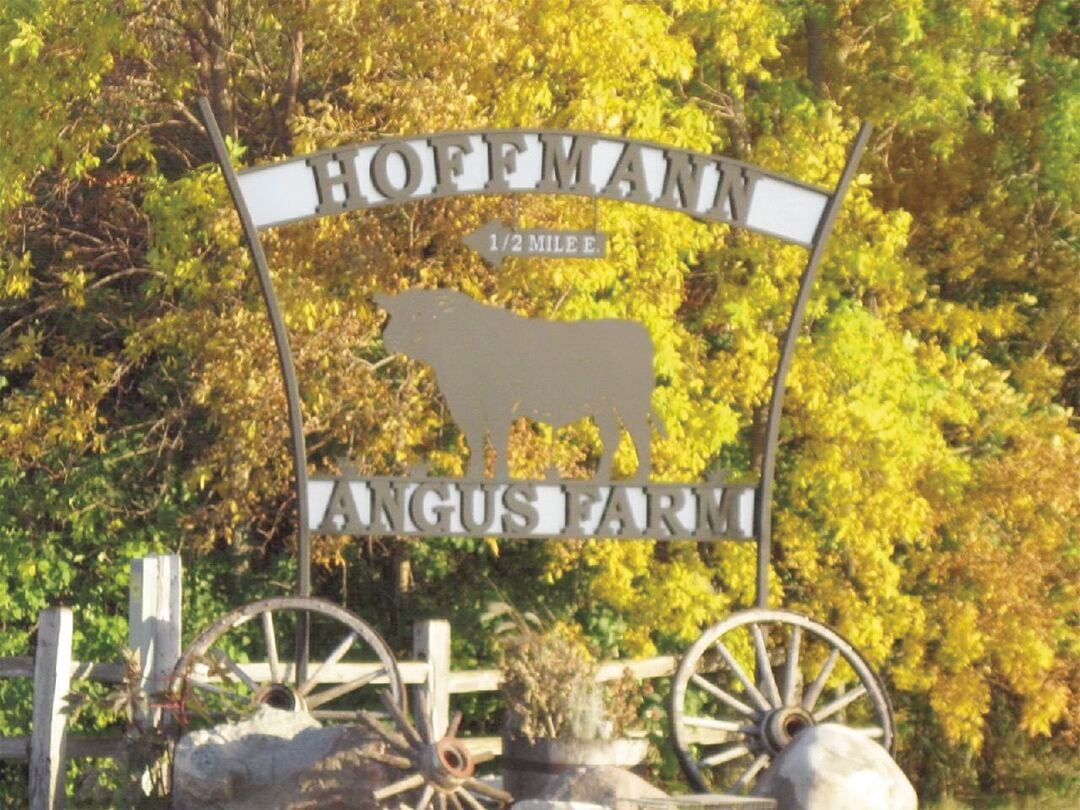 WHEATLAND, N.D. – Raising a predominately Angus cattle herd in eastern North Dakota, Hoffmann Angus Farm is truly a whole family affair.
The family ranch consists of Dallas Hoffmann and his wife, Karla, and their kids; Terry and his wife, Sue; Danny and his wife, Mary Beth; Billy and his wife, Marcene; Logan and his wife, Kelcey, and their kids; Lance Hoffmann; Chris and his wife, Jen, and kids; as well as Pete and Abbie Boyle. The family unit works together on the ranch raising a cattle herd consisting of Black Angus cattle, a couple Herefords, and a few commercial cows that are Angus-based.
"The Angus breed is what we like best," Dallas said. "They're maternal and we really like their carcass."
In total, the Hoffmanns have about 250 head on their eastern North Dakota ranch, about 30 miles west of Fargo.
The Hoffmann's host a pair of sales each year. They have a fall female sale in November, which is held jointly with several other producers, and they also have a bull sale, which is held the second Thursday in February. Their bull sale in 2022 will be held on Feb. 10.
Dallas and his brothers are the fourth generation on the ranch. Growing up in the cattle industry, Dallas says there isn't a better group of people to grow up around.
"The people, the other breeders, the people you deal with in production agriculture, they're some of the best people around," he said.
The Hoffmanns start calving during the last week of January each year. Their goal is to have all the new calves on the ground by April 1.
"We basically calve in February and March. We utilize AI and embryo transfer work," Dallas said.
The EPDs the Hoffmanns focus on have remained consistent throughout each generation on the ranch.
"We focus on maternal traits and we try to stay fairly focused on that," Dallas said. "We want sound feet, but at the same time we're trying to maintain performance. We also want to make sure we're keeping some eye appeal on them, and we've been consistent with that."
For their vaccination program, the Hoffmanns work closely with their veterinarian and follow the recommendations they receive.
"We go with whatever he recommends. We don't want to limit where we can go with our cattle because they're not vaccinated," Dallas explained.
With many members of the family involved within the operation, everyone plays a specific role, while also helping out in other areas when needed.
"My Dad (Billy) and the uncles (Terry and Danny) are kind of on the retirement mode, so they all kind of have their own thing they like to do," Dallas explained. "One likes to run the baler, one likes to cut hay, likes to haul hay, but everyone will jump in and do some field work whenever it is needed."
With drought conditions this year stressing winter feed supplies, Dallas says the family has had to sell off some cows a little earlier this year.
"We also culled a little harder and got rid of our cull cows a little earlier than we normally would," he said. "We decided to get rid of all our feeder calves a couple months earlier. Normally, we like to background our commercial calves until about the first week of January, but this year we moved them the first couple weeks of November to just try and save on some feed costs."
Both Danny and Billy have been honored by organizations over the years for their contributions to the livestock industry in North Dakota.
In 2013, Danny was named the 2013 North Star Classic Livestock Honoree.
He spent his childhood helping out on the family farm, which at the time had both beef and dairy cattle. He attended high school in Wheatland and Casselton, N.D., and he was a member of the wrestling team during his junior and senior years.
Following high school, Danny attended North Dakota State University, earning his Bachelor's Degree in Animal Science. He was also a member of the NDSU Livestock Judging Team.
Danny served as a longtime member and director in both the N.D. Angus Association and the N.D. Stockmen's Association. He also served on the Brand Board for four years.
Last year, Billy Hoffmann was honored at the 84th annual North Dakota Winter Show's Livestock Division as the show's Livestock Honoree.
Billy also earned a degree in Animal Science at NDSU, and he was honored by the Little "I" Show as Champion Showman while at school.
He started Hoffmann Angus Farm by purchasing some bred heifers from an operation in Ada, Minn., and since that time he, as well as the rest of the Hoffmann family, has seen a steady growth in the size and quality of the herd.
Danny has served on the local church board and has been a county 4-H leader for 25 years. He is also currently active in the Red River Valley Fair and has been a board member of the North Dakota Angus Association, and the organization recently awarded him the title of "Man of the Year."
Being a true family-run operation, Hoffmann Angus Farm prides themselves on raising maternal, good looking cattle.
"Hopefully when people think of our cattle, they know the product they're getting is a decent one," Dallas concluded.