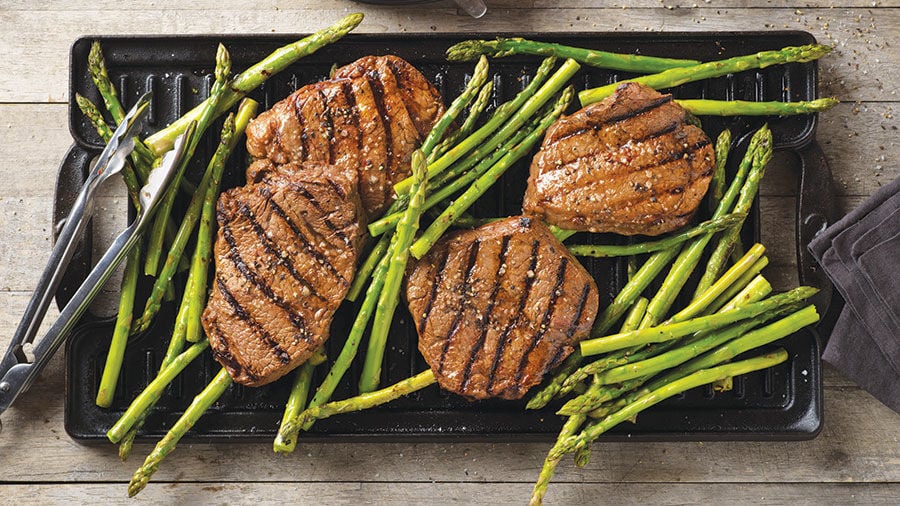 Cattlemen and consumers alike are familiar with traditional meat consumption that has been a part of the human diet for more than 2.6 million years. Even so, a recent article in Drovers (August 2018) referenced a corporate company denying employees reimbursement for meals containing meat.
Given that consumers may be generations removed from production agriculture, it is important to be informed of these nuances and take a proactive role to understand why these consumer movements are occurring. A trade association providing leadership to traditional meat consuming audiences is the North American Meat Institute (NAMI) who released a stance to "fight this meat denial" beginning in corporate entities.
These efforts to reduce traditional meat consumption are not new. In the early 2000s, an idea to culture meat from live animal tissue was derived. In 2013, Dr. Mark Post, a professor at Maastricht University, proved the concept to become a reality and showcased the first lab-grown burger patty from cultured cells.
This culturizing process occurs from the extraction of mesenchymal stem cells of an animal. These cells are responsible for the generation of adipose, muscle, cartilage, muscle structure, and tendon development. Due to the regenerative nature of these cells, they can be harvested from animals by extraction of a muscle biopsy sample, sorted by cell type (muscle and/or adipose), and grown in media culture for the intention of food use. The media can include salts, sugars and amino acids dependent upon the metabolic needs of the tissues over time. The product derived from this process has been described as cultured meat, in-vitro meat, or clean meat. These products are not commercialized yet due to sensitive price points and need for defined regulating authority.
The NAMI urges that these products are subject to USDA-FSIS regulation for safety and labeling accuracy at retail. Further NAMI has filled comments to ensure that the lab grown meats are subject to FSIS inspection and have the same regulatory requirements as meat and poultry products. These grown meats will likely not be retail available for at least the next five years until appropriate jurisdiction and price points are met. Several companies including Tyson Foods Inc. and Cargill Inc. have invested in this technology.
Another type of alternative protein is plant-based, which is commercialized. These products are being demanded by vegetarians and a newer identified consumer known as the "flexitarian." This consumer type demands a plant-based diet with intermittent meat – however, plant-based and cultured products are different. The plant-based alternatives are derived from plant protein such as wheat or pea protein whereas cultured products are derived from animal cells.
During the American Meat Science Association, Reciprocal Meats Conference in June 2018, a panel of cultured protein specialists presented company research, investment opportunities, and regulatory needs for these products. At the conclusion of the presentations, discussion addressed concerns about labeling of cultured or clean meat such that the product needs more accurate labeling representation to not detract from traditional meat products and simply provide consumers another protein option at retail. It is likely that these products regardless of labeling will face significant consumer acceptance challenges as there is little scientific evidence suggesting that the lab grown meat is "cleaner" by food safety tests and more environmentally friendly than traditional meat. Moreover, the NAMI suggests that exact product nutrition of lab-grown meat is not available.
Traditional beef repeatedly provides a nutritious protein source. A 3-ounce serving of lean beef offers 25 g of protein or half of the recommended daily value. Simultaneously, it is packed with B6, B12, zinc, phosphorous, niacin, riboflavin, iron, choline and selenium. Cuts recognized as lean have less than 10 grams of total fat, 4.5 g of saturated fat, and less than 95 mg of cholesterol and can be as lean as a 3 oz skinless chicken thigh according to the Beef Checkoff.
Food and particularly protein choices can be associated with culture and emotion. It is important to substitute facts for emotion and be aware of beef marketing trends, available technology and consumer demands.
For more facts about lab grown and plant based alternative proteins, visit the NAMI media mythcrusher page (https://www.meatinstitute.org/index.php?ht=a/GetDocumentAction/i/145859). For the legal definition of meat, refer to Title 7 of the Code of Federal Regulations Part 54, Chapter 1 (7 CFR 54.1) where the term Meat means "the edible part of the muscle of an animal, which is skeletal, or which is found in the tongue, in the diaphragm, in the heart, or in the esophagus, and which is intended for human food, with or without the accompanying and overlying fat and the portions of bone, skin, sinew, nerve, and blood vessels which normally accompany the muscle tissue and which are not separated from it in the process of dressing. This term does not include the muscle found in the lips, snout, or ears."
Regardless of marketing trends, removal of animals from the U.S. and the human diet would result in only slight reductions in greenhouse gas emissions and cause deficiencies of essential nutrients according to a study by White and Hall published in the 2017 Proceedings of the National Academy of Sciences of the USA. Moreover, the U.S. GDP is projected to continue to rise through 2030 and will likely correspond with greater dollars generated towards protein purchases. Ultimately, consumer acceptance to technology messaging will be the driver in development of products but it is unlikely to have a significant influence on traditional protein consumption within the near future.