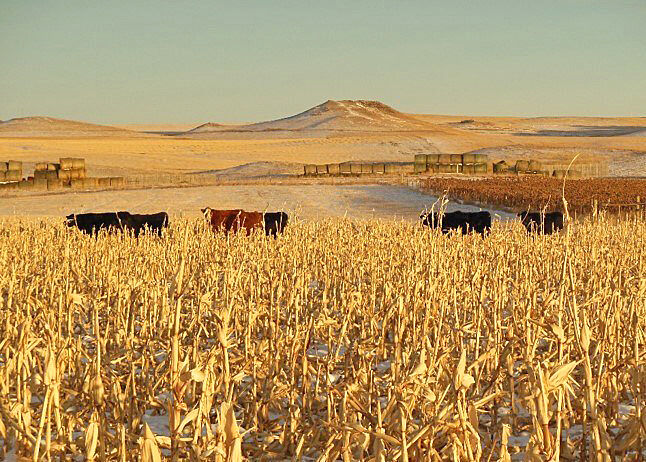 Tim McAllister, ruminant nutrition research scientist at Lethbridge Research and Development Center in Canada, researches microbiomes in agricultural systems.
At the Soil Health Summit this year, McAllister discussed microbiomes in cattle, soil and plant health.
"We hear about microbiomes in our own gut health and even in our mental health, but microbiomes are just about everywhere in agriculture," McAllister said.
There are microbiomes that promote health and others that cause disease.
Bovine Respiratory Disease is a disease of the upper respiratory tract, especially in feedlot calves.
"Bovine Respiratory Disease is a big problem and is microbiome mediated," he said.
McAllister has conducted significant research on cattle rumen health.
"We're focusing on the rumen microbiome, influenced by the fecal biome that is coming out and what impact that has on the plants. The soil microbiome then influences the plant microbiome and plant activity, which is influenced by grazing," he said.
Microbiomes help with feed absorption and digestion and promote rumen health.
"The challenging part is that microbiomes don't exist independently of each other. They affect each other," he said.
Rumen microbes, including protozoa, bacteria and fungi, work together to break down what the cow eats, and turn the feed into energy and protein for the cow.
"When we feed cows grass or a row crop, it has a huge impact on the microbiome within the cow itself," McAllister said. "That will have an impact on the fecal material, which affects the soil health."
Urine can release more nitrogen than manure can, which may be volatilized and move downwind.
Bloat occurs when a cow is unable to rid herself of excess gas that is produced when microbes break down feed.
Microbiomes can play a role in the nutrient uptake of the plants and the nutrient cycle.
Of the microbiomes that live directly on plants, some of those are good, promoting plant health, while there are others that promote disease.
"Soil health is influenced by microbiomes, which influence the plant microbiome, which influences plant nutrition uptake, which influences cattle grazing," he said.
Healthy soil creates the environment for the grass and other plants that the cow eats.
"So you can see how it goes both ways in terms if this interdependency between the soil, plants, and animals," McAllister said. "It can get very complicated."
Residual material not digested by the cow ends up in the manure, and composting manure uses microbes.
"If we choose to compost manure, microbiomes play a role in that," McAllister said. "But bad microbiomes can impact water quality, and get into the water, as well."
Bacteria in the soil have nutrient requirements and if the nutrient load is exceeded, it would go into the water system instead.
"We want the nutrients to go into the soil and be eaten again by the cow in plants," he said.
Measuring microbiomes in the soil can be very challenging and affect the interpretation of the readings.
In addition, the environment, temperature, and moisture level can affect composition of the microbiome. That would affect the interpretation of the sample.
"These microbiomes can differ in composition and can differ depending on the time of day you take it and also from where you take the soil sample – whether you take it from roots, adjacent to the roots or inside the plant itself," McAllister said.
Types of microbiomes work together in different ways. Some of those microbiomes are so complex that they have their own microbiome system.
"Bacteria are not mobile in the soil, but arthropods that carry bacteria can move in the soil," he said.
Cows need bacteria to provide enzymes to break down the feed.
Dung beetles are arthopods in manure pads. The beetles create another community that promotes soil health.
While microbiomes can promote soil health, they are seldom in a state of stasis. There is continual change depending on how we manage those agricultural systems.
"They change depending on how we manage our agricultural system," he said. "Microbiomes all interact together."
When feeding cows, a producer is actually feeding the rumen microbes within the cow.
Grazing is important to provide more bacteria, but there will be fewer fungi available.
"Grazing keeps the forage in a vegetative state, and is good for the cattle," McAllister said. "Fungi dominate when there is no grazing. Diversity occurs when there is grazing."