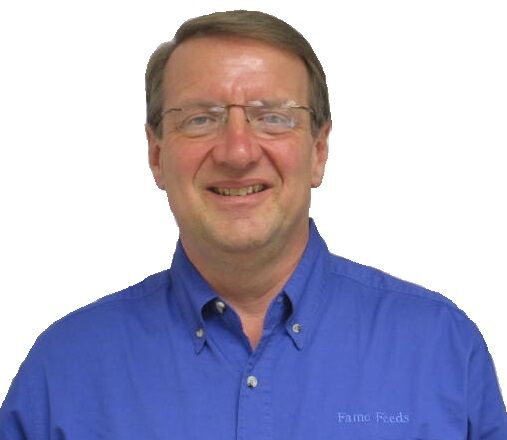 When Minnesota developed drought conditions in 2021, Famo Feeds staff decided to make a product that cow/calf farmers could use to feed their stock.
The Freeport, Minn., feed company has served dealers and livestock producers for over 115 years. Droughts, floods, and disasters have forced Famo Feeds to pivot quickly to help farmers in the past.
With temperatures in the 90s, strong winds, lots of sun, and no rain in May, June, and July, pasture grass soon went dormant.
So, the feed mill decided to make cattle cake.
Cattle cake, also called cattle cubes, are large diameter pellets.
"The process is fairly common in the Dakotas, but in Minnesota, there aren't a lot of people who are manufacturing it. It's kind of a new product," said Kenneth Swanson, Famo Feeds Director of Ruminant Nutrition.
After the very dry summer, rain in August, September, and October revived the dormant grass. The grass supported some grazing through the fall.
"The drought hurt the hay crop that will be fed over winter," Swanson said. "Cattle cake will be needed this winter when grazing is done."
Famo Feeds decided to make two products, Precision 15 cattle cake (15 percent protein) and Precision 20 cattle cake (20 percent protein).
The ingredients are mostly wheat middlings (midds) along with sunflower meal, alfalfa meal, vitamins and minerals. The formula and manufacturing process produces large pellets.
"The nice thing about cake is you don't have to have great facilities to feed it," Swanson said.
You can feed cake on the ground.
"That's the advantage over smaller pellets," he said. "The smaller pellets can get lost in the ground. "
Lick tubs get crude protein, minerals, and vitamins into cattle, but a cake provides all those plus extra calories to keep pounds on.
"It gives the cattle something to sink their teeth into and help them get through a drought or the winter," he said.
The feed mill had access to needed ingredients but had to locate a large diameter die to make the pellets. Once they got the system working, things have gone well.
There isn't much to learn about feeding cattle cake, Swanson said. You basically feed 1-5 pounds per head per day.
With the new market in Minnesota, he's spent some time explaining how western ranchers train their cattle to come to a fence line at a certain time of day. The cake is spread perhaps with a truck or ATV depending on the number of cattle. It's a great time to count head and observe the herd.
Swanson expects an assortment of hay quality through the winter months.
"A mildly drought-stressed alfalfa could have excellent quality, but cattails or CRP hay that hadn't been cut for five years is not excellent quality," he said. "This cattle cake is a way to extend the quantity and can also level the playing field with the quality side, too."
Please note: Cattle cake contains copper and should not be fed to sheep, as it can be toxic.