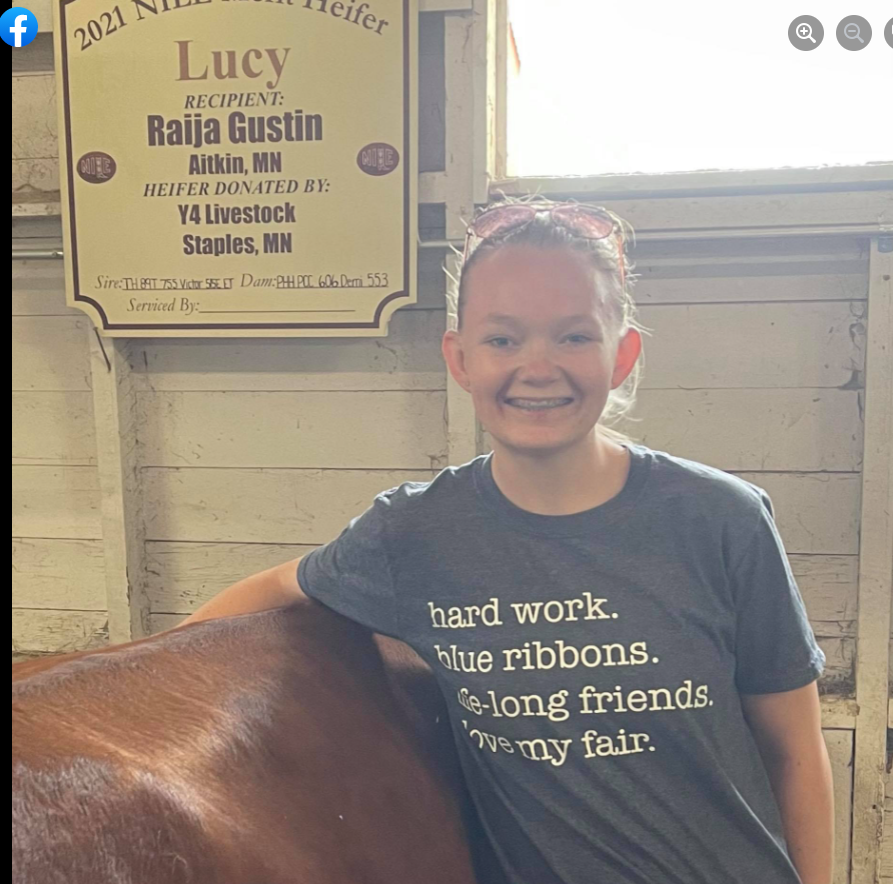 Eight hundred miles west of her hometown of Aitkin, Minn., Raija (pronounced Rya) Gustin found a cattle mentorship program that suited her well – the Northern International Livestock Expo (NILE) Merit Heifer Program.
Coordinated with the NILE in Billings, Mont., the NILE Merit Heifer Program offers youth the opportunity to get started in the beef industry by awarding a weaned heifer calf to 20-25 recipients based on merit.
Each selected 12-16-year-old youth is responsible for care and management of the heifer. They arrange for breeding, complete recordkeeping, send monthly reports to the NILE staff, and travel to Billings to participate in the NILE Merit Heifer Show.
"It's a long haul," said Raija, 16. "Without stops, it's 13 hours to get from our house to Billings."
She wasn't complaining.
"I love Montana," she continued. "Last fall we went out there and watched the NILE Merit Heifer Show so I could be more prepared for what it was going to be like."
Not limited to Montana residents
Raija is the daughter of TJ and Tiffany Gustin. She loves animals and hopes to become a veterinarian.
"I started out in 2014 showing turkeys. I brought four turkeys to the Aitkin County Fair, and I liked it," she said.
Ready to head back to the county fair with more turkeys in 2015, the 4-H'er couldn't show because of an avian flu outbreak.
"One of our neighbors said I could show a calf of his," she said. "I was expecting a little, tiny, cute thing that would follow me around. Instead, it was a bred yearling heifer."
With a natural flair for the show ring, Raija had fun training, fitting, and showing the heifer. She brought that neighbor's "heifer" with calf by her side, back to the Aitkin County Fair for the next few years.
She exhibited the cow's calf as a prospect steer at the Minnesota Beef Expo in October 2018, but what she really wanted was to buy her own heifer.
"I had been talking about it for quite a while and my parents didn't think it was a really great idea, since I didn't have a barn or a fence or anything like that," she said. "I convinced them somehow to do it."
Her mother challenged her to solve four problems to proceed. She had to find someone who would loan her the money; her uncle agreed. She had to find a job; her other uncle managed the grocery store, and she could start working there when she turned 14 in less than a month. She had to get a ride home for her heifer; easy – get a ride home with other Aitkin County exhibitors. She had to find the heifer a place to stay; the neighbor who got her started agreed to keep the heifer at his farm.
Already resourceful at age 13, Raija only needed about 10 minutes on the phone to meet the challenge.
"My mom went back to the camper. I don't think she could quite handle that I'd figured that all out," she said. "My dad and I went to the auction."
After looking at a couple of heifers that sold for well over her budget, Raija purchased a purebred Registered Shorthorn for $2,000, which she paid off in just five months.
The heifer's name was Storm.
There were big hopes for Storm, but instead, Raija learned lessons in beef production.
After being unsuccessful with AI breeding, Raija put Storm out to pasture with the neighbor's Angus bull. A Shorthorn plus bull calf, named Kevin, was born in June 2020.
Raija showed Storm and Kevin virtually in 2020 at the Aitkin County Fair and the Minnesota State Fair because of COVID shelter-in-place requirements. The Minnesota Beef Expo was cancelled, too, and with it the 2020 Minnesota Youth Beef Experience Program (MYBEP) that matches youth with heifers.
In 2020, Storm also got sick and had to be put down. Kevin was banded and finished out.
Raija's beef project wasn't moving forward, and that needed to change.
It was a tough time for Raija and her family.
Then, Tiffany, the executive secretary of the Minnesota Federation of County Fairs, learned from a friend on the Minnesota State Fair Board about the NILE Merit Heifer Program.
"They were still having that program, so I applied, made a video, wrote a paper, and filled out the application," Raija said. She also lined up three references for her application and received letters from three additional references.
She was awarded a heifer.
The application very clearly says that applicants may live outside of Montana.
Recipients hail from Montana and surrounding states, such as North Dakota, South Dakota, Wyoming, Washington, or other states, but as far back as the NILE staff can remember, Raija is the first youth from Minnesota to receive a heifer.
The NILE Merit Heifer adventure begins
Raija received a letter in the mail from Shelby Shaw, NILE Merit Heifer Coordinator, that a Hereford breeder from Staples, Minn., agreed to donate a heifer.
"I spent some time out in Montana when I was younger, so I knew what the NILE was, and had always wanted to get there," said Mike Sams, the Hereford breeder who stepped forward.
With a common Genex connection, Mike had been contacted by Dwain Hould, NILE Merit Heifer Program Director.
"Dwain said they had an application from a young lady, and that she was in Aitkin, Minn. He didn't know anybody that he could try to match up with this young gal for the NILE Merit Heifer Program," Mike said. "That was the beginning of it."
Mike and his wife, Mary, understood about western tradition and rodeo, and they had western-style Herefords. They also knew how difficult it can be to get started in the beef business.
They had started building their own herd in 1989, but Mike was called to active duty in Iraq in 2004. They decided the best thing to do was disperse the herd.
When he came back in 2006, they began building their herd again.
For the most part, business has gone well at Mike and Mary's farm, Y4 Livestock. The farm is predominantly a commercial cow/calf operation, with over 150 head, including about 30 Registered Herefords.
Working with his sister-in-law and brother-in-law, Mike sells most of his cattle via video online sales at Tri County Livestock in Motley, Minn. The three operations market almost 400 head together.
One unique thing about the Sams family: the couple completes most of their cattle chores, haying, and veterinary work with the help of draft horses.
"This year, our days might be numbered in business with the amount of feed we have available (due to the drought), but we'll see what happens," he said.
The drought has made things difficult, but Raija and her heifer project have been a ray of sunshine.
Mike and Mary allowed Raija to select the heifer she wanted out of about 15 head. She named her Lucy and earned reserve champion breeding heifer at the Aitkin County Fair. Lucy competed in the 2021 Minnesota State Fair 4-H Livestock Show, too.
"She's put a lot of work into it, just a phenomenal amount of work," he said. "We have nothing but praise for that young lady."
A trifold network – Raija and her family, Y4 Ranch, and the NILE Merit Heifer Program – is a winning team.
Miss Shaw explained that each month, the youth have a zoom meeting where they learn about all facets of the beef industry. They are required to write monthly reports that are graded, interview with industry professionals while at NILE, and complete a record book in addition to the daily care of the heifer.
The final requirement before the now-bred heifer is given to the youth is attending the NILE Stock Show in October and participating in the NILE Merit Heifer Show.
Attending the 2021 NILE was a sacrifice, but one that Raija and her family wanted to make – as did Mike and Mary who planned to attend NILE for five days, as well. Mike finally got his trip to see the NILE Rodeo.
Raija asked her parents to build a 30- by 40-foot barn with calving pens and fitting area. She also purchased a bred Registered Shorthorn, Murphy, from the family who sold her Storm at the Minnesota Beef Expo in 2018. Murphy had a bull calf, named Bruce, who was also banded.
"Eventually, I'd like to have a cow/calf operation, but I don't have a whole lot of space right now, or money. I have two jobs to help pay for my animals," Raija said.
She's off to a good start learning about the level of commitment required to raise cattle, courtesy of the NILE Merit Heifer Program.
"Hopefully, down the road, she will have some cattle, and she can return the favor to another youth," Mike said. "If she's asked to participate, that she would pay it forward and pass it along. That would be the hope."