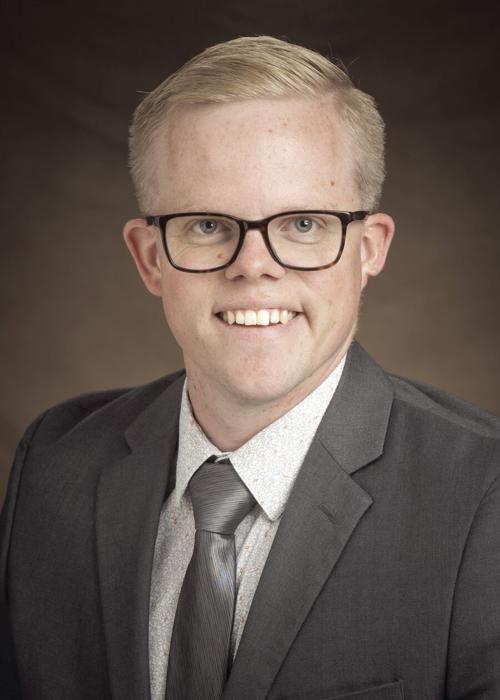 Growing up in east central Minnesota, Zachary Carlson, who joined North Dakota State University as a beef cattle specialist on May 28, knew from an early age he had a passion for animal agriculture.
"Early on, in high school even, I knew I wanted to do something in animal agriculture related to cattle," Carlson said. "My family had a small 30-head commercial herd, so in college I got involved with some undergrad research here at NDSU under Kendall Swanson and that was when I realized I wanted to go to graduate school and get a Ph.D. in ruminant nutrition."
Following the earning of his Bachelor of Science degree in animal science at NDSU, with the guidance of his mentors at the university, Carlson enrolled at the University of Nebraska-Lincoln where he would spend the next seven years earning his Master of Science degree and Ph.D. in animal science.
His Ph.D. research evaluated several areas of the beef industry, including alternative cow-calf production involving feedlot confinement and cover crop grazing, yearling grazing systems, and implant programs in heifers on finishing diets.
"I really took to Extension and the application of applying the research directly to the producers, and I see a lot of value in that relationship," Carlson said. "We often can think of land-grant universities as a three-legged stool – the common education, research, and the last one, Extension.
"I see a lot of value in Extension and started looking at available positions, and the timing of this position was just right," he continued. "I already had strong connections here at NDSU and I loved my time in the animal science program, so it was an easy choice for me to come up here and I'm very thankful to have this opportunity."
In his new role as beef cattle specialist, Carlson will devote 70 percent of his time to Extension and 30 percent to research. His extension responsibilities include statewide programing that will offer improvements to existing production practices, as well as alternative practices and concepts. He will also be involved in training Extension personnel so that they can make a greater impact in their communities.
"(The position) really lends itself for me to take what I learn from Extension and let it drive my research," Carlson said. "It's really fitting to have a position such as this where I can take questions and situations that maybe we don't have a robust amount of literature on and actually apply some research in that area to bring back to the state."
Carlson will work closely with former NDSU Extension beef cattle specialist Carl Dahlen, who is remaining in the animal science department as an associate professor, and he believes their areas of training will combine to really benefit North Dakota livestock producers.
"I'm nutritionally-trained, but I serve the entire state in all aspects of beef cattle production," Carlson said. "Carl's training is in reproductive physiology, so we kind of come from different angles, but we can still address all concerns."
As beef cattle specialist, Carlson says he has two main stakeholders – the Extension agents throughout the state and North Dakota cattle producers.
"With the agents, there's a lot of programming on our side of things as we work towards developing tools that they can use," he said. "(Agents) are the 'boots on the ground' for Extension. They know their people, they know their county, and we're not a successful program if there's not a lot of interaction within the county between Extension agents and producers. My role is to serve the agents and help them – providing material and information that best suits them and their producers in their county."
Since taking over in the position, Carlson says his goals have and will be to stay current with how information is disseminated throughout the state by understanding how people are changing the ways they communicate.
"More and more people are interacting on social media, so as we migrate to more demonstrations and discussions through video platforms, a big goal of mine is to figure out how to take and apply this information and get it to the producers and make sure we are achieving that communication through all avenues," he explained.
On a broader scope, Carlson says his focus is to help provide alternative options for existing operations – interacting more with crop and livestock producers, filling the gap with an integrative production setting utilizing both livestock and crop production.
"I feel like those don't have to be under the same ownership, there can be partnerships there, so communicating with livestock producers and showcasing the value of incorporating livestock into crop production and cropping systems is a big goal of mine," he said.
"North Dakota has a tremendous opportunity and advantage with the diverse crop production that is seen across the state. It's unique to the state and we can optimize and take full advantage of that on the livestock side, as well as the crop production side," he added.
In terms of research Carlson will be working on, one area he's interested in further investigating is sulfates and water quality, which have been an issue throughout the state, not just this year with the drought, but over prior years, as well.
"Having a better understanding of what impacts that might have on a cow-calf operation on a yearly basis is a necessity," he said. "There's good literature out there, but there are still questions we can ask and test on. I'd like to see whether or not there are other mitigation strategies that go with that and seek what those are.
"If producers have poor water quality, they have to find an alternative source, and that can't always be immediate. Things like putting a well in is something that's done over time. There may be some more mitigation strategies we can look into. This area is not only relevant now with the drought, but it will be relevant in the future, too," Carlson concluded.