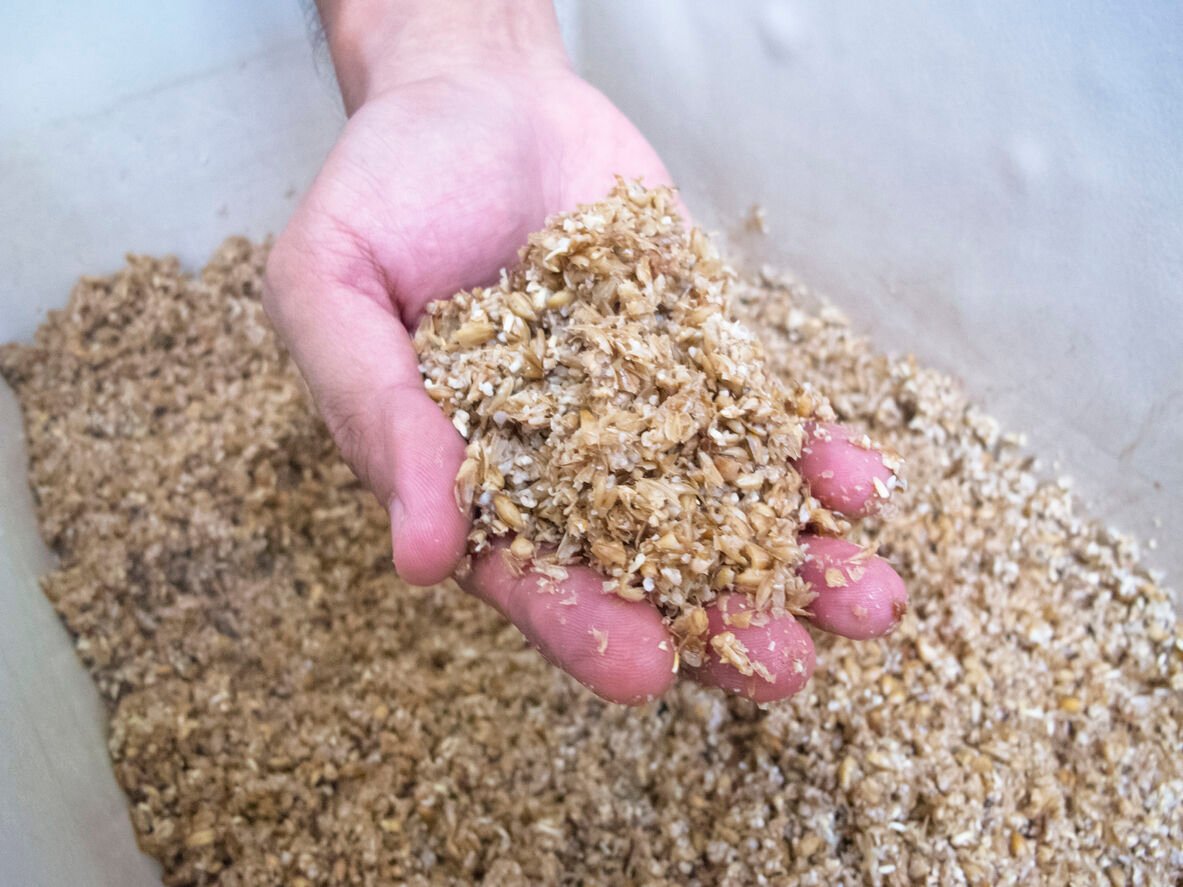 Arguably one of the oldest by-products ever fed to livestock, spent grain, simply put, is what is left after the malting process has fermented the sugars and carbohydrates out of the grain to make beer. The remaining product is similar in consistency to a warm bowl of oatmeal and it is loved by cattle.
John Rimel, a small-scale cattle producer from Missoula, Mont., has been feeding spent grain to his cattle for about 15 years. For Rimel, it all began when he was brewing beer as a hobby. The start gave him a connection with Kettlehouse Brewery, so for the past several years he has been hauling spent grain from their brewing locations around Missoula.
With the sugars and carbohydrates largely gone, spent grains are a highly digestible protein source for cattle. Generally speaking, spent grains are about 74 percent wet matter and 26 percent dry matter. They run high in protein (30 percent) and fiber (about 50 percent neutral detergent fiber) and they offer some fat, as well (about 9 percent). Those values can fluctuate depending on the specific grains used.
"It is like a protein shake for a cow," Rimel said.
Rimel supplements his cows with spent grain from just after calving until the start of their third trimester. A few years ago, he had an issue with aborted calves, and although not conclusive, he and his vet began to wonder if there could be some connection to the spent grains. Since removing the cows from the spent grain for their third trimester of pregnancy, Rimel has had no issues with abortions.
Overall though, Rimel has seen a lot of positives with starting his mother cows on the spent grain right after calving. He has noticed it helps stimulate milk production and the calves on their mother's side get exposed to the feed product, as well.
"It really helps when you go to wean them if the calves already know how to eat a supplemental feed," he added.
After being weaned, Rimel keeps his calves on spent grain all the way through the finishing process. He then markets the meat locally.
In the beginning, Rimel hauled the spent grain on a flatbed trailer from Kettlehouse Brewery's location in the city of Missoula. He even donated his time and hauled some of the spent grain to the Missoula FFA's school farm where they feed the grain to their hogs. Kettlehouse has since moved to a bigger location in Bonner, just west of Missoula, and Rimel has upgraded to a dump bed trailer, which makes the unloading and feeding of the grain much easier.
Since it is wet and there is the potential to have some yeast left in the mixture, spent grain must be fed fresh as it does not keep well. Rimel himself picks up a dump trailer load of spent grain once a week and feeds it out within a couple of days.
The components of the spent grain vary, depending on what Kettlehouse brewed that week. Sometimes the spent grain is only barley, while other times it is a mixture of grains.
"One of the brews I like personally and I also like it for the cows, is called Shady. It is a New England IPA and it has like three or four different grains in it. The cows just love it," Rimel said.
Probably the best part of feeding spent grain is the economics of it. Since it is a by-product, Kettlehouse Brewery just wants to get rid of the spent grain, free of charge. Rimel says his only cost into the product is diesel for the 30-mile round trip he must make to Bonner and back once a week, as well as the equipment fee, since he bought a dump trailer specifically for hauling spent grain.
Rimel feeds his spent grain on the ground or he sometimes shovels it into a feed bunk, but he has observed that there are other ways to feed the product. If you have access to the product and a little ingenuity, he attests, spent grain offers a great feed source opportunity for many producers.
With pristine waters and premium grains, the Northern Great Plains has seen a steady increase in breweries. These breweries further feed into the agrarian cycle as spent grain continues to prove it is an affordable and digestible feed supplement for livestock.