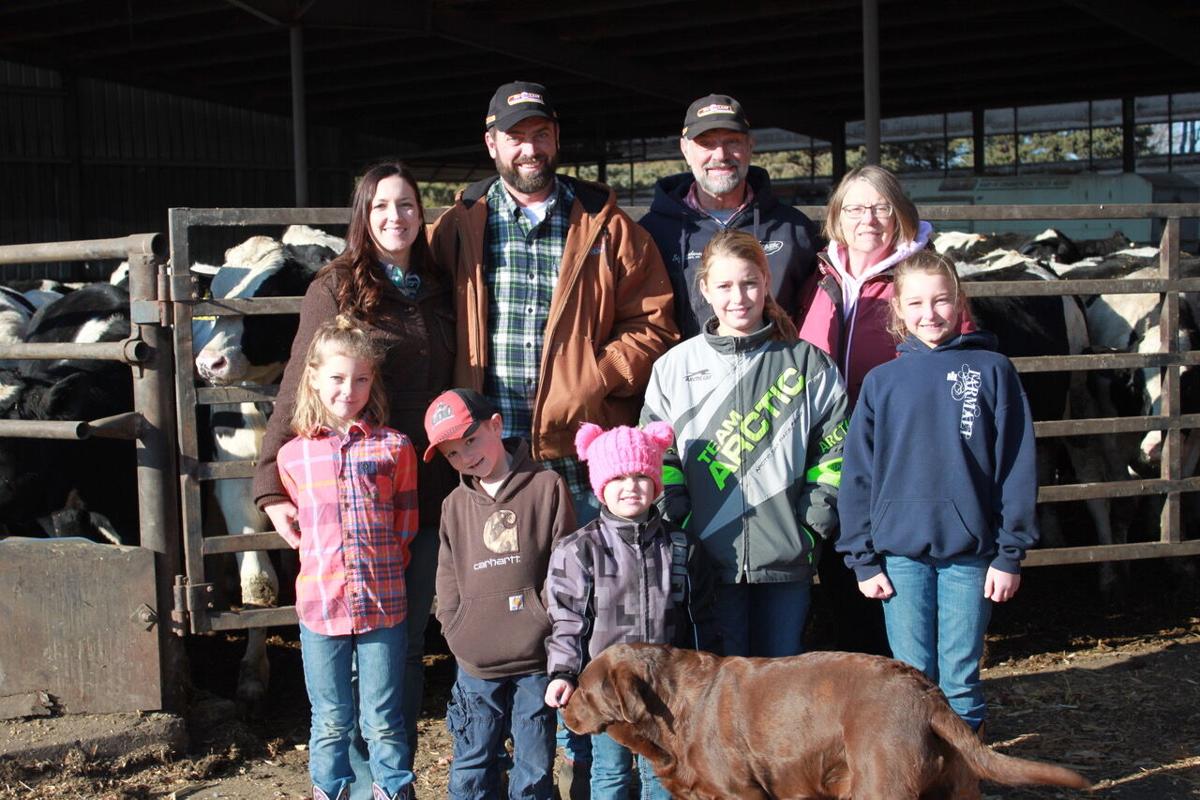 HANCOCK, Minn. – The first day of spring was March 20. The temperature was above freezing and farmers considered putting in wheat.
It was time to reflect on the winter of 2020-21.
D & J Livestock, LLC, has been kind enough to allow us to follow their family and farm during the wintertime.
The Boon family is all about faith, family and farming. Don and Carol are the third generation on the Boon farm, John and Jennifer are the fourth generation, and their children are Abigail, Shae, Grace, John Luke and Sadie, the fifth generation.
The Boons are very active in their church, Hancock Christian Reformed, as well as the Hancock School District and other community groups.
The family farm spent the winter feeding out about 830 Holstein steers and 150 beef heifers.
"We get the Holsteins in at 450-500 pounds (in late April/early May) and start them on a 56 Mcal total mixed ration," said John Boon back in late November 2020. "They are on a 58 Mcal ration for quite a while to stretch their frame, then 60 Mcal, and the finishing diet is 62 Mcal. We get them on that last ration for 100-120 days prior to shipping to the packing plant."
The Boons depend on Form-A-Feed and Heidi Roering-Resch, M.S., to formulate their feeding rations. She also completes a feeder-mixer audit to make certain their Roto-Mix is working correctly. She takes samples at the beginning, middle and end of the bunk to see that every animal is getting the same feed ration throughout the bunk.
One question that D & J Livestock is asked frequently is: what happens with all of the manure?
"We work with Centrol Crop Consulting to come up with a manure management plan," John said. "We usually spread on the fields that need it at a rate of 12-20 tons per acre – whatever the soil sample calls for and incorporate it with a McFarlane Quadra-Till. Then we sell the extra manure to neighbors."
Weather conditions remained mild through much of December, with little rain or snow. Temperatures stayed between 20-40 degrees.
The mild conditions offered savings in time and dollars. The Boons scraped and bedded twice per week, adding corn stalks to the bed pack each time.
"With above freezing temperatures, it's easier to scrape around the pens," John said. "It gets tricky when the temperature drops well below zero. The manure freezes and over a period of time produces deeper manure ruts, making it hard for the cattle to move around."
At Christmas, John and Jennifer took time to make the holiday special for their children. They purchase a real Christmas tree every year from a local tree farm, spend an evening driving around looking at Christmas lights, make Christmas cookies as a family, and go Christmas caroling with a youth group to elderly people in Hancock.
In early January, the Boons met with their Farm Business Management instructor to finish year-end bookkeeping and tax preparations. They created a balance sheet based off of 2021 crop and cattle projections.
"Being cattle producers these last five years has been tough," John said. "Our motto has been: survive and maintain."
The operation relies on top quality farmland to grow large corn crops, and all of the corn is fed to the cattle. Most of the corn is harvested as earlage – a combine corn head on the chopper just takes the ear, cob and husk, and chops it into feed. It is harvested at 35-42 percent moisture.
By early February, the cattle were in their final weeks of finishing. Don and John follow Beef Quality Assurance (BQA) measures, and John completes BQA training and certification every three years.
D & J Livestock spoke for a group of 450-500-pound Holsteins to arrive at the end of April and first part of May.
While the winter was generally mild, a cold streak occurred in mid-February. Temperatures of minus 20 degrees were recorded over 10 days, resulting in vehicles breaking down and water pipes freezing in nearby towns. The weather made it difficult for livestock operations.
At D & J Livestock, cornstalk bales served as important windbreaks around the feedlot. The feed wagon and Mustang loader stayed in the heated shop. The tractor on the bale shredder was kept plugged-in, but it needed a Knipco heater to warm up the oil before it would move. Heaters were turned on and ice was chipped to keep the water lines and waterers open.
And the family dog, Ginger, found herself a cozy spot in the loft below a radiant tube heater.
Just before the cold snap, the first load of Holstein steers was shipped, averaging 1,490 pounds. A load of beef heifers was shipped, averaging 1,340 pounds.
COVID-19 cases showed a downward trend in February, and that allowed many school activities to resume. Abigail and Shae joined the elementary girls basketball team and enjoyed getting out doing something with their friends.
John serves on the school board for Hancock Public Schools. He was happy to see the second half of February was filled with basketball practices and games, FFA events, book fairs and more.
By early March, the Boons had turned their thoughts toward spring planting.
Temperatures ranged from 20-60 degrees. Precipitation varied from wet snow to rain. Wind speeds were 0-35 miles per hour. With the unpredictable spring weather, the Boons are grateful to have their cattle under a roof.
An additional load of beef heifers and four more loads of Holstein steers were shipped to the processing facility. The remaining finished cattle will be shipped in April. After a whole pen is shipped, the Boons haul out the bed pack before the new calves come and start a new one.
Several tractors, the McFarlane 4100 Series reel disk, and the planter were brought out of the sheds for servicing.
They intend to raise 220 acres of corn, 40 acres of soybeans, and 40 acres of alfalfa for feed.
The weather is warming, the smell of freshly worked soil drifts in the air, new calves are coming, and the kids are setting their gopher traps and losing their boots in the mud.
For the Boons, farming intertwines itself in all parts of their lives.
"We realize it's by God's grace that we can work as a family on the farm, and we want to pass down these values to our kids, along with serving others in their community," John said. "Enjoying raising cattle and the feed for them is a gift that we're grateful we've been entrusted with."
Our sincere thanks to D & J Livestock, LLC, for sharing their reports this winter. Minnesota Farm Guide wishes the Boon family nothing but success in the future!