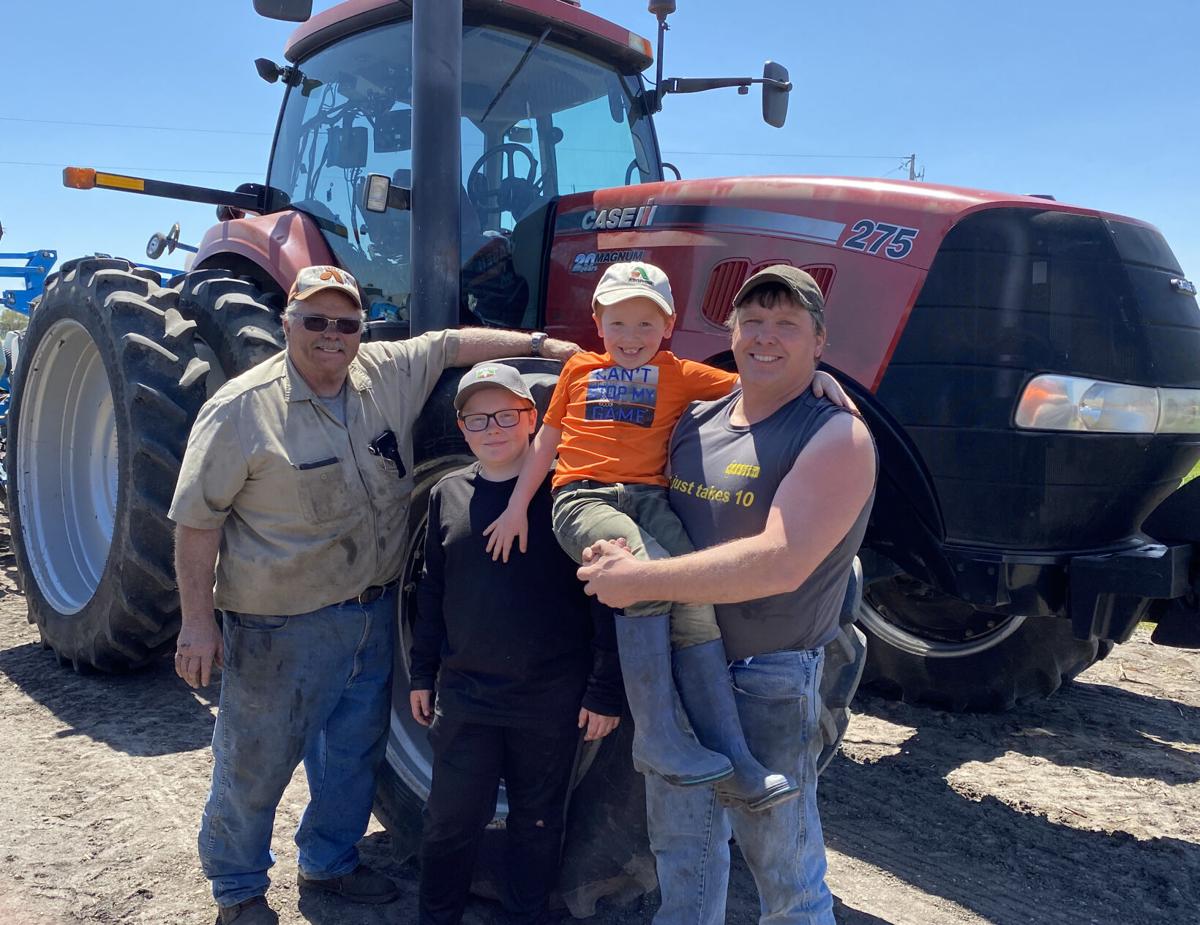 ADA, Minn. – Danny Brandt wasted none of Norman County's five-month growing season to raise crops.
With very wet conditions and early snow in 2019, the Brandts left about 100 acres of corn standing over winter. Just over half of the 2019 sugarbeets were left in the fields due to record wet conditions and early snow.
That all changed in 2020. The last 100 acres of corn were harvested, and a small amount of farmland was categorized as prevented planting this year.
Planting started on April 21, and by April 28, one-third of the wheat and one-fourth of the sugarbeets were planted. Some corn was planted when air temps reached 70 degrees.
The crew still had some challenges in mid-May, but they kept working, despite colder temperatures. Water from saturated soil was moving west from the eastern bank of the Red River Valley. Frost occurred on May 8, 11 and 12.
Then, everything began to change on May 17. Temps moved into the 70s and winds blew at 10-12 miles per hour. In one week, the Brandts finished their sugarbeet planting, finished all but 50 acres of wheat, finished corn planting and made great progress on seed soybean planting. Planting was wrapped up in early June.
Surprisingly, conditions turned hot, dry and windy. A big storm developed on the night of June 7-8, with winds reaching 50-60 miles per hour. Over 2 inches of rain fell, plus some hail. Soon, the Brandts were back in the fields working on spraying.
By June 22, the early-planted sugarbeet reached row closure and the early wheat was headed out.
In early July, Danny noted evidence of compaction in almost every field due to the wet conditions in 2019; but the corn was already taller than him.
The soybeans reached R3 by mid-July, and the sugarbeets looked very good.
At July's end, the oats were harvested for grain and the straw was baled. About 1,000 small square bales were made in early August. Spring wheat harvest followed with good grain quality, excellent falling numbers and nice, dark kernels.
Danny said the sugarbeeets, corn and soybeans looked good, but would benefit from rain. Growing Degree Units were above average.
It wasn't long before the region received very heavy rainfall. On Aug. 14-15, 3-6 inches of rain fell across the county.
As of Aug. 18, there were 300 acres of wheat left to harvest, and pre-pile sugarbeet harvest was set to begin. Another 1.4 inches of rain fell on Aug. 30, although the soil dried quickly. Wheat harvest was all but finished on Sept. 1.
Pre-pile sugarbeet harvest finished up in mid-September. Then American Crystal Sugar decided to dig more pre-pile sugarbeets for a special pre-pile harvest on Sept. 25-26. The Brandts took time to plant oats as a cover crop on the harvested ground.
Temperatures were in the low 70s, and the sky was hazy from forest fires on the West Coast.
Some frost did occur on Sept. 8-9 that took off the top pods on the soybeans, he added. As the days of September moved along, the soybeans changed color and then began to lose leaves.
Soybean harvest began on Sept. 20, and all of the soybeans are stored on the farm until they are picked up for cleaning, sorting and processing for seed this winter.
There was a small, but intense thunderstorm on Sept. 23, and some neighbors were already combining corn at 22 percent moisture as of Sept. 24.
The main sugarbeet harvest started on Sept. 28. Sugarbeet harvest finished up on Oct. 10, at 10 a.m. The beets went into storage very nicely – a complete 180-degree difference from last year.
"That's early, but a few of the receiving stations are still open," Danny said. "Ada West and Scandia have completed harvest. It's a blessing to have a nice beet harvest."
About one-fourth of an inch of rain fell on Oct. 11. The wind was very strong and there was a lot of lightning. Farmers were concerned that the very dry cornfields could be struck and start on fire.
On Monday, Oct. 12, Danny and Glen were taking the plastic liners out of their semitrailers and putting roll tarps back on. Soybeans were finished up, and the combines were reset for corn.
Danny opened up the headlands on one of the fields. The monitor read 13.5-14.5 percent moisture already. Corn harvest began in earnest on the afternoon of Oct. 12.
"I knew we had that early frost (Sept. 8-9) and I knew the corn was going to dry down. I don't think the yield is going to quite be there like everyone was hoping it would be," he said. "The yield is down in everything, but it's a good crop, nonetheless. Everybody thought we were going to have a monster soybean crop, but the frost came and hurt some of that. I think it took a couple tons off of the sugarbeets, but we had excellent quality."
It's also been nice to see some better prices for the crops, he added. It is encouraging to know the dollars will be there to get the bills paid.
As the corn harvest finishes up, there will be tillage, scraping, repairing and cleaning to complete for the next few months. Then it will be on to planning the crops for next spring and taking advantage of any purchasing opportunities.
The kids finished up most of their fall sports activities, but Danny knew that he and Rachel will make many trips this winter keeping their family involved.
Out in the barn, the sows will continue to farrow, too. On Facebook, Danny posts photos of the new baby piglets whenever he has time, because they're really cute.
For anyone who would like to continue following along with Brandt Farms, visit Danny Brandt's Facebook page for all of the photos and fun events going on every week.
We want to thank Danny Brandt for his excellent reports this growing season. Due to COVID-19, it was only possible to visit one time in person, but Danny continued to provide photos and commentary over the last six months, and for that we are so grateful. Thank you!