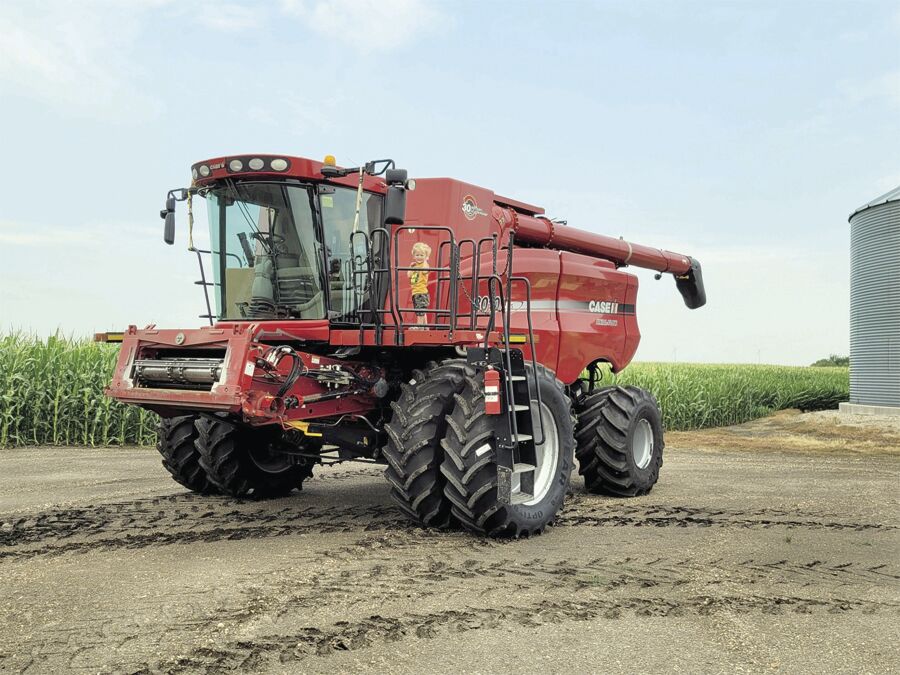 PAGE, N.D. – As the middle to later days of July rolled around, so did the extreme heat, as temperatures hovered in the high 90s and even flirted with triple-digits across the state.
Preston Burchill has been a little unlucky this season, missing rains that passed through the area. But on July 19, his luck turned around, as the Page area received a nice shot of rain to help local crops deal with the high temperatures.
"We got between six- and seven-tenths yesterday (July 19), finally," he said with the sound of relief in his voice. "It was probably around the Fourth of July that we've had anything that was even measurable. Around Father's Day was the last real good rain we've had. So it was a little bit of a relief to get the moisture, except for the fact it's going to be 100 degrees all week."
Preston's corn and soybean fields are doing well, despite the tough conditions this summer.
"They're holding on pretty good for the most part," he said. "Some parts are starting to turn south, though."
As far as yield expectations for the crop, Preston is getting a little bit concerned about what things may look like come harvest time because of the heat stress on the crops.
"We're in a key time here on corn. It's just starting to pollinate, so right now is when we're making our bushels on that," he said. "The beans still have a little bit of time."
One bright spot this growing season has been the lack of weed pressure. Preston, nor any neighbors, have had any issues this summer.
"It's been a pretty decent year so far for anything weed-related," he said.
As his crops deal with the heat, Preston and his father, Duane, are busy getting equipment ready for harvest.
"We just need to go through our combine heads, change fluids on the combines, and go through our hopper trailers and some trucks. That's about it," he said.
With the hot weather and drought conditions, Preston says harvest may be coming early this year.
"If it stays warm like this and we don't get rain, we could be harvesting sometime in mid to late September on beans and I'm sure corn wouldn't be super far behind," he said.
For harvest the Burchills run two combines and a grain cart, as well as four trucks and trailers. Preston and his father have help from their hired man, as well as assistance other family friends that will come out to lend a hand.
Preston says they're also planning on doing some drainage on an old cattle pasture.
"We might go out and clean that up a bit," he said. "It's an old cattle pasture and we broke some of it up 10 years ago. We basically need to clean up the drains and make sure it doesn't wash out into the field at all. We don't have any cattle, so it's mostly for the wildlife. It's kind of in a valley, so we left a good amount of grass in there for wildlife."
Preston's great-grandfather had cattle in the mid-1970s, but his grandpa god rid of them when he took over because, Preston says, "he never liked dealing with cattle."
"As soon as Great-Grandpa retired, the cattle went out the door," he said.
Will Preston or his father ever bring cattle back as part of the operation?
"Not really. I like them in the freezer. They're a lot easier to take care of there," he joked. "I guess I wouldn't mind a few, but for the few you would have, I'm not sure it would necessarily be worth having them."
Off of the farm, the Burchills will be participating in a golf tournament being put on by the local elevator.
"I wouldn't say I'm a good golfer, but I'm alright," he concluded.