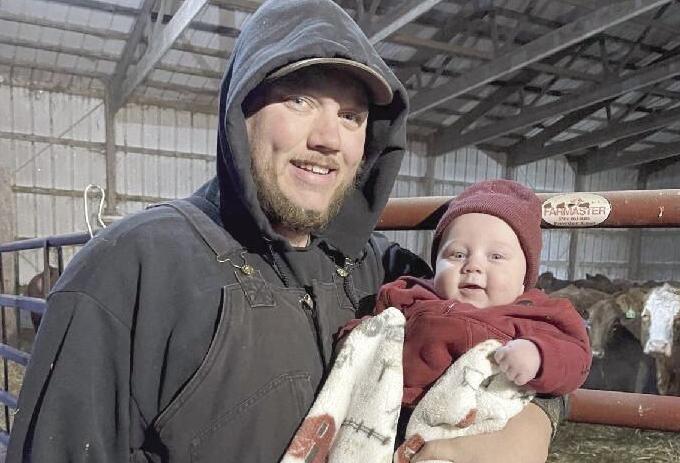 LUVERNE, N.D. – Jordan Svenningsen pulled into his yard after a trip to Fargo on March 29, and the north wind had been howling for the last several miles of the drive, plunging the early afternoon temperature from its high of over 70 degrees.
"I think our warmth is about done for the day," Jordan said. "We are down to about the last 40 or 50 to calve. We have a little over 200 on the ground. This calving season has been just wonderful. I don't think we could have had it any nicer and I don't think we could have had much better luck."
With the calving season coming close to wrapping up, Jordan has now started pulling some of the equipment out of the shed to begin getting ready for spring field work, although he feels we aren't way behind average right now the way some are worried about.
"We are ahead of our average temperature a little bit at this time, but at the same time, we are not that far above average. We had some days with high temperatures in the 50s, but we have also had some days where we have only been in the low 30s."
As you may remember from our previous conversations, Jordan does believe somewhat in a rain event following a foggy period, and checking with him, we should be getting some rain sometime soon.
"The end of March or the first part of April we should start seeing some rain and they are talking about us getting some showers next week," he said. "I am still hopeful for the rain and what not."
As far as the new house, some work continues to be done on that project, which he describes as "never ending."
"We finally got all of the door frames hung and as soon as I got done with that I noticed that half of the doors are wrong," he said. "They must have hung my frames on a Friday afternoon – some are hung right side up and others are installed upside down. They are five-panel doors and when they are side by side in a hallway or across from each other in a hall, it is really noticeable and drives me nuts."
This experience has also proven to Jordan he will not be taking on another home building project anytime soon. In fact, there will probably never be another house project.
"If farming fails, I will go and flip burgers long before I ever go into the construction business," he laughed.
As you may remember, half of the new building will eventually be used as his farm shop. But since he has not used the farm shop end of the building yet, Jordan is anxious to see how the two functions work together as far as odors from the machinery activities, exhaust smells and other things.
However, it may be some time yet before that portion of the building is developed. He feels he has plans in place to address those problems.
"I have insulation and I am going to have two layers of plastic and then a layer of this energy foil," he explained. "I am hoping I have enough layers of non-permeable stuff to a point where the smell doesn't come through."
With this being Jordan's last report with Farm & Ranch Guide, we'd like to thank him and his family for allowing us to follow along with them over the winter months and witness the development of their new housing project and take part in this year's calving season. We wish them the best of luck in their farming career.