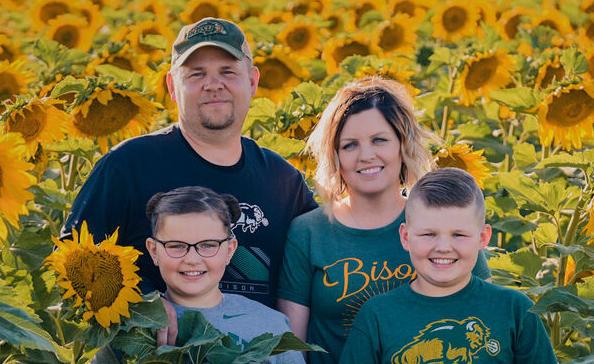 TIOGA, N.D. – At the Ryan and Jenice Davidson farm near Tioga, the last week of June brought cooler temperatures and three days of soft rain showers, relieving drought stress in the fields.
"We have had about three-quarters of an inch of rain in the last week," Ryan said on July 1. "Friday morning (June 25), we received about .40 inches of rain; then Saturday morning, .20, and Sunday morning, .15, and it came down nice and slow. It was really nice."
The fields south of Tioga received the full three-quarters of an inch, while fields to the north probably got a half-inch.
In fact, at least one field of peas got quite a bit of rain.
"I tried to do some late spraying and it was a mess (with muddy conditions), but it was nice to have the rain," he said. "The peas are looking good, but they are poking a few flowers. It is not ideal to flower in this heat."
Ryan said peas do better if they can flower slowly and then set pods after 2-3 weeks.
While he is relieved to have had some moisture, Ryan hopes the heat doesn't last and the rains continue being timely.
"If the heat stayed in the upper 70s, low 80s, I wouldn't be too concerned, but when we are pushing upper 80s and 90s, it is tough. You lose moisture just from evapotranspiration," he said. "But I don't complain – we have been blessed out here with some real nice timely rains that have set us up to have an okay crop. With the price level this year, we don't need a barnburner. An okay crop will keep the doors open."
We don't have any canola, but I drove by some canola yesterday when it was hot and you can see that crop is pretty droopy," he said.
Later in the day, Ryan was in the sprayer, in-crop spraying some fields of sunflowers. He has a few fields left of flowers to spray.
The Davidson's sunflowers were soaking up the rays and seemed to be thriving in the warm conditions.
"They love the heat – they will put on inches a day in the sunshine," Ryan said, adding some of the flowers are starting to bud.
Some of the sunflowers got behind when the area received a heavy rainfall two weeks prior.
"Those sunflowers got binged up and set back some. They're probably in the V5-V6 stage," he said. "But they will catch up with this expected heat. They'll flourish."
Ryan's spring wheat is in the boot and "should be shooting heads here pretty quick. Some of the neighbors' wheat crops are heading, too," he said.
For the durum, he expected it to start heading in early July.
Crops that were stressed from the lack of moisture in May/early June are coming out of it and looking like they will make a crop.
"Our barley is heading and is not showing stress (from the heat) yet," he said. "With the malt barley, for a while, we were wondering if we should spray or not, but I think it looks decent enough and we did have some dew on the first couple of sections of malt barley. I just told them to go spray fungicide on it."
Ryan feels it is important to protect his crop because who knows what will happen the rest of the summer?
"There is some value there, and I want to protect it," he said. "The contract price is good and we could see 60-70-bushel barley – it is not out of the question."
The Davidson's spring wheat is nearing the end of the boot stage.
"It is starting to show signs. The boot on them is swelling pretty good and we'll be poking beards here any day now," he added.
Ryan likes the way some of the spring wheat is adjusting from the recent moisture. He knows it is not a banner year, but with more rain, it could be a decent crop.
"I don't know if there is more potential and we are far from having this crop made, but on some of the fields, I could see a 40-bushel crop, but it is all speculation at this point," he said.
The Davidson's flax looks especially nice.
"The flax looks excellent. We waited and it was seeded into really nice moisture, and it had a really nice catch, so it is nice," Ryan said.
In the region, the recent rains have helped relieve some stress from worrying about the crops.
Even some hay growers are finding there is a crop.
"A buddy of mine hayed some alfalfa and he was expecting a half bale an acre and he got a little over a bale an acre," he said. "We are fortunate up here. At least there is something up here for guys to hay."