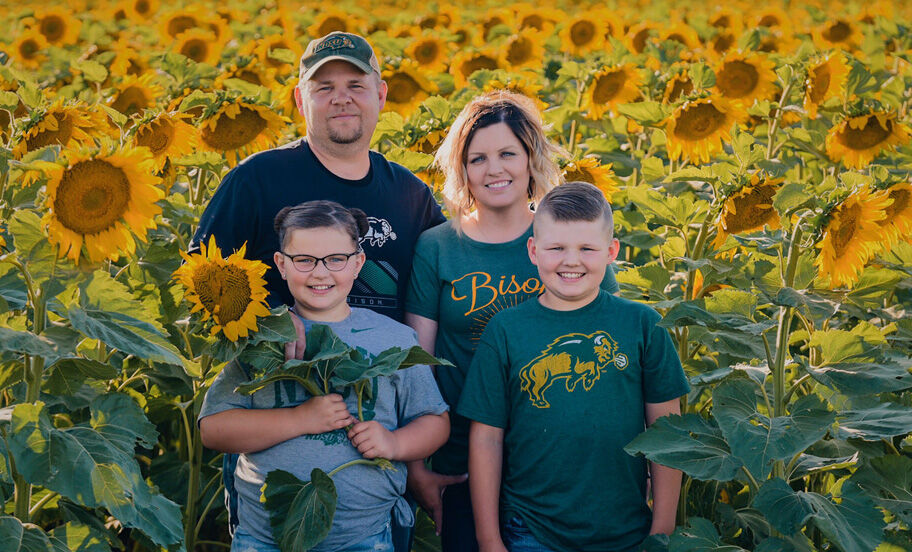 TIOGA, N.D. – Summer is in full swing across North Dakota, and crops are maturing and turning a little faster than normal in a number of areas due to hot temperatures several days in a row.
Ryan Davidson, who farms with his wife, Jenice, and two kids, Gavin and Gracelyn, thinks he may start harvesting by the end of July, as the crops are maturing quickly in the warm temperatures.
"The weather is in the upper 80s today and the forecast is for warm temperatures into the 90s for the next week," Ryan said during his interview on Saturday, July 17.
The Davidson farm fields received rain July 8, from a half-inch to an inch depending on where the field was located. It was a nice soft rain, and they were pleased to get more moisture.
"We got a nice rain, but the heat here is starting to push the crops," he said.
The malting barley is turning and the field peas are setting pods.
"The peas have finished flowering and the earlier peas are setting pods," Ryan said. "In a couple of weeks, we'll probably be cutting."
He thinks harvest will start with the barley.
"It will probably be the barley that is ready first because I seeded my peas a little later," he said.
At this point, Ryan feels the malting barley will yield "decently," and the peas will be okay.
"The peas will be average, I think, and some of the earlier wheat will be okay," he said.
Their flax is just starting to flower.
The spring wheat and durum are heading, which is followed by the pollination stage. That can be concerning with the heat, and only Mother Nature knows how long the stretch of warm days will last.
"The last of the wheat and durum is heading. The wheat and durum will be pollinating, or trying to in this heat, and that is never ideal," he said. "To have these crops trying to pollinate in high 80s and 90s is never good."
The oil sunflowers at the farm are doing okay, but Ryan thinks they may have grown too fast in the heat and not filled out enough.
"I am not too impressed with how they look, but it is tough to say how they will do. They are growing so much every day and are getting kind of spindly. They are 4-5 feet tall and haven't filled out the canopy. You can still see the ground between the rows," he said.
He said the flowers would start blooming within a week.
Ryan has seen some grasshoppers this summer in pockets in the fields.
"We put on some fungicide on and put Lorsban (insecticide) in with it because we have heard of grasshoppers around here," he said. "We'll have to really watch for hoppers in the sunflowers and flax once we start harvesting."
He expects they will have to spray for hoppers specifically this summer in at least one of the crops.
"They are starting to get bigger," he said.
As harvest approaches, Ryan points out that no one can really tell exactly how the crop actually looks from the road, except for whether or not it has received adequate moisture.
"You have to get out in it to see what is really there. If there are problems, you don't see it until you are in it," he said. "Overall, I think our crops are going to be okay this year. We may not need a lot of bushels to do okay this year, particularly with durum. Durum moved to $11 (per bushel) this week."
North Dakota crop economists are saying the durum crop has turned out to be smaller than expected this year in both the U.S. and Canada. Durum stocks are expected to be tight, and prices have gone up as a result.
"This week in Ray, durum went up $2 in one day. That reminds me of 2007 after harvest when I was hauling durum and the prices would move 25-50 cents in a day," Ryan said.
That is nice considering how long prices have been down for durum.
Meanwhile, Gracelyn and Gavin have been having summer fun at the lake.
"They are planning to go to my mom's place by the Garrison Dam for a few days and are pretty excited about that," Ryan concluded.