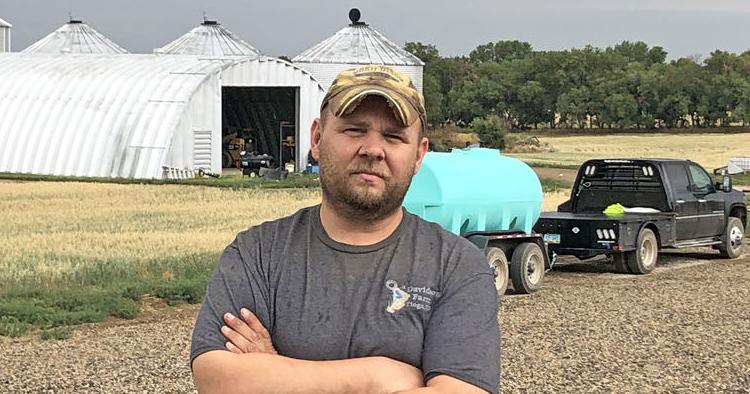 TIOGA, N.D. – Ryan Davidson decided to take a short break from harvesting at the end of September to try and prepare the farmyard and shop for the season ahead.
He expected to get rolling with harvest again the following week.
"I've been working on the yard, getting ready for winter, just picking up and clearing stuff and making it easier to bring equipment in and work on it in the shop," said Ryan, who farms with his wife, Jenice, and two kids, Gracelyn and Gavin.
Ryan is storing machines in a couple of outbuildings on the farm. They bring machinery into the shop as it is needed in order to work on it in the large, heated shop during the fall and winter.
A couple of jobs that Ryan would like to finish before the snow falls include digging some rocks and removing a row of dead trees that are alongside an old slough that border a field.
"There were some big, tall trees that were all dead, and we've pushed them down so they wouldn't fall into the field. I had a buddy come out with his track hoe and we at least got them removed, but now we need to pile them up and burn them," he said. "The trees had been underwater for quite a few years, so that's a major job we need to finish."
Harvesting is nearing the end stage, with flax and sunflowers left to cut.
"We desiccated the flax last week because it was regrowing. It is ready now, and we'll probably get going on it next week (first week of October)," he said. "We'll get some stuff done around the yard first and get ready for sunflowers."
In addition, there are some sunflowers that Ryan also recently desiccated that should be ready to harvest, too.
Ryan pointed out that the flowers that line the driveway up to the shop are actually drying down now.
"They are putting in a natural gas pipeline through that field right now, so hopefully they will be finished by the time I start cutting so I can drive right across and make the full pass so I don't have to split the field," he explained.
Around the Tioga/Ray area, energy pipelines from one company or another seem to be always going in.
"It seems every year, we'll deal with at least one going in the ground. It seems they are always doing something," he said, with a laugh.
By the first week in October, Ryan said he would be cutting sunflowers for sure.
"We put in a couple thousand acres of flowers, but I hope we'll be done harvesting before the end of October so we could get everything put away by November. That would be great," he said.
Ryan is hopeful to avoid a harvest like in 2019 when farmers had to cut fall crops in the snow, with many not finishing until the following spring.
"We didn't get done with the 2019 harvest until March 3, 2020," he said. "Everybody says with sunflowers, you'll be cutting in the snow, but actually, I have only had to cut flowers in the snow three times out of 10 years. Most of the time I have been able to get them off in decent fashion."
Ryan is also considering applying anhydrous ammonia fertilizer to some fields this fall.
"It is still a maybe because we would need some moisture before we could do that," he said.
Ryan explained that when applying anhydrous the ground needs moisture in order to seal up.
"Not only to seal up, but anhydrous seeks water, so you need water to help bind it with the soil," he said.
That would not be true of urea, but it is too early to spread urea, he said.
Fertilizer prices are on the rise right now.
"Fertilizer prices are going nuts. They are worried about shortages for next year," Ryan said.
There were some deals available for booking fertilizer early at his agronomy service.
"We have booked some," he said.
Ryan pointed out there were also opportunities to contract for new crop flax, feed barley, sunflowers and peas for 2022.
"We did some contracting of those crops to lock in a few acres to help," he said. "We'll leave some open (acres) if there is some upside, but we wanted to lock in some to manage risk."
If there would be another drought next year, Ryan said it might not have been the best choice. However, no one can farm and not take some risk, and the forecast is for a wet La Nina this winter and an early spring.
The weather has been typical of early fall, with cool to cold nights and still some warm days, especially in the early afternoons.
"We actually got down in the upper 20s Thursday night, Friday morning," Ryan concluded.