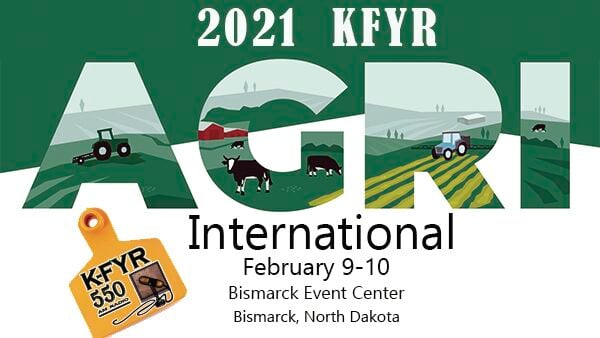 BISMARCK, N.D. – The 2021 KFYR Radio Agri International returns Feb. 9-10 at the Bismarck Event Center for their 44th year as one of the premier mid-winter agriculture showcases in the Upper Midwest.
The show was originally created to show appreciation for the region's farmers and ranchers, as well as to acknowledge the importance of agriculture to the economy. Once again, hundreds of agribusiness exhibits and numerous educational programs will be available to those in attendance.
Many farm shows throughout the region decide to cancel their events amid COVID-19 concerns, but Charlie Thomas, area president at iHeartMedia for North Dakota, is confident this year's KFYR Agri International will go on safely.
"It's certainly a different year. Some shows were cancelled and some moved dates, but we wanted to keep it on the same dates because it's been on the calendar for 44 years," he said. "It will always be remembered as the 'Agri International of the pandemic,' but we're looking forward to a good show.
"We're certainly following all CDC guidelines, and then on top of that, the Bismarck Event Center has guidelines set up, as well," Thomas continued. "There will be separation in between each booth, masks will be required and there will be a limit to how many people can be in the building at any given time. We don't see an issue with that as our crowds are spread out throughout the day, so we are going to be good there. Obviously, we'll ask for social distancing."
According to Thomas, cancellation of the show was never under real consideration.
"There was certainly a lot of hoping and wishing that went into it, but as we got into October and November there was some discussion and we felt that as numbers improved after Thanksgiving and things started looking up a bit that we'd be able to move forward," he explained. "We had meetings with the Bismarck Event Center to make sure we were comfortable with the layout and all the COVID precautions, and we feel confident about it."
Ever since the expansion of the Bismarck Event center a handful of years ago, the number of exhibitors for the KFYR Agri International has increased every year. This year, due to COVID concerns, the vendor numbers are expected to be slightly down from the 450-500 booths last year.
"We're expecting to be down a little bit," Thomas said. "But with how things are opening up in North Dakota after the announcement from the governor, the phone has been ringing off the wall with vendors wanting to come be part of the show. So we could be down some, but I have no idea what that's going to be because of the amount of people we have signing up right now."
The KFYR Agri International has been an event farmers and ranchers look forward to every year for nearly four and a half decades, and the show's central location in Bismarck has always made it a convenient destination for show attendees. No matter what sector of the agriculture industry you're involved with, the KFYR Agri International offers information to help make your operation as efficient as possible.
"When farmers and ranchers come to the show, our vendors always present the latest innovations and information on how to be more efficient. On the producer side, we always have the big equipment – Butler, Case IH, Bobcat – everything you need on the farm is going to be there," Thomas said. "There may also be things some don't always think about like shop tools, fencing – things you need to get the job done around the place.
"On the ranching side, when it comes to processing cattle, there will be chutes or things you can use on the pasture to make life a little bit easier. On the crop side, our seed guys are there, our fertilizer guys are there, and our pesticide guys are there. So much changes every year, so it's great to keep up with all the new innovations going on within the industry," he continued.
One of the more popular annual events of the KFYR Agri International, the Living Ag Classroom, will not be held this year amid COVID concerns. The Living Ag Classroom, in partnership with many agriculture organizations and commodity groups, educates fourth grade students from around the region through various displays and activities.
However, the Farm Toy Show will be back for its 34th year of showcasing new and exciting toys for farm families to view and enjoy. The Farm Toy Show tractor this is a 9620R Farm Rescue edition.
"We just talked to the Farm Toy Show guy last week and he's really excited," Thomas said. "We always enjoy having all the farm toys here. It seems no matter what age you are, you can't help to stop by and look at the farm toys. I know I always do."
Attendees who are active in farming or ranching will have the chance to register at the Bobcat of Mandan booth for the opportunity to win up to 40 hours of use of a Bobcat, a giveaway sponsored by KFYR Radio and Bobcat of Mandan.
Producers attending the show will also have the opportunity to meet with various seed dealers during both days of the event.
The KFYR Radio Agri International will also feature several popular seminars during the two-day event, discussing everything from land values to farm succession.
"We will have pesticide certification again, as well as information about estate planning," Thomas said. "It might be a little different in terms of how many people we can have in each room with social distancing."
Admission and parking are free to those attending the KFYR Radio Agri International.