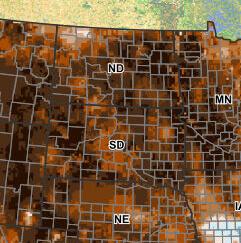 A new tool is helping producers, crop consultants, and others find out what the real moisture level in the soil is.
Crop Condition and Soil Moisture Analytics (Crop-CASMA) uses high-resolution data captured from a pair of satellites – NASA's Soil Moisture Active Passive (SMAP) mission and the Moderate Resolution Imaging Spectroradiometer (MODIS) instrument, which is an optical sensor on board another satellite.
"The new Crop-CASMA application will provide very useful information to help farmers make informed decisions," said Zhengwei Yang, researcher at USDA's National Agricultural Statistics Service (NASS).
Farmers can check out moisture levels ahead of making decisions, such as irrigation scheduling.
"The soil moisture data and vegetation condition data will help farmers determine if the soil condition is dry enough for equipment to operate in the field, to track the risk of the drought, determine irrigation needs, conduct water resource management and support market decisions," Yang said.
Yang explained the soil moisture is collected two to three days ahead of when the map comes out. While it is updated daily, there is a delay between when the data was collected and when the map appears on the website.
"The data served on Crop-CASMA is not real-time, but farmers can tell when the soil moisture data was measured from the time stamp on the map," Yang said.
Frayne Olson, NDSU crop economist and marketing specialist, said the CASMA tool's satellite imagery has been cross-validated with actual soil tests.
"USDA and NASA have been collecting a lot of satellite imagery about North American agriculture and in particular, U.S. agriculture. They have been taking this data for many years and they are now allowing access to it so anyone could do a customized search," Olson said.
Various filters can be placed on the map to get different information.
"You can get information about, not necessarily the entire soil profile, but more importantly, what is happening on the surface or within the root zone," he said.
Olson said the map for "Soil Moisture Anomaly" compares the current soil moisture profile to what the average or (normal) is at this time.
To get the average, they are using data from 2015 to the present, because that data is NASA's and USDA's most reliable satellite imagery data.
"We are looking at what is today's soil moisture content relative to what we would normally see at this time of year," Olson said.
The legend on the side of the map is listed in percentage, so it gives the percent of soil moisture relative to normal.
The soil moisture anomaly map is for the top two inches of soil, but you can change the map to reflect soil moisture levels down to one meter down.
"You can choose either a two-inch map or a one meter map," he said. "You can also choose whether you want the map from the current or daily perspective (short-term) or from a weekly perspective."
People can also see what is happening in the growing zone for the entire continental U.S.
Another filter brings up the "Soil Moisture" map and the user can select either the top two inches or meter of the soil.
"What this map shows is an estimate of satellite imagery of soil moisture," Olson said. "It gives an estimate of the average cubic meters of water in a cubic meter of soil. This can be used not only for tracking what is going on in North Dakota, but for what is going on in other parts of the nation," he said.
Another filter shows "Soil Moisture Categorical," which is available only on a weekly basis.
The categories range from very short, which is a red color, to short, a yellow color, to adequate, light green, or to surplus, which is a dark green color.
"Rather than putting soil moisture into a number, they put it in categories, and it does give you a nice picture of what is happening," Olson said.
However, the resolution is not always the best quality, and the user loses resolution as he/she zooms in.
Another map shows "NDVI- Normalized Difference Vegetative Index."
"We can get an idea of the vegetative health of the crops as they are growing as we look across the U.S.," he said. "Basically, it shows us how green the crop is."
Stressed crops would be lighter green in color.
"You can also put on a filter and look at only crop acres or only forage acres," he said.
Lastly, there is a map that shows the "Mean Vegetative Index (MVCI)."
"We are looking at how green the crop is compared to what we would see typically at this time of year," he said.
All the data and maps are a joint effort of USDA's NASS in collaboration with NASA and George Mason University.
"Crop-CASMA is unique in providing high-resolution, field-scale soil wetness from NASA satellites in an easy-to-use format," Yang said."We created an easy-to-use interface that requires little technical background to use. There's a tool to select an area and create a map you can save as a PDF, and you can also download data from the web to input into your model."
Yang added that the tool offers more thorough spatial coverage and consistency than other soil moisture measurement methods.
Crop-CASMA is available at: https://cloud.csiss.gmu.edu/Crop-CASMA/.