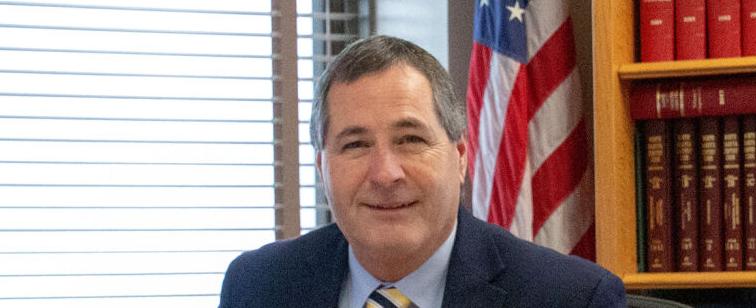 With 2021 in the rear-view mirror, North Dakota Agriculture Commissioner Doug Goehring visited with Farm & Ranch Guide to review the year and look ahead to the 2022 growing season.
While higher commodity prices in 2021 were a welcomed development for North Dakota farmers, severe drought conditions throughout the growing season made for a challenging year.
"There may be some hope around the corner with respect to getting moisture this last fall," Goehring said. "Almost all of North Dakota received some rain late in the season going into harvest, so that gives some hope for growing grass right away and germinating seed in the spring. If we can get some moderate, timely rains, I think we'll be on the road to recovery in respect to growing forage, feeding livestock, and building up feed supplies again."
If the value of the dollar stays down, like it was at the start of 2022, it will help make the U.S. more competitive heading into the next marking season. And while that's a positive for U.S. agriculture, Goehring says there are still many challenges on the horizon, especially when it comes to "attacks" on energy and supply chain issues.
"We have gone from a nation that was working on and actually acquired energy independence," Goehring said. "We weren't importing that much energy anymore, but now we're a country that's shut down many oil and gas producing places. It's going to impact our bottom line in production agriculture. These attacks on energy end up being attacks on agriculture because we're so energy dependent to be effective and efficient in producing at a level that provides, not just food security, but economic security. It's going to challenge us moving forward."
And then there's the fertilizer issue that's on the forefront of the minds of many producers across the country heading into 2022. For North Dakota growers, Goehring says he sees a possible silver lining.
"Last fall we saw a lot of nitrogen being applied in the Corn Belt. Hopefully what that does is not put us in such a tight position this spring when it comes to supply issues," he said. "There's the thought going forward that if a lot of that nitrogen was applied in other parts of the county, maybe that could limit some of the challenges we have in terms of trying to access supply."
As for the price for fertilizer, Goehring doesn't see that coming down much from where it is right now.
"It may come down a little, but we had the perfect storm," he said. "We had Hurricane Ida disrupt things in Louisiana, where we have a lot of production and transportation – barge traffic that needs to move through there and come up the Mississippi River. We had a couple facilities in North Dakota that experienced issues because of that, and by the time things got corrected, it was pretty late in the season, which aggravated a lot of our producers and caused a lot of supply issues.
"Expenses are certainly going to be higher going into next growing season," Goehring continued. "We're happy the markets are up, and because of some other production issues around the globe, we should be able to maintain some decent prices on commodities going forward, so that's a good thing. Time will tell."
One big issue moving forward, according to Goehring, is on the labor front.
"We've definitely got labor issues," he said. "The biggest thing I hear about is H-2A and H-2B workers. We need those skilled workers out of South Africa, especially in our potato processing facilities. We need them with sugarbeets and we have livestock operations that depend on H-2A workers. Some of our grain operations rely on them as well because of the skills they possess.
"You can't just throw anybody on millions of dollars worth of equipment out there to go plant, spray, or manage that crop and then harvest it," he continued. "This is an issue that has plagued us over the last couple of years, and it seems there are more roadblocks put in the way to even get those skilled workers into our ag operations, not just in North Dakota, but across the nation."
Not only is labor an issue, but so is transportation, as Goehring notes there is a shortage of about 61,000 truck drivers across the nation.
"That's unbelievable," he said. "We've operated for so long in a just-in-time mode that when COVID came it shifted things to a lot more home deliveries. There's been a complete disruption in traditional transportation routes over multiple industries. It needs an overhaul and we need to start focusing again on how to maintain and support that side of our industry and economy, because without it, it doesn't matter what you order online, it's going to get more expensive and there's going to be a lack of availability."
Goehring also noted that he's heard from economists in the financial sector that farmers should expect high interest rates going forward.
"It's forcing some producers to clean up some of their debt, but they also know in the future they'll have to acquire new debt to update equipment and try and keep the operation viable. They have to work with borrowed money," he said. "We don't want to experience the 1980s again. Some of these established farmers remember that time. I started farming at the end of the 1980s. I remember paying 13-16 percent interest on a loan. It's not fun."
A positive in recent years, Goehring notes, and a real complement to North Dakota, is that the federal government has adopted a number of state-developed programs that were created to help offset some of the cost of catastrophes that farmers in the state have experienced, like the Emergency Feed Transportation Program.
"That program will now be available nationwide. It's wonderful to know we have a great brain trust here in the Upper Midwest with our farmers, ranchers, and the rest of the industry to try and take a common sense approach to things to resolve issues," Goehring concluded.