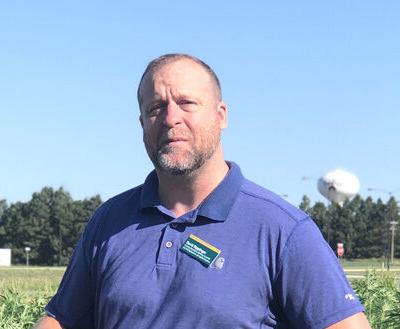 Ag and energy are closely entwined and the energy crisis across the globe has been impacting U.S. agriculture this year.
From natural gas price hikes to nitrogen fertilizer more than doubling since a year ago, inflation and massive supply chain issues causing shortages, farmers are experiencing the pinch.
The issues were front and center at NDSU's State of the Economy virtual conference with NDSU economists speaking.
A major cause of high energy prices is rapidly recovering demand, spurred by the economy recovering faster than expected from COVID, according to Dave Ripplinger, NDSU Extension bioenergy/bioproduct economics specialist.
"We have seen a very rapid recovery since the beginning of 2021 and this has implications for energy both in the U.S. and globally and it has happened more quickly than expected," Ripplinger said.
Private industry has been hesitant to increase capital spending because of COVID.
"Significant, ongoing spending is needed to bring new production online," he said. "Even recently, we have seen businesses hesitate to make capital investments."
This limits production and supply capacity, especially for shale oil and gas.
That has put the U.S. on a shaky footing with the supply chain, and the economy has been unable to provide many goods and services.
The trucking industry has been impacted by a shortage of truck drivers, which has also impacted recovery – nearly 80,000 truckers short.
"It is impacting our ability to move goods across the country, affecting both consumers and businesses negatively," he said.
Another problem has been the movement from fossil energy to renewable energy, which takes time.
"Some countries are more aggressive in their movement to renewables," he said. "But we don't have the resiliency that we once thought we did where we could rely on energy being always available. It is no longer the case."
Inflation has been a negative sign in the economy, and one sign is the higher gas prices.
"Over the last 12 months, gas prices have risen nearly 40 percent," he said.
A sign inflation is heavily impacting the economy is when consumers change their behavior and stop travelling.
"The economy is growing like gangbusters and it is one of the reasons for inflation," Ripplinger said.
Energy markets are interconnected, and oil and natural gas are global markets.
"The U.S. is feeling the impacts, especially in agriculture," he said.
Shortages in energy markets are causing many issues, and some of it is rapidly recovering demand and not having the energy resiliency the U.S. once had.
Natural gas hikes have impacted agriculture globally.
Europe's prices for natural gas have gone from a high of $40 per million BTUs to $20.
"It is 2021; Europe is a developed country and they are not energy secure. This year, they are going to have extremely high energy and natural gas prices. The cold winter in Europe last year, little emphasis on storage, and an emphasis on renewables has led to record-high natural gas prices," he said.
China had a rapid recovery to its economy, and they had a high demand for goods, hence a high demand for electricity.
"Coal prices have increased dramatically in China, and China uses coal to make fertilizer," Ripplinger said. With electricity prices fixed in China, and inputs for energy increasing in cost, they decided to take away power from industrial users, while ensuring residential customer needs were met.
"Not having power is uncomfortable for its people," he added. Last month they were short the electricity needed to power the equivalent of 3.5 million U.S. homes, and the shortage has also impacted soybean crush facilities there.
Natural gas prices have doubled in the U.S. and gone from $3 to $6. Natural gas is used to make nitrogen fertilizer, and it is part of the reason for the jump in N fertilizer prices.
"It takes 33.5 thousand cubic feet to produce a ton of anhydrous ammonia. If it is $25 per thousand cubic feet, the cost of feedstock alone to produce that ton of anhydrous is $837," Ripplinger said. "Now you can see why N costs have doubled, tripled the way they have."
The spring planting season looms ahead, and Ripplinger doesn't expect fertilizer prices to be down to normal in 2022.
"It may take a few years for us to get there," he said.
The U.S. is short on natural gas domestically and is trying to meet the needs of global buyers, as well.
"We also have this demand in Europe for fertilizer and they have the same growing season we do," he said. "Their farmers have been looking for ammonia fertilizer and were more familiar with the energy crisis before us."
The U.S. has been sending ammonia to Europe.
In Bismarck, Gov. Doug Burgum announced a proposal to take $150 million of COVID monies and build the natural gas pipeline in the state.
"The primary driver of that is to support economic development, and value-added ag. We have a lot of natural gas in North Dakota. With this abundance, can we get it to central North Dakota for new, added value ag projects," Ripplinger said.
Focused globally, and especially in North Dakota, is the interest in carbon capture and sequestration.
"In terms of agriculture, a carbon capture group is looking to build a pipeline to send CO2 from corn ethanol plants to western North Dakota to inject into our geology," he said. "It will be a $4.5 billion project to reduce our carbon footprint."
With these high-energy prices, however, will the U.S. continue in its quest for carbon capture and renewable energy?
"When the economy declined 13 years ago, we went back to the way it was before," he said.
With fertilizer high, food costs will have to be higher. Inflation may come into play again.
North Dakota is a major energy user with agriculture.
"We are also a major energy producer in terms of biofuel," he added.
Ethanol use has gone up, which is great for the industry. At the same time, some laws have impacted ethanol negatively.
It is the fall, and there are excess corn supplies, so ethanol plants are gearing up to use it.
In North Dakota, renewable diesel is important in the state, and will probably remain so in the future.
"With California and other states wanting a lower carbon footprint, it fuels the demand for renewable diesel," Ripplinger said.
Dickinson Renewable Diesel facility is the second-largest facility in the country, and more of these facilities are planned.
"It takes about 8 pounds of vegetable oil to make renewable diesel or to make biodiesel. With needing 3 billion gallons in two years, we would need 25 billion pounds of oil, fat, or grease from vegetable or animals," he said.
ADM Spiritwood also announced this year it would build a soybean crush plant.
"It will take about a third of our soybeans in the state and produce soybean oil and soy meal," Ripplinger said. Protein has been the driver of the soybean market.
Recently, Marathon, the largest integrated oil company in the U.S. (and owner of the Dickinson Renewable Diesel facility), said they have a 25 percent ownership share in the Spiritwood plant.
"They are going to offtake all of the vegetable oil from Spiritwood beginning in 2023. This is demonstrating that marriage between ag and energy," Ripplinger concluded.