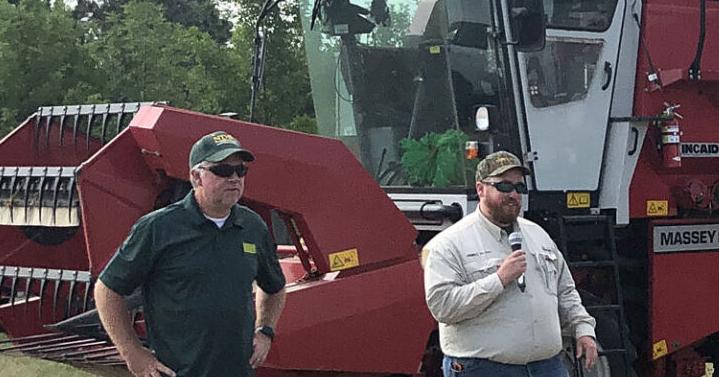 As farmers across the state jump in their combines to start cutting small grains and pulses, NDSU weed scientists want to remind them about the importance of combine cleanouts between fields and after harvest.
During field days at the Dickinson Research Extension Center field in July, producers were checking out the combines that Joe Ikley, NDSU Extension weed specialist, and Caleb Dalley, NDSU weed scientist at the Hettinger Research Extension Center, brought to demonstrate post-harvest cleanout.
"It is always fun to look at equipment, but what I really want producers to see is some of the different foreign materials in weed seeds that we can find in combines, and for them to get a good idea of where these weed seeds can hide within combines," Ikley explained.
The weed seeds were hidden – and not so hidden – throughout debris on the combines.
Ikley discussed a research project conducted by one of his colleagues at the University of Wisconsin, along with a fellow weed scientist, where nine farmers stopped frequently while harvesting and cleaned out their combines.
"The farmers sent in whatever junk they pulled off of their combines," he said.
The research project found that as farmers go through a combine, they find most weed seeds in the header – about 50 percent.
That's not a surprise, but there was some 30 percent of weed seeds found in the feeder house and about 20 percent in the rock trap, with the rest of the weedy material back in the rotor and throughout the rest of the combine.
"In nearly every sample he received, he found viable weed seed," Ikley said, adding the exact percentage was 97 percent of the material that contained weed seed.
Ikley said "lip service" has always been paid to the phrase "harvest your weediest field last."
"We have reliable data now that shows if you are able to take your worst field of harvest dead last, you minimize the chance of spreading that weed seed over to the next field," he said.
Weed scientists want to prevent the spread of weed seeds and problematic and herbicide-resistant weeds from field to field.
"Most of the weed seed that enters the combine is going to get ejected out the back of the combine, but a fair amount does make it into the hopper," he said. "This is becoming a bigger deal, especially in soybean production. China was making some noise a couple of years ago and I think they are going to make a lot of noise again about the level of weed seed and other foreign material that makes it into the soybean barges going over to China."
For the U.S., getting clean seed into a hopper and onto barges is going to be more important moving forward, Ikley explained.
Ikley is part of a multi-state weed research project where scientists are finding quite a lot of weed seeds, such as lambsquarters, pigsweed or common ragweed, actually do make it into the grain tank.
"That is a little bit surprising since we generally have the fan turned up high for soybeans, but we are still getting quite a bit in the tank," he said.
Harvest weed seed control solutions are the future of keeping weed seeds from being ejected from the back of the combine.
"We are all curious to see these weed destruction units we can attach to the back of the combine," Ikley said.
An engineering-savvy Australian farmer designed the first one.
Australia has ryegrass populations that are resistant to all the herbicides labeled for wheat.
"There are major issues controlling ryegrass in wheat over there," he said. "So they are trying different tactics to save the farms and save the fields."
The Australian farmer figured out that ryegrass seed is "pretty big," so if it is run through a hammer mill, it should "grind it up pretty well and destroy the germination on it."
"They brought the unit over to the U.S. and one person was making it initially, but other equipment manufacturers are making their own," he said. "The one unit I think that will get here the fastest is called Redekop, which is from a company is based in Saskatoon."
While Redekop has been shown to work well on ryegrass, which is a big, soft seed, what about kochia or pigweed?
Data from states across the U.S. shows if pigweed or other weed seed can get through the combine and the hammer mill, the hammer mill will destroy more than 97 percent of that seed.
"That is pretty impressive with how big that seed is. It does a good job of grinding things up," Ikley said.
Ikley said the first weed control solution models they were able to get were hydraulic-driven.
"Those tended to be poor units once we got them into green or wet material," he said. "We couldn't get enough engine power to slug that wet material through it."
Redekop was belt-driven, so it was not as big of a draw on horsepower and it does better in wet environments.
"Obviously, there will be less drag on horsepower if the grain is dry when it goes through the machine, but Redekop is showing more promise than some of those early, hydraulic ones," Ikley said.
The weed scientists had a combine on site, as well as a plot research combine with pigeon grass or foxtail in the feeder house.
"We can compare this big machine that went through corn last year, and they did a fairly decent job of cleaning it up. But there is still weed seed and corn seed hiding in the machine," Ikley said, pointing to the large combine. "See all the areas of dirt and you will see, it is mostly in the front of the machine."
In addition, Ikley said the multi-state project put out a pamphlet for farmers on combine cleanout.
"It only takes about a half hour to clean the combine out. That is tough during harvest season, but if you have a leaf blower, it does a really good job of blowing off a bunch of that weed seed," he said.
A leaf blower is the most effective way to blow off weed seed and chaff.
"Herbicide-resistant weeds are becoming more prevalent, such as waterhemp, which is in the eastern side of the state. Combines are the biggest way the weed is spread from field to field," he said.
In addition to a leaf blower, farmers should open up their sumps and grain elevator boots and "kick the machine on and that will shake weed seeds out the back of machine. Turn machine off go to next field," Ikley said.
Palmer amaranth has been spread by combines or headers, among other ways.
"Over the last three years, at least three cases that we are aware of were spread by combines, including custom combines," he said.
Ikley said in one case in North Dakota, a farmer bought a new corn header from out of state.
"He called me out to his farm and he had Palmer growing out of his burn pit," he said.
They traced it back to when the farmer received the corn header. The farmer cleaned the header out and threw the material on the burn pile and that is where the Palmer amaranth came from.
"The previous owner didn't do a good job of cleaning it out," Ikley said.
Up and coming research is showing combines play a vital role in weed seed management.
"Cleaning out weeds between fields and at the end of the year is important," he added.
Combines can have as much as 150 pounds of biomaterial, including chaff, grain, and the seed of weeds, such as Palmer amaranth, according to NDSU.
To clean the combine and get rid of material, especially weed seed, NDSU recommends:
Run the unload auger while empty for at least one minute.
Open and clean the grain and tailings elevator doors, rock tramp, and unloading auger sump.
Start the combine and separator. Adjust the cleaning shoe fan to full speed for max airflow or open and close cleaning shoe sieves electronically. Adjust the rotor to full-speed for max air suction or open and close the concaves. Do this for at least two minutes.
Remove any material left in the rock trap.
Use an air compressor or leaf blower to remove material from the exterior of the combine, focusing on the head, feeder house and axel, and straw spreader at the rear.
Close the doors to the rock trap and clean the grain elevator and unloading auger sump.