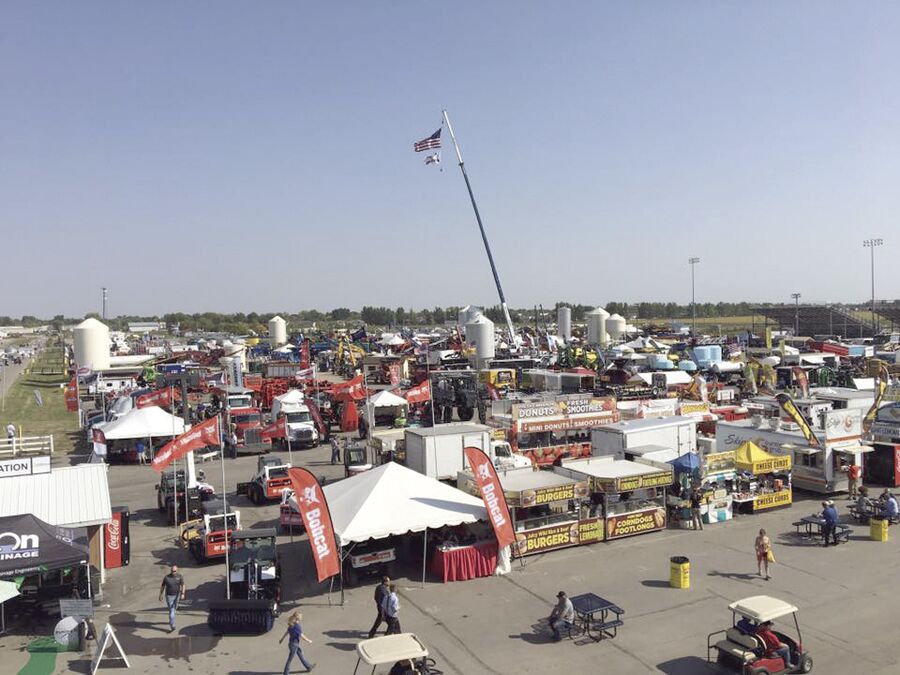 WEST FARGO, N.D. – With over 900 exhibit booths, training sessions, demonstrations and countless opportunities to connect with your peers, the Big Iron Farm Show is the place to be for farmers looking to immerse themselves in three days of agricultural advancements this fall.
The 41st annual Big Iron Farm Show, presented by Cass County Farm Bureau, will be held Sept. 14-16 live from the Red River Valley Fairgrounds in West Fargo, N.D.
"It's the largest farm show in the nation when it comes to layout, footprint wise," said Cody Cashman, CEO of the Red River Valley Fair. "Nobody has as big of a grounds as we do for a farm show."
Cashman, who is currently in his second year as CEO, says the Big Iron Farm Show is a "must-come" event, not only for those involved in the agriculture industry, but also for the general public.
"A lot of people, myself included, who have not been brought up in agriculture, are amazed at all the different things involved with agriculture – especially all the equipment there is that farmers have to purchase in order to be successful," Cashman said.
"We have the newest and the best when it comes to equipment. I think there are 3-4 new pieces of equipment, I'm told, that are going to be unveiled at Big Iron this year. That's pretty awesome to think that we're the type of show for these big companies to want to unveil some new equipment here," he added.
Another unique aspect of the Big Iron Farm Show is the global presence at the event every year. With COVID vaccinations available during the show this year, Cashman expects that presence to possibly increase.
"You have people coming from all over the world to come to Big Iron, and we anticipate people coming from other countries to get their vaccine because we're going to have all three vaccines available here at Big Iron," he said. "We do think that's going to draw some people form out of the country because they may be unable to get it where they live."
Last year's Big Iron Farm Show took place under the shadow of the COVID-19 pandemic, which led a slightly different show in order to ensure the health and safety of everyone involved.
For 2021, Big Iron attendees this year can expect a more "normal" Big Iron experience, says Cashman, but like last year, absent from the show again will be John Deere, Case IH, and New Holland, as the three major equipment manufacturers have decided to forgo farm shows for the second consecutive year.
"Besides those three, our numbers are solid," Cashman said. "We're right on par with 2019 as far as exhibitors, which is great because in 2020 we were down a little bit. With the Canadian border expected to be open, we anticipate the largest Big Iron Farm Show we've ever had."
With the Canadian border open, Cashman anticipates a "huge wave" of people coming down to see the show.
"We hope they come down and we hope their businesses come down, as well," he said. "I believe around 40-60 businesses at the show are from Canada."
Last year's Big Iron Farm Show had a few events cancelled because of the pandemic, such as daily field demonstrations, the morning pancake breakfast, and the exhibitor's picnic. This year the daily field demonstrations and the exhibitor's picnic will return, but the morning pancake breakfast will not.
Some site changes also took place last year, with the East Horse Barn becoming the site of the Red River Farm Network's "Issue and Events Center" program and the West Horse Barn housing the ACME Tools display. These site changes were made because show officials felt both events required a larger area.
"Both are going to be where they were last year," Cashman said. "Red River Farm Network is going to be where they were last year and right next to them is ACME Tools. Mustang Seed took over the building the ACME folks were in for 2019, so that's now the Mustang Seed Building and ACME Tools has their own building."
The food court was also moved for last year's show to the parking lot north of the two horse barns on the western edge of the fairgrounds. It will be located there again for this year's show.
Cashman says the changes made in 2020 were partly COVID-related, but he noted that show officials also wanted to expand the fairgrounds to sell more space because they were running out of room with the current layout.
"We we're trying to grow it because a goal of ours is to have construction equipment involved at Big Iron in the near future," he said. "Most of our buildings are taken over, so people are going to see a different layout essentially, but there's still the same amount of, if not more, equipment to see."
Other information
Just like every year at the Big Iron Farm Show, a large array of educational events will be available.
The NDSU Extension Service will set up an education center at the east end of the Hartl Ag Building, where they will be covering a wide variety of subjects.
Red River Farm Network's "Issue and Events Center" will highlight the latest agriculture-related news from USDA, as well as marketing information, policy discussions, information on land values and much more.
Show attendees can also learn about the status of their health or make a blood donation at the North Dakota Living Health and Safety Center, and as mentioned earlier, COVID vaccinations will be available on a walk-up basis.
People movers will be available to transport visitors throughout the show grounds and free Wi-Fi service will be provided on the grounds for those needing to stay in touch or conduct business remotely.
Show hours are 9 a.m. to 5 p.m. on Tuesday and Wednesday, Sept. 14-15, and from 9 a.m. to 4 p.m. on Thursday, Sept. 16. There is no admission charge and parking is free.
For more information on events or to check out the schedule, go to the Big Iron Farm Show website at www.bigironfarmshow.com.