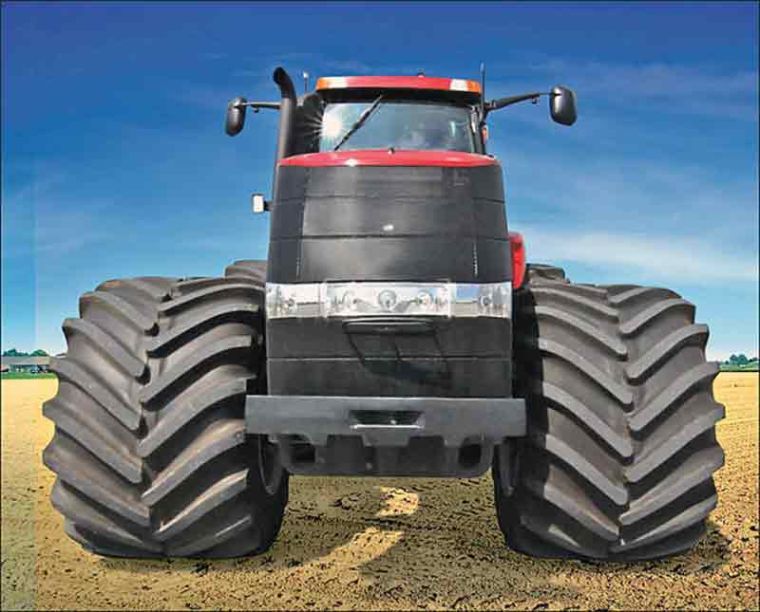 When spring planting is complete, tire experts recommend taking the time to inspect tires on all tractors and equipment and making necessary adjustments to ensure longevity of the tires.
"The performance of your equipment in the field can greatly impact productivity and your bottom line, so tires are very important to this equation," says Scott Sloan, agricultural product manager for Titan and Goodyear Farm Tires.
"With regular inspection and making minor adjustments, farmers can see great improvements in the durability and performance of the tires in the field."
First, he suggests analyzing and inspecting tires after planting, and conducting regular inspections throughout the year.
Make sure tires are adjusted correctly. Signs of premature wear can indicate a problem that might be an easy fix.
"Signs of uneven wear are often related to incorrect inflation pressures," Sloan says.
"Overinflated tires tend to ride on the center of the tire, to the point the shoulders of the tire are barely touching the ground. This can wear out the tread in the middle of the tire and aggravate compaction issues.
"Underinflated tires create more deflection on the sidewall, which can make the sidewall more susceptible to flex cracking and puncture damage."
Check for stubble damage, too.
"Signs of pecking and chipping to tractor and implement tires often indicate that stubble is a problem," says Sloan.
"However, with some minor adjustments to the way you operate the equipment or by finding stalk-stomper products, this issue can be helped."
Assess how the tires performed for traction and ride quality throughout planting. Inflation pressures and weight distribution are generally the cause for road lope, power hop and tire slippage in the field.
The USDA Agricultural Research Service says properly inflated tires generate nearly 25 percent more pull than tires inflated at higher pressures.
This means tractors equipped with properly inflated tires have the potential to reduce fuel consumption and field time.
To improve traction, check ballast and weight distribution of the tires.
Consult with the tractor manufacturer to determine the optimum weights for the type of implement you're running, and add cast ballast to achieve the proper distribution and ratios.
"Tractor experts agree there is no single, simpler way to improve tractor efficiency than to use the proper tire-inflation pressure," says Jodi DeJong-Hughes, educator for University of Minnesota Extension.
"Proper tire inflation not only improves tractor efficiency but can reduce the intensity of the compaction from the tires."
Maintaining proper inflation pressures based on load is the best way to make sure tires last longer and give the best performance in the field.
After you've weighted the tractor for optimum ride quality and traction, adjust inflation pressures based on the load and inflation tables provided by the Tire and Rim Association.
New class of tires from Goodyear
Goodyear Farm Tires introduced a new class of farm tire called Extreme Flotation.
According to Sloan, the tires offer a smoother ride and tighter turning radius compared to a traditional dual setup.
There are two lines within the Extreme Flotation category — Goodyear Super Terra Grip XT 1000/40R32 and the Goodyear DT930 1100/45R46.
Both tires are designed with low sidewall technology, which reduces road lope and power hop, and offer better lateral stability on hillside conditions.
This past fall, Titan and Goodyear Farm Tires performed a side-by-side demonstration with farmers at an equipment field day near Perry, Iowa.
Farmers were able to see a comparison of low sidewall technology to a track tractor.
The tires were tested on a large Michigan farm, too.
David Auernhamer, who works for Sackett Ranch near Stanton, Mich., says, "with Extreme Floatation tires, the combine drives better and rides better.
"We didn't have the load hop or rock while combining."
Michelin introduces AgriBib tires
To meet the demands for hauling bigger loads, Michelin North America will offer an extension of its AgriBib tire lineup later this year.
The new Micheline AgriBib 480 95 R50 model is a taller-sized, rear fitment tire designed primarily for larger, front-wheel assist tractors to handle bigger loads. It also can be used in a row-crop application on large, four-wheel drive machines.
James Crouch, farm segment marketing manager for Michelin North America, says the tire features improved ride quality compared to competitive products, long lasting tread, better traction and impressive clean-out. Michelin will partner with John Deere and Case New Holland on the launch into the North American market, which is expected at the end of this year. The new model will initially be available on new equipment purchases, and shortly thereafter as a replacement tire.