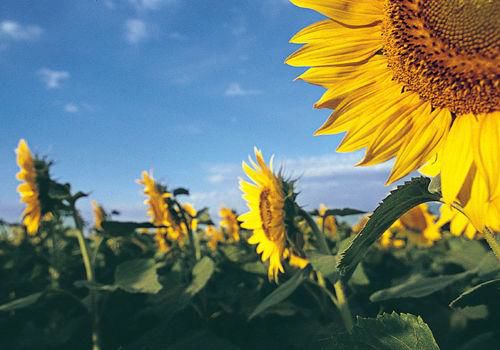 As the month of April was coming to a close, sunflower prices were feeling the pressure.
"Sunflower prices were pressured by spillover weakness from the soy complex this week," John Sandbakken, executive director of the National Sunflower Association, wrote in NSA's weekly newsletter on April 29.
Having said that, sunflower prices remained relatively firm the past few weeks as a smaller than expected 2018 crop and lower beginning stocks have supported prices. Nearby NuSun and high oleic prices were down 10 cents and new crop prices were down 10 cents to unchanged, according to Sandbakken.
As of April 29, old crop NuSun prices at the Cargill crush plant in Fargo, N.D., were listed at $17.40 per hundredweight for delivery in May. At the ADM crush plant in Enderlin, N.D., NuSun prices for delivery in May were $17.30 per hundredweight.
High oleic sunflower prices for May delivery at Fargo were $17.90 and $17.70 at Enderlin.
Sandbakken also pointed out there was still time for producers to take advantage of the market opportunities that sunflowers can offer as processors are still offering Act of God (AOG) and cash new crop contracts. As of April 29 new crop NuSun sunflower contracts for 2019 at Cargill were $17 cash and $16.75 with an AOG clause. New crop cash prices at ADM were $16.95 and AOG contracts were $16.45.
High oleic new crop prices for 2019 at Cargill were $17 cash and $16.85 with an AOG. At ADM new crop high oleic cash prices were $17.25 and AOG contracts were $16.75. At other locations in North Dakota new crop high oleic cash prices were $16.45 at Pingree and $15.75 at Hebron.
The spillover in the soy complex is partly a result of soybean prices continuing to see stress from relatively low Chinese imports and the fact traders are growing anxious about slow-going trade negotiations between the U.S. and China, he noted.
"Very little has changed in terms of a positive tone for the soy complex lately," Sandbakken said. "Adding further stress was this week's news that the U.S. is threatening to impose sanctions on China in May if China buys oil from Iran. This news may make it more difficult for the U.S. and China to reach a trade agreement anytime soon.
"Traders are also concerned of the risk that USDA's estimate of ending soybean supplies will have to be increased from 895 million bushels to possibly near 1 billion bushels, if a trade agreement with China fails to materialize," he continued. "With no certainty about a trade deal with China and potential record ending U.S. soybean supplies looming, soybean prices will remain under bearish pressure."
Sandbakken also continued to urge producers to consider that sunflower is the only oilseed that pays premiums for oil content above 40 percent. He noted that oil premiums are offered at the crush plants on oil content above 40 percent at a rate of 2 percent price premium for each 1 percent of oil above 40 percent.
"This pushes a contract with 45 percent oil content gross return 10 percent higher per hundredweight. The AOG $17 contract increases to $18.70 and the cash $17.35 contract moves up to $19.10," he explained.