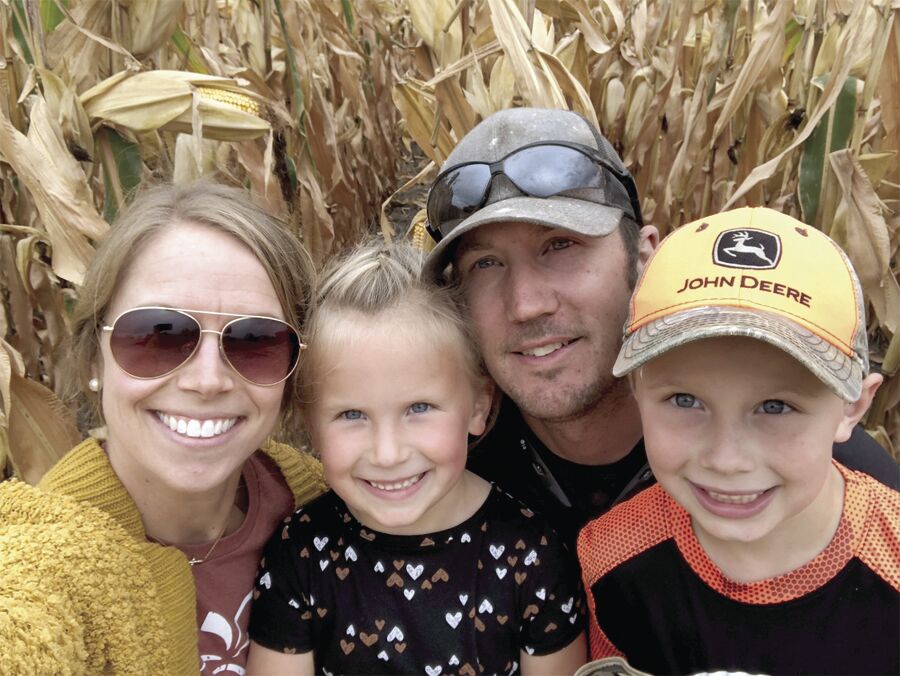 CAVALIER, N.D. – Fifth-generation farmer and military veteran Sgt. Craig Vaughn was out removing cornstalks in one of his corn fields on Oct. 26, in preparation for next spring.
"We've finished with harvest and I'm doing fieldwork now," he said.
Vaughn farms in Cavalier, N.D., in the northeastern corner of the state, with his wife, Kelly, and two kids, Weston, 6, and Maggie, 4, who will be the sixth-generations on the farm/ranch.
The family grows corn, wheat, soybeans, field peas and alfalfa hay, and raises seedstock registered Limousin.
They cut and bale hay in the summer for winter feed, as well as grow corn silage as part of the feed mix.
"We do have some corn stalks we plan to graze this fall," he said.
Growing up on the farm, Vaughn enjoyed helping his dad, Tom, with farming and raising cattle. His dad began breeding seedstock Limousin some 40 years ago.
"We have our own cows, but I raise purebred Limousin with my brother, David, and my Dad," Vaughn said. "Farming and ranching is probably one of the only jobs where you can work with your family, and it definitely has its benefits."
Vaughn likes Limousin purebred cattle, and they have both black and red at the farm/ranch.
"The Limousin have more muscle and definition than other cattle, and they just look like a nice animal," he said, adding he prefers the red Limousin cattle to the black. "They stand out better."
They occasionally feed their cattle corn screenings, but they generally feed a hay mix with corn silage in the winter.
After high school, Vaughn went to North Dakota State College of Science in Wahpeton, N.D., earning an associate's degree in agriculture.
After graduation, he enlisted in the U.S. Marine Corps.
Vaughn entered the Marine Corps boot camp near San Diego, Calif., with his best friend, who now lives in Grand Forks, N.D. He was in the heavy equipment transportation force with the motor transport platoon.
"Our unit had a deployment to Iraq in 2008," he said. "We did supply convoys in Iraq between a few bases, transporting equipment and supplies."
Depending on who is asked, Vaughn said some missions could be tough in Iraq. He said he was very fortunate to come home safe.
"Everybody (in my platoon) came back home safe," he said.
Vaughn spent about 8-9 months in Iraq, and was still in the service when he returned. He was stationed at Marine Corps Air Station Miramar near San Diego and spent a total of four years in the U.S. Marine Corps.
Vaughn has stayed friends with some of his buddies from the Marines, but they live all over the country.
"One of my best friends from high school, however, went with me to boot camp and we stay in touch. He lives in Grand Forks," Vaughn said. "When we were in the Marine Corps, we didn't see too much of each other because we were in different units and we got separated after boot camp."
Looking at veterans and the military service, Vaughn said sometimes people forget how much military men and women give up when they serve their country, especially overseas.
"It is easy to remember when you live around a military base, but when you live far away from a base, it is more of a case of 'out of sight, out of mind,'" he said.
When his service in the Marine Corps was finished, Vaughn moved to Grand Forks for a year and a half. He earned a bachelor's degree in agriculture from the University of Minnesota at Crookston.
After graduation, he married Kelly and the Vaughns moved back to Cavalier in 2011. They live in town and he drives out to the farm/ranch to work.
On the farm this past year, Vaughn said it was an average to below average year with the dry conditions.
"Considering how dry it was, I was happy with what we got," he said.
The Vaughns grow yellow peas and found good markets this year with companies paying premiums for protein in peas.
"There was quite a market for protein bars and that is what a lot of yellow peas are used for," he said.
Vaughn was promoted to the rank of Sergeant from Corporal, while in the inactive U.S. Marine Corps Reserves. He is currently a member of American Legion Post #11 in Cavalier.
Vaughn has served on the North Dakota Farm Bureau's Young Farmers and Ranchers Committee, and is currently the NDFB District 1 director.
"My wife and I served on the Young Farmers and Ranchers Committee for two years," he said. "It was a good experience. We served on the state board, along with the national (American Farm Bureau Federation) board for two years. Because of that, we travelled quite a bit and met a lot of people. The committee helped put on the National AFBF Convention, doing a lot of work behind the scenes, and we went to that for two years in a row."
In addition, Vaughn also serves on the Cavalier City Council.