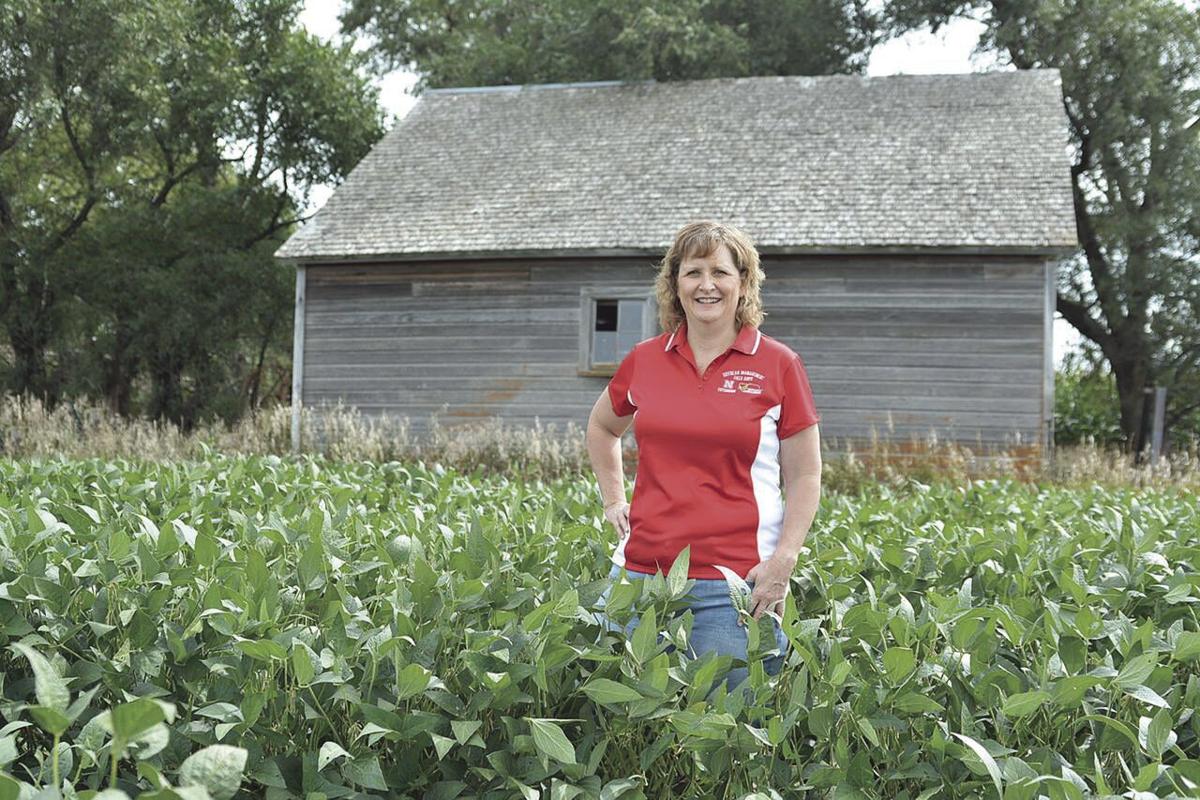 Anne Meis from the Nebraska Soybean Board is the new chairwoman of U.S. Farmers & Ranchers in Action.
U.S. Farmers & Ranchers in Action, formerly the U.S. Farmers & Ranchers Alliance, represents farmer- and rancher-led organizations as well as other leaders throughout the agriculture sector with a vision of creating sustainable food systems by reducing greenhouse gas emissions, and in the process, contributing to increased social and economic stability.
"I want to lead USFRA because it is critical that the farmer voice is part of the discussion of growing food in the 21st century," Meis said. "My greatest hope is that there begins to be an increased trust in farmers and modern farming. A trust that farmers are true stewards of the land, water and resources and care about our environment."
Meis grew up on a multi-generational hog farm and is a 10-year 4-H leader. She and her husband Jim run a family farm operation in Elgin, Nebraska, growing corn, soybeans, alfalfa and raising cattle.
New Board members include Julie Fussner from Culver's Franchising System, who was also appointed to USFRA's executive committee, Janie Simms Hipp from the Native American Agriculture Fund, and Hope Bentley from McDonald's.
Fussner is vice president of marketing for Culver Franchising System, where she oversees brand strategy, creative execution, media optimization, menu strategy and company events. She has spent the vast majority of the past 20 years working in food consumer packaged goods. She most notably spent 10 driving growth for Oscar Mayer products while at Kraft Foods.
Simms Hipp, a citizen of the Chickasaw Nation, is CEO of the Native American Agriculture Fund. Previously, she was the founding director of the Indigenous Food and Agriculture Initiative at the University of Arkansas and served as national program leader for Farm Financial Management, Trade Adjustment Assistance, Risk Management Education, and the Beginning Farmer and Rancher Development programs at the United States Department of Agriculture's National Institute for Food and Agriculture. She has been a senior advisor for tribal relations to USDA Secretary Tom Vilsack as well as director of the Office of Tribal Relations.
Bentley leads the strategic sourcing function responsible for the McDonald's Core Food menu across all 14,000 restaurants in the U.S. She joined McDonald's in 2007 and has held roles in food sourcing, supply chain services and new product development. Prior to McDonald's her 20-plus year career has included roles in operations, supply chain and marketing operations with Rockwell International, W. W. Grainger and ULTA. She is also board member of the Chicago Urban League.
The USFRA treasurer position is open after Blair Van Zetten from American Egg Board, who served as treasurer from 2018 until he recently, passed away. Executive board members follow:
* USFRA Chairwoman, Anne Meis, Nebraska Soybean Board Member
* USFRA Vice Chairman, Scott VanderWal, American Farm Bureau Federation Vice President
* USFRA Secretary, Marilyn Hershey, Dairy Management, Inc. Chairwoman
* USFRA At Large-Premier, Doug Berven, Poet Vice President of Corporate Affairs
* USFRA At Large, Julie Fussner, Culver Franchising Systems LLC, Vice President of Marketing
* USFRA Immediate Past Chair, Chip Bowling, National Corn Growers Association Past Chair
Board of Directors:
* Hope Bentley, Senior Director of Strategic Sourcing, McDonald's
* Nate Clark, Director Strategic Business Communications, John Deere
* Janie Hipp, Executive Director, Native American Agriculture Fund
* Andy Knepp, Vice President, Environmental Strategy & Industry Activation, Bayer
* Sally Rockey, Executive Director, Foundation for Future Agriculture
* Lynn Rohrscheib, Member, United Soybean Board
* Brody Stapel, President, Edge Dairy Farmers Cooperative
* Open, Nutrien
* Open, American Egg Board