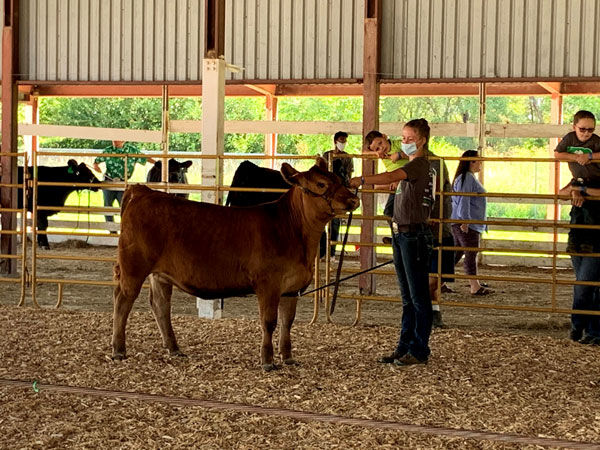 If you are only going to go to one fair this year, make it your local county fair. But, if you plan to go to two fairs this year, make the other one the Plymouth County Fair in Le Mars, Iowa.
Running from Wednesday, July 28 until Sunday, Aug. 1, the Plymouth County Fair is billed as the "Best Five Days in Summer;" with good reason. There is everything from food, music and exhibits to circus acts, pro wrestling and motorsports.
After being restricted by last year's COVID response, the fair is back with a vengeance in 2021, said Candice Nash, Plymouth County Fair Board marketing director. Nash has been with the board for 16 years.
"We went ultra-safe last year," she said. "We just did 4-H and FFA events. We called it the Clover Classic."
The fair itself is has been held for about 100 years, the last 80 years in Le Mars. In 2019, the fair saw about 102,000 visitors, Nash said. This year, they are hoping for 80,000; anything above that would be considered great.
In order to draw the necessary numbers, Nash and her compatriots on the board have lined up some fantastic entertainment. To make it easy for everyone, the price of admission gets you into every show and event. Still, bring money for the food vendors. Many organizations use this event as their main fundraiser for the year, she said.
"The food vendors all benefit local non-profit organizations," Nash said. "Such as the Boy and Girl Scouts, the 4-H program and the school's dance team."
She suggests that anyone visiting the Plymouth County Fair for the first time try the fair's signature food. It's called the Pork Chop in a Glove. The fair board and local pork producers supply the treat.
Between bites, fairgoers can enjoy acts, bands and singers at the fair's Pioneer Village. The musical performers will include country artist Jason Pritchett, the A cappella group Six Appeal and local musicians the Browns Family.
Of course, the county fair's raison d'être – 4-H exhibits – will also be taking place. Nash said the Plymouth County Fairgrounds have spacious, open barns that provide wonderful show areas. She said the fancy poultry and lion-head rabbits are always popular. The static exhibits should also be extra nice this year, she said.
"With nothing going on for a while, the kids have had a lot of additional time and energy," Nash said. "They used that time to devote to their 4-H projects and put on some finishing touches."
The fair will feature five different stages with multiple types of entertainment going on simultaneously. The youth stage will have performers from the Los Moralitos Circus executing 10 to 15 different acts. Another will have Impact Pro Wrestling promotion stars which include personalities such as internationally-known Stan Hansen, wrestler Benjamin Shelton and ring-side commentary from J.J. Dillon and WWE Hall of Famer Jim Ross.
"It is crazy nuts fun," Nash said. "You can't believe the stunts they pull."
There will be the always popular motocross rally, tractor pull and the demolition derby. Yet, the fair also offers one of the most extreme, wild and crazy motorsport events anyone will ever experience – figure-8 racing. You have to see it to believe it.
There is also the Farm Olympics. This consists of people competing to complete a circuit of chores, such as fencing and milking goats. They are done in Olympic style and scored as such.
Above all the Plymouth County Fair is a time for people to get together, Nash said. Since Plymouth County is kind of spread out, it's the one time of year when you get to see certain people, she said.
"We hope this is a chance for people to get back out and start having fun," Nash said. "2020 is in the rearview and we are headed for fun."
Jon Burleson can be reached at jon.burleson@lee.net.