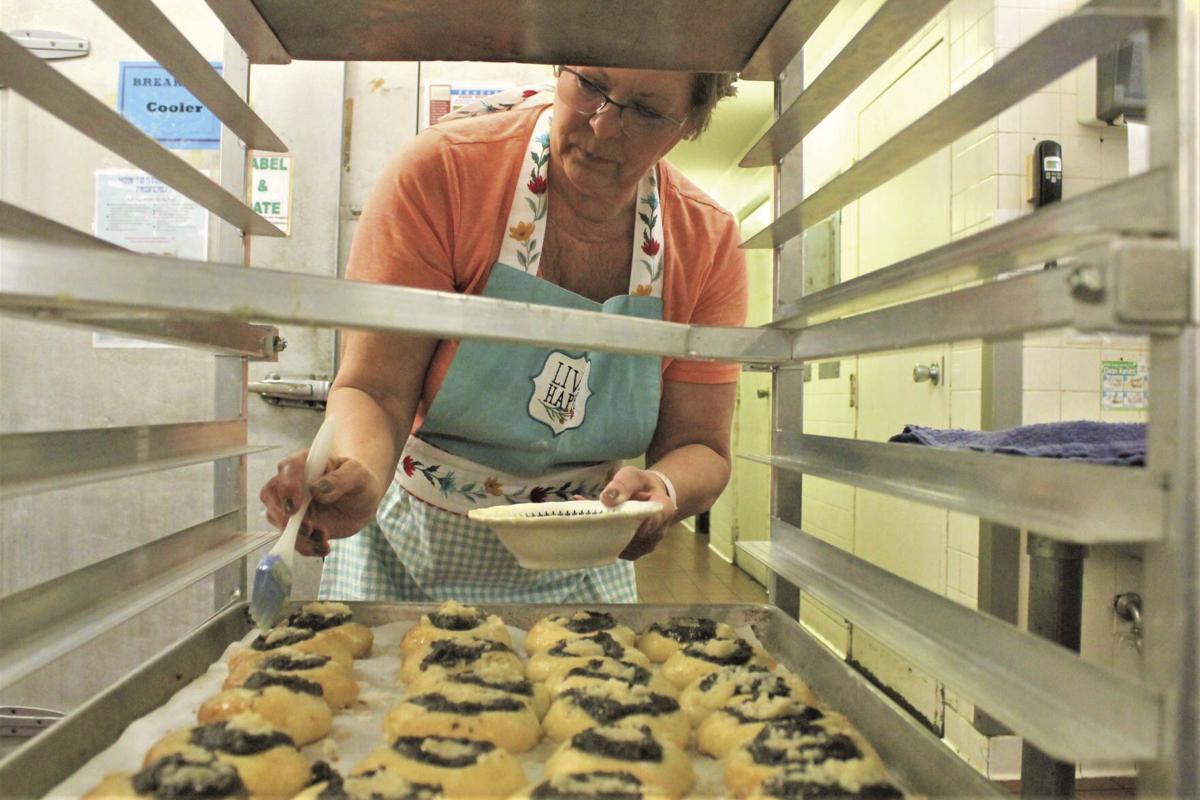 Brandy VanDeWalle joked her family's old kolaches recipe won't be a secret for much longer as she helped create 1,000 of them ahead of this year's Cattlemen's Ball.
VanDeWalle was one of around 15 volunteers who made kolaches in late Aprl at the Ramada Hotel and River's Edge Convention Center. The desserts were made for the Trail Boss Champagne Brunch, which will be held Saturday, June 5.
"It was my grandmother's recipe," VanDeWalle said. "It's been one of those recipes that my mom always used, too. It always turns out really good. It makes a big (amount), too."
The helpers made different kinds of kolach fillings, such as cherry, apple, apricot, Bavarian cream, cream cheese and poppy seed.
The last kind was one VanDeWalle's grandmother made a lot, she said.
"My grandma would rumble in her grave if she knew I used anything other than homemade poppy seed filling," she said. "… It's a recipe that's been handed down from generation to generation and people rave when they try it."
The Cattlemen's Ball, which will be held Friday and Saturday, June 4-5, is a charity for cancer research. This will be the first time it will be held in Columbus as the event moves around the state. Ninety percent of the funds raised go to the Fred & Pamela Buffett Cancer Center in Omaha while 10% is donated back to hosting communities' health and wellness programs.
Cattlemen's Ball Food Committee Co-Chairwoman Sheila Hubert said she was happy to see so many people come out and make the kolaches.
"It's heartwarming," she said. "There are a lot of good people in this world. … Every family has been touched by cancer, so we are very blessed to have all these volunteers doing all this."
VanDeWalle agreed.
"It's been crazy and chaotic but fun," she said. "It's fun to see everyone come together."
VanDeWalle said this hasn't been the only time she's made kolaches for an event. She's previously baked them for a church fundraiser. Her mom would also make some and then sell them during Czech Days in Wilbur.
VanDeWalle has helped with the Cattlemen's Ball in the past, but she said this is the first time she's helped "on this level."
She said she wanted to volunteer because the funds from Cattlemen's Ball will go toward cancer research. Also, this is a chance for her to showcase her family's recipe for people to enjoy, she added.
"I want to give back and spread the Czech culture," VanDeWalle said. "It's important to my family."
Hubert said this is one of two meals that the volunteers are going to make. There will be hors d'oeuvres and brisket sandwiches for the Friday dinner.
Additionally, the last meals on Saturday will be catered by Premier Catering out of Lincoln, Hubert said. The lunch will consist of New York steak strips while the dinner will have prime rib.
There are two types of tickets that are available for purchase: Top Hand, which costs $125, and Boss Trail, which is $400. Both tickets allow access to the dinner while Boss Trail includes the lunch and brunch.