Farmers are more optimistic than they have been since 2015. Of course, that's not saying a lot.
The monthly results of the Purdue University/CME Group Ag Barometer in February indicated farmers are feeling a bit better about the ag economy going forward. Still, there is a ways to go.
The Ag Barometer, which launched late in 2015, surveys 400 farmers every month, asking questions about current conditions and future sentiment for issues such as corn and soybean prices and land values. Questions about current issues such as trade have been added over the past two years.
The February rating scored a 168.
"That's the highest value we've seen since we started the survey," said Michael Langemeier, associate director of the Center for Commercial Agriculture at Purdue.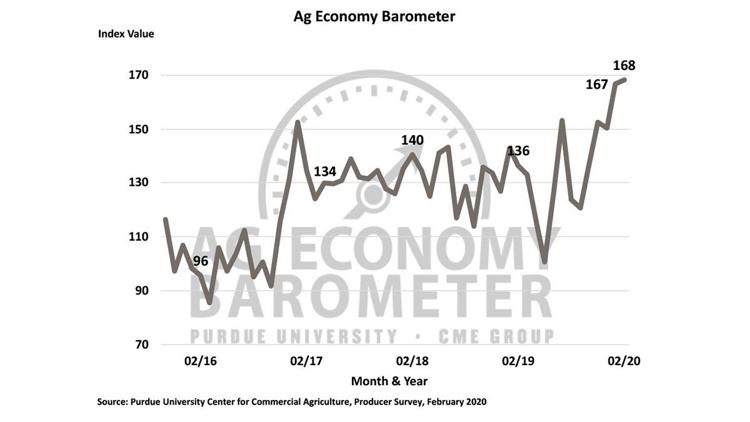 The tool doesn't measure exact economic factors.
"It's more sentiment. It's relative optimism versus relative pessimism," he said.
The first survey number was 116 in October 2015, the heart of the down period agriculture experienced following the boom of the early 2010s. That number is considered the baseline.
While the polling is national, the survey is limited to the major crops of corn, soybeans, wheat and cotton, along with livestock, making it highly representative of farmers in the Corn Belt. Respondents also are limited to farmers who gross a minimum of $500,000 annually.
The high mark for February 2020 is likely due to optimism about trade. U.S. farmers have been closely following the administration's negotiations with China among threats of tariffs. The phase one agreement has lifted spirits.
In addition, the passage of the United States-Mexico-Canada Agreement has increased farmer optimism. The USMCA replaces the North American Free Trade Agreement. Many farmers believe the new agreement is more favorable to row-crop agriculture.
"The number is due to the index of current conditions. That's relatively high right now," Langemeier said. "What's even higher is the index of future expectations.
"We're seeing more optimism for the future, looking out five years or so.
"Part of the reason why they are more optimistic is positive trade news. We have USMCA and a potential agreement with Japan. Phase one with China really helped sentiment."
The lowest score recorded was 85 in March 2016. Recently, it has steadily grown since the 121 score recorded in September 2019.
Last May's 101 was the lowest in nearly three years, something that likely wasn't related to trade.
"We had all those planting difficulties," Langemeier said. "The mood was not good out there."
Grain prices also play a role in moving the numbers.
"Anything detrimental to the crop will have an impact," he said. "Good harvest has an impact. Yields last fall were higher than people thought they were going to be."
Despite the climbing numbers, Langemeier isn't convinced farmers have put bad times behind them.
"When you crunch the budgets, it looks better, but it's not great," he said. "We're still in that plateau period we've been in since 2014. It's just a little better now."