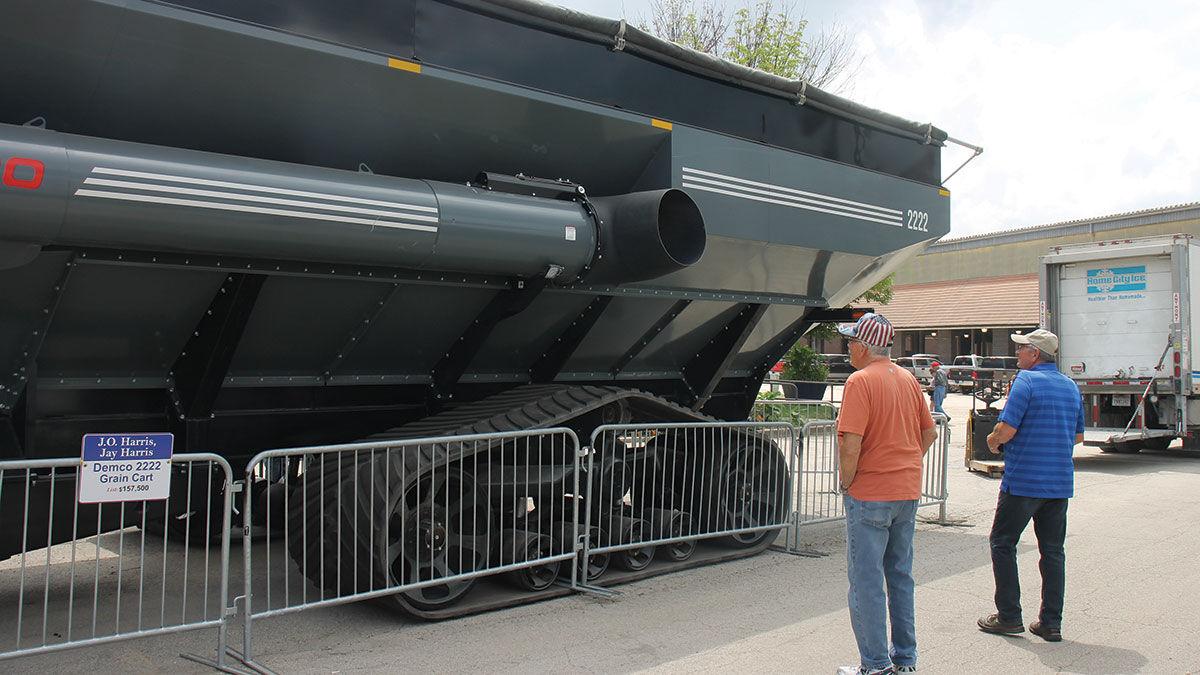 John Hopkins, a crop farmer and beef producer in northwestern Illinois, recently ordered some new hay equipment and is planning to buy a used combine as well.
He has lots of company this year with higher commodity prices enabling equipment purchases.
"It gives you a chance to update machinery when there is a little more income," he said.
This year he is replacing mower conditioner equipment. He ordered it in July and is expecting delivery in October for next year's hay season. He usually replaces that equipment every three or four years. He also bought a round baler this year.
The Hopkins' operation includes a couple hundred head of cattle on pasture, finishing their own calves and buying more calves to finish. They also grow corn, soybeans and wheat.
Buying used
He is also in the process of buying a used combine. For him a used combine is the best buy.
"We typically buy a good one that's a couple of years old," he said.
Usually they trade in combines after about four years, but he's had the last one for seven or eight years.
Doug Foss, who farms in Grundy County in northeast Illinois, also decided to buy a used combine this year.
"I'd never driven a rotary combine. The cash flow is there, so I did it," he said of purchasing his first, a 2003 John Deere 9650 rotary combine. He bought it from a seller in Indiana.
Hopkins has noticed that people are buying things from farther afield now.
Part of this trend comes from the popularity of online sales and auctions. Hopkins has seen that first hand in his family's auction business, Public Auction Service, which his grandparents started in Polo about 75 years ago.
At a recent online consignment auction, three pieces went out of the country, including one to Nigeria, and several to other states, Hopkins said.
"It's amazing how far they went," he said.
At the sales, he has also seen the value of used equipment rise as new equipment gets more expensive.
Hopkins runs mostly green and yellow equipment as he worked at Holland & Sons, a John Deere dealership in Polo, for more than 24 years before leaving three years ago to be a full-time farmer.
Sales strong, supplies tight
The biggest sales increases in equipment this year, and particularly in July, have been in the small tractor category, often used by non-farmers as more people have been working on improving their properties during the pandemic, said Curt Blades, senior vice president of ag services for the Association Equipment Manufacturers.
However, July sales for combines are also very strong, Blades said. U.S. self-propelled combine sales jumped 19.2% to 657 units sold last month, according to the association's data.
He calls buying a half-million dollar combine a considered purchase.
"People think long and hard about it before making a decision," he said.
It's not just this crop's prospect they base a decision on, but on crops over the next few years, he said.
Year-to-date tractor sales are up 13.7% and combines up 12.6%, according to the latest data from the group.
While higher commodity prices often lead to more farm equipment sales, conditions in this cycle of higher prices differ from when soybean were more than $13/bu. in August 2008 or more than $16/bu. in 2012 because of supply chain disruptions as part of the COVID-19 ripple effect. Even though agriculture is considered an essential industry, it operates in a global supply chain, Blades said.
The supply chain disruption is "very real," he said.
Although the shortage of semi-conductors is what has received a lot of attention, there is also a shortage of steel, transportation and labor. It doesn't matter if you are making tractors, combines, pickup trucks or pinball machines, supplies are tight, he said.
Despite supply chain issues, tractor sales are strong. The articulated 4WD segment led the way in July for the third straight month by climbing 79.4% to 287 units sold. The 100+hp 2WD segment also grew 37.8%, according to AEM data.
"The story of these row-crop and articulated four-wheel-drive sales is a reflection of farmer optimism throughout North America," Blades said.
These big units are often six-figure investments, "and farmers don't make these sorts of investments without serious consideration of future market conditions," he said.