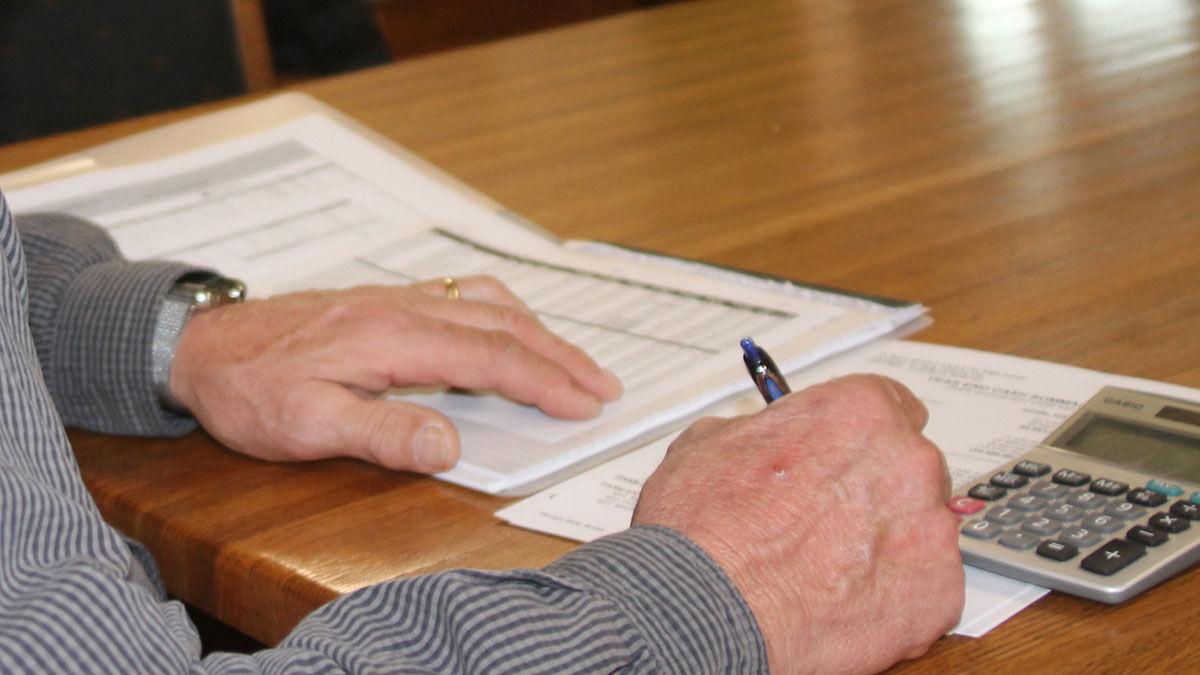 Now is a good time to make sure bookkeeping tasks are brought up to date — something that should be done at least once a month at minimum, said Louis Aldag, a certified public accountant who has worked with farm records for more than three decades.
Without tackling it regularly, it can be an "overwhelming task," he said.
Months later, it is more difficult to remember the details. And this year there are a lot of details to remember with the different relief packages and other special COVID-19 payments, some of which aren't settled yet, he said.
Any year, a farmer might have paid $100 cash for hay and not recorded it or might have had a receipt from purchases at Tractor Supply in his jeans' pocket when his jeans went through the wash.
"Six months later you forgot what you purchased, and you don't have the ticket," Aldag said of the importance of recording information when it is fresh.
For 28 years, he worked for Farm Business Farm Management (FBFM), a cooperative educational program designed to assist farmers with management decision-making, before starting his own business 15 years ago. He has seen a number of unique accounting years.
It is important that your tax preparer understands all the aspects of your operation this year, including any coronavirus relief payments, crop insurance received, equipment bought, derecho damage payments, and timing of feeder livestock bought and sold, Aldag said.
Emily Carls, FBFM field staff, said the unique record-keeping challenges will likely continue in 2021.
The payout of a Syngenta lawsuit, settled in 2020, is one of the non-typical things farmers recorded last year. It added to miscellaneous taxable income, she said.
Farmers are also working with all the coronavirus pandemic relief payments under the USDA and the CARES Act, plus PPP payments and other grants, said Carls, agribusiness management program coordinator who also provides her expertise through a joint program with the Illinois Soybean Association.
It looks some like of these unique programs, and perhaps others, will extend into this year. It's wise to check with your accountant, lender and FSA advisor to make sure you are taking advantage of all the opportunities available, she said.
Carls recommends reconciling your records with your bank statements as well.
"It's a good step to make sure you have all the income and expenses," she said.
She has the same general advice as other financial experts: "Try and stay on top of it" when managing bookkeeping tasks.
Options for farmers to tackle these tasks keep growing. One of the latest, Basic Accounting, was released on Jan. 14 by Traction.
The new software is a cloud-based farm accounting application that helps farmers manage their day-to-day cash accounting transactions from any connected device including phones and tablets, said Brian Stark, one of the founders.
He said it is similar to QuickBooks, a program many farmers are comfortable with, but has farm-specific options. For example, it allows grain farmers to allocate costs to certain fields or crops.
"Farmers want integrated options," he said.
In the 1990s, Stark and fellow Traction founders, Ian Harley and Scott Nusbaum, helped build Farm Works Software, which was a leader with farmer-
friendly desktop software for any size of operation then. Needs have changed considerably since then. Now people want their programs available on their phones and tablets; desktops are too confining, Stark said.
He said this is just the first step — more advanced programs will be released for farm accounting throughout the year.
No matter the method used, the main thing is to avoid procrastinating on record keeping, according to Gary Schnitkey, University of Illinois ag economist.
"Most people have tasks that they don't like but are important. It might be talking to a person that you dislike about something that needs to be done. It might be checking on your retirement portfolio. Record-keeping is one of those tasks for many people," he said. "Ignoring those tasks don't make them easier or result in a better outcome."