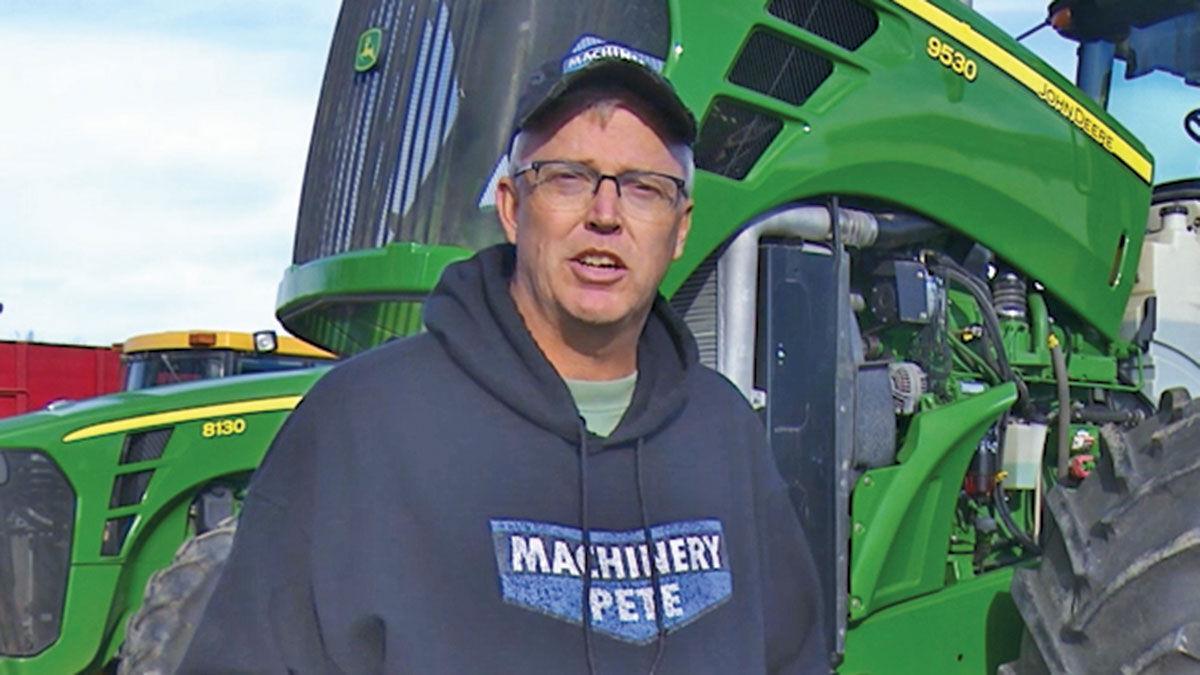 He goes by Pete. But his real name is Greg.
Greg Peterson, also known as Machinery Pete, has steadily gained a huge following over three decades as the guru of used farm equipment values. From a humble beginning in Minnesota, he has expanded his business across two countries and numerous platforms, including a television program on RFD-TV, where he travels to farm auctions all over to meet with buyers and sellers. Launched in 2014, it now airs on 50 affiliates across North America.
There are now more than 115,000 dealer- listed items on his website.
Peterson comes by his interest honestly. His father, Jerry, was a third-generation John Deere dealer in Benson, Minn. First and foremost, he is a numbers guy. He earned an accounting degree in 1988 from Gustavus Adolphus College. He has been married for 31 years to his wife, Jacque. They have two adult daughters, Meghan and Josey.
He recently discussed his life and business with IFT.
IFT: Where did the idea for this business originate?
Peterson: Back in 1989 I had lunch with my father and he slipped across the table this little price book. There was a banker at the Morris State Bank in Morris, Minn. He had been compiling auction prices in Minnesota. The bank needed hard cash valuations. My dad loved it because it took the guesswork out of it. These weren't average prices. They were specific, item by item. The banker was selling this business. My dad said, "I don't know what to do with this, but it's good information."
It wasn't even a business. He had maybe 100 subscribers paying $14 a year for this book, which was published quarterly. We took it over, and slowly got up to five states, 10 states, 12 states, and finally all over the U.S. and Canada.
IFT: This was back before the digital age.
Peterson: That's true. There was no internet, no cellphones, no YouTube, no nothing.
IFT: From the beginning you decided to go with a basic service covering virtually everything, didn't you?
Peterson: We made no predetermination about what we were going to report on, whether it's post hole diggers, weights, we didn't care. We had 70-some categories. We built it up to 1,100-plus auction companies in the U.S. and Canada.
IFT: Has your emphasis changed over the years? It seems that it has evolved from basic price listings to encompass other things.
Peterson: Slowly over a period of time people got to know me and I got to know them, which was also good because in addition to getting a sale price on an item, I would learn what kind of condition it was in. So we could add color to go with the sale price.
IFT: What are the most popular items on the used market today?
Peterson: I would say planters that have been retrofit are really hot. It makes them like new, basically. It really depends on the geography. When they're right, that gets some intensive bidding there. The ever-rising price of new is like a suction cup. It pulls everything up.
IFT: Is there a "sweet spot" for age and pricing of used equipment?
Peterson: There are two hot spots. On the front end, there is the one- to three-year-old stuff, tractors and combines and sprayers. You're writing a bigger check, but you're protected. The real hot spot you get out to nine-plus years old. It's the 10s and 11s and older. It doesn't matter what color it is. If it's in good condition and low hours, you're sitting on a gold mine there because everybody wants it.
IFT: It appears that the market is hotter than ever, despite the downturn in the ag economy. Why do you think that is?
Peterson: It's true that the market is very robust. It's super surprising, because obviously we're in tough times right now. But farmers understand that when times are tough more emphasis shifts to the good-quality used. The new keeps going up, up and up. It never stops. That makes that 15-year-old model tractor very popular. Even with COVID shutting down on-site sales, I was worried about what was going to happen because of all the cancellations. But it's been just the opposite. The auction industry just leaned in and said, we'll go with online bidding.
IFT: Would you agree that farmers have a personal connection with their equipment — especially tractors?
Peterson: Absolutely. Over the years I learned the powerful personal component with farmers and their machinery. I can talk all day about a combine, about trends up or down. They'll come up and say 'Hey Pete.' Then it gets personal. Now we can tell stories about the people and their connection to the machine.
IFT: With the increasing digitization of farm equipment machines and components, is that personal connection fading?
Peterson: Usually, about 90% of people say it's really changing. But I disagree. It's a human thing. I see it now on social media in particular. Farmers who are 25, you see their comments about tractor models 15 years ago. That has been really eye opening.
It makes me smile when I read a national story about Google driverless cars. To farmers, that kind of thing is old hat. The average age of the American farmers is older, but they don't get enough credit for their willingness to change over these past years.