OKAWVILLE, Ill. — Gone are the days when virtually every high school had home economics classes. However, that void is being filled in some schools thanks to 4-H.
Several high schools are participating in the Food Challenge, a cooking contest. Participating students are grouped into teams that are given a list of ingredients and charged with working together to produce tasty and nutritional dishes.
"I pick who I think would work well together," said Okawville High School teacher Haley Althoff. "They have these teams the whole time. So when judging comes, they're pretty well working together."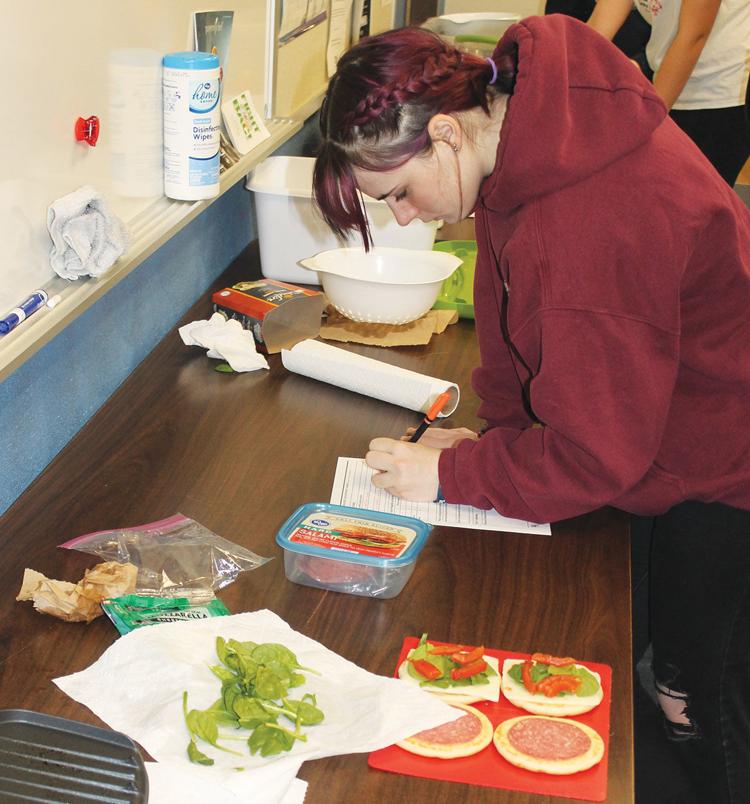 Okawville is among many schools throughout the state offering the competition. The contest spans two weeks, including eight days of cooking and two days of judging. The teams decide how to prepare the dish for that day, then provide information including ingredients, preparation methods and other details.
On a recent day in Althoff's classroom, the assigned dish was a chicken panini. One team's ingredients included lettuce, tomatoes, bacon bits, carrots, salad dressing and croutons. Strawberries were added to increase nutritional value.
One category on the worksheet is food safety. One team listed such acts as washing hands, separating foods while cutting, cooking the chicken thoroughly and keeping food refrigerated before it is served.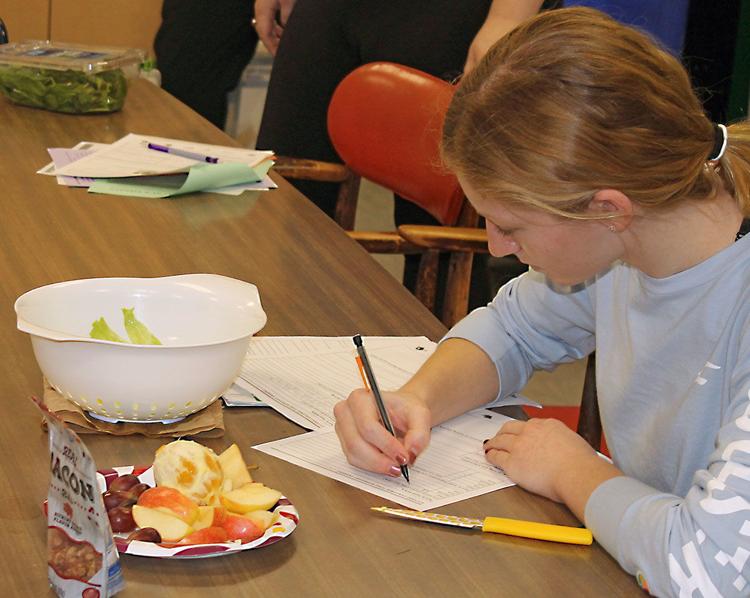 "Every day we make something different — salad, stir-fry, paninis," Althoff said. "Everybody makes that thing for that day. We give them a brief summary of how to make it and they get creative and figure out their own way of doing it. It's been good. They've all liked their food."
At the end of the challenge, teams face a panel of judges and present the featured dish itself, give a short presentation and answer questions about the dish they created. The final score reflects the team's comprehensive ratings for the day based on their nutrition knowledge, food preparation skills, food safety skills, and serving size knowledge, as well as the food's appearance, quality and presentation.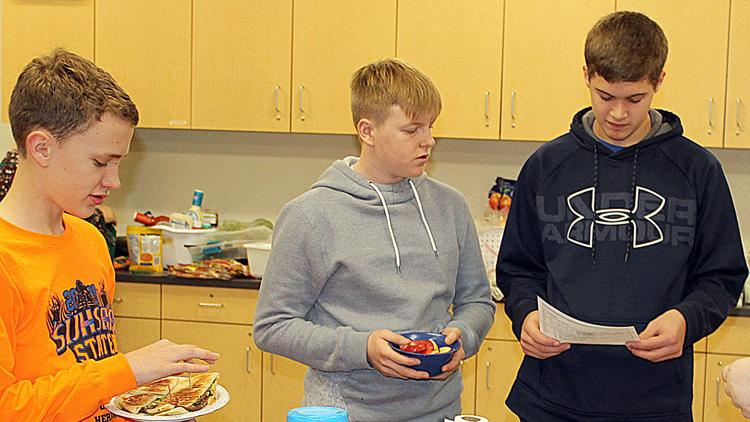 "They love it," Althoff said. "A perfect example is we always have at least one kid who's absent. But we haven't had any absences since we started this."
Donna Hesker appreciates the program. She was a home economics teacher at Okawville years ago, when it was offered as a credited course. She was forced to switch to another subject when the administration ended the program. Now retired, she serves as a 4-H leader.
She believes it is an important skill set that has been lost in today's world.
"No longer at home do we require our kids to do as much of the skill work that we used to," Hesker said. "And they've lost that ability to use those skills. Because of that, they wind up spending more money when they get out on their own, because they don't understand how not to spend money to make things work in the kitchen. They're spending a lot of money on pre-packaged foods and not getting the nutritional value they need.
"Our administrator said at the time that all students should be able to follow directions. He missed the whole part about managing the house, managing the kitchen. And that's what these kids need. A lot of schools did keep (home economics). And of those who kept it, those schools' children understand better about life skills."
Each school has its own take on the Food Challenge. In Emily Stille's class at Carlyle High School, the teams gave themselves whimsical names, including the Chef Boy Ardees and the Spice Girls.
---
Notes on the dishes
Students in Haley Althoff's class at Okawville High School prepared a meal a day during a two-week competition using a list of suggested ingredients. On a recent day they made paninis.
Here are sample meal plans presented following preparations of the dishes, in which they also provided information such as food safety and a list of nutrients.
Team A
Ingredients: Lettuce, cheese, tomatoes, croutons, bacon bits, chicken, carrots, strawberries, Italian dressing.
Nutrient knowledge: Fruit (strawberries, tomatoes): Provide vitamins and minerals for immune system, fiber for digestive health.
Healthy cooking methods: Washed hands before handling food. Separate foods while cutting. Didn't undercook the chicken. Kept food refrigerated until needed.
Team B
Ingredients: Ham, pineapple, pepperoni, spinach, pizza crust, cheese, pasta sauce
Nutrient knowledge: Ham, pepperoni: Muscle health Cheese: Bone health
Healthy cooking methods: "We chose spinach, which aids the immune system."
Team C
Ingredients: Tomatoes, spinach, grapes, apples, olives, naan rounds, hard salami, mozzarella cheese
Nutrient knowledge: Spinach improves digestion and naan rounds are a major source of energy.
Healthy cooking methods: Used olive oil instead of vegetable oil.