ROANOKE, Ill. — While many are getting pretty tired of their own cooking during the ongoing coronavirus pandemic, Valerie Yoder has no problem making family meals.
Nine ago she wrote a 900-page cookbook and is working on updating it for a second printing.
"I had a whole drawer of recipes," she said when citing the reason for compiling the recipes and adding photos to illustrate them. She quickly sold out the first 2,000 books.
Also making her meals fresh are plentiful locally grown resources including vegetables and meat from her garden, neighbors and family members.
And, the mother of six has plenty of experience in the kitchen. She started making pie crusts for a local restaurant when she was 18.
"In eight years I made 8,000 pie crusts," she said. She also has decorated a lot of cakes for the community over the years.
She sells some of her baked good at the family store, Yoder's Country Market, near Roanoke in Woodford County, just a few miles from the farm where she grew up.
The family opened its new central Illinois market on Feb. 7 this year, little more than a month before the coronavirus pandemic changed everything. Because their market is an essential business, they were able to remain open.
"We got a lot of support from the community," she said.
Produce from her own garden in season now includes green beans, apples and peaches. The beef, supplied by her brother at 7 K Cattle, has been very popular with people wanting locally grown meats.
Yoder said she learned many of her cooking skills from her mother and grandmother. In addition to pastry making and family meals, she enjoys canning. Her cookbook, like her mother's before her, includes canning recipes.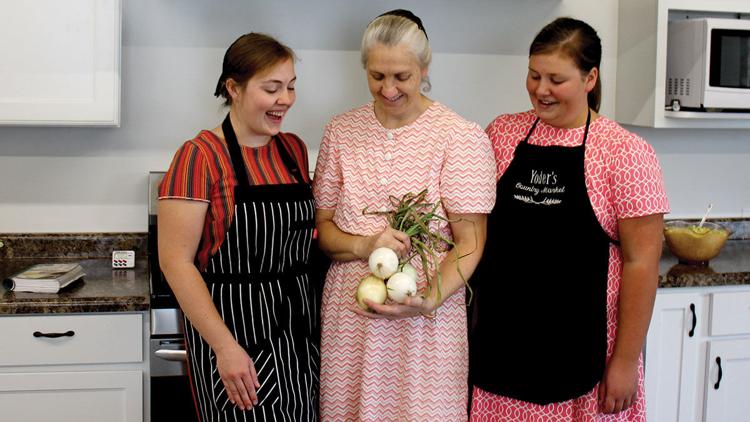 The tradition continues.
"My daughters love to cook more than I do," said the mother of three daughters and three sons.
Today she shares some recipes from her 2011 "Simply Tasteful: Favorites from the Yoder Family" cookbook. She is now updating the cookbook and hopes to release the second printing before Christmas.