COBDEN, Ill. — To Gerardo "Jerry" Jimenez, peppers are virtually a necessity.
"Being from Texas, being Mexican and being poor, that's part of our staples," he said. "Rice, beans and peppers."
Jimenez never set out to become a niche farmer. He had a long, successful career in public service as a supervisor with the Illinois Department of Human Services in the Disability and Rehabilitation division. He served as administrator of a district comprising 52 downstate counties.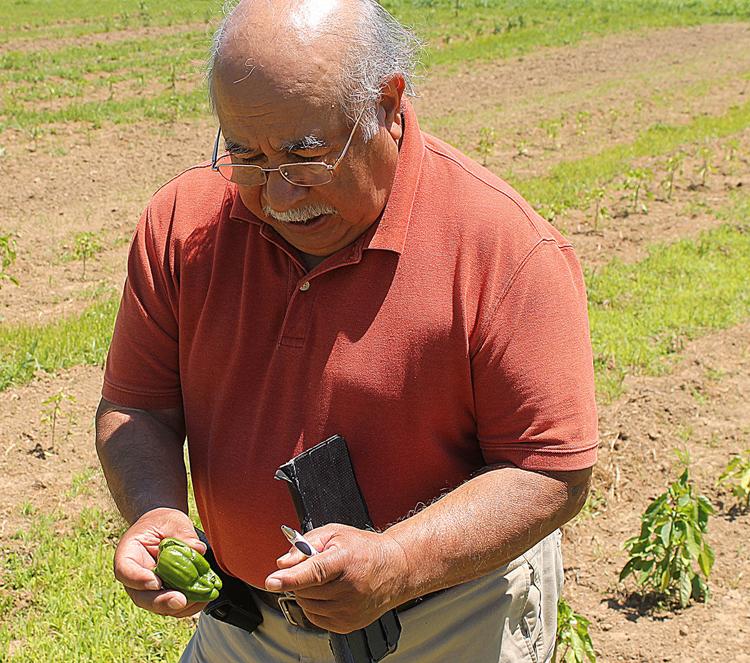 He and his wife, Carol, purchased a few acres deep in southern Illinois, among the rolling hills of Union County. In 2003, when it came time to retire, they were looking for something to keep them busy.
"We had land, so we decided to try something," Jimenez said. "She wanted to plant peaches, apples and strawberries. I said, 'Everybody's doing that. Let's plant peppers instead.'"
They started with three acres.
"That's a lot of peppers," he said. "We didn't have a market for them. We lost a lot and gave a lot away."
He eventually found a market.
"I knew Chicago. They sold in the Chicago area, but that's far from here," he said. "I had friends in Chicago. I'd take my pickup there and they'd help me sell the peppers."
Soon Jimenez began processing his peppers, producing salsas and spiced jellies. He put out a shingle with the micro farm's name, Darn Hot Peppers, and pushed his products at farmers markets, food shows and other venues.
Before long the hobby became a thriving concern.
"I never thought that I would get into the pepper business," he said.
Indeed, he grew up poor in southeastern Texas to Mexican immigrants. He pulled himself out of poverty by getting an education at Southeastern Oklahoma State University. A desire to make some extra money brought him to Illinois during summer break.
"Jolly Green Giant in Belvidere was recruiting college kids looking for work," he said.
That was his introduction to Illinois, where he later landed a job with the state rehabilitation agency. The position took him to southern Illinois, where he became familiar with the migrant community working in the region's orchards.
Soon he opened an office in Anna in Union County to assist migrant farm workers with disabilities.
He grew about 20 varieties of peppers on his small farm, from mild bell peppers to varieties that curl the tongue.
"I eat mostly the cayenne, the Thai and the jalapeno," Jimenez said. "I don't go for the real hot ones."
The business served as school of sorts for customers who hadn't given the humble pepper a lot of thought. Besides three kinds of salsa, Jimenez sold six types of pepper jellies. He even made pepper-infused chocolate chip cookies.
"People were cautious, but they were coming back for more," he said. "They weren't real hot, but they had a bite to them.
"We educated people on how to do different recipes. We started processing. People did not know about pepper jellies much then, but I did. The majority of our income was from canning and processing."
They also dried and ground peppers, making custom spices. Soon his customers were experimenting on their own, and sharing their successes with Jimenez.
"They would grow the ones they know, then different things with them," he said. "They'd bring them in and say, 'Jerry, I made this salsa. What do you think?' We learned a lot from the folks."
Jimenez eventually wound down his business and "retired from his retirement." But he hasn't given up on his favorite food. He still grows about an acre of peppers.
"You just can't stop," he said.