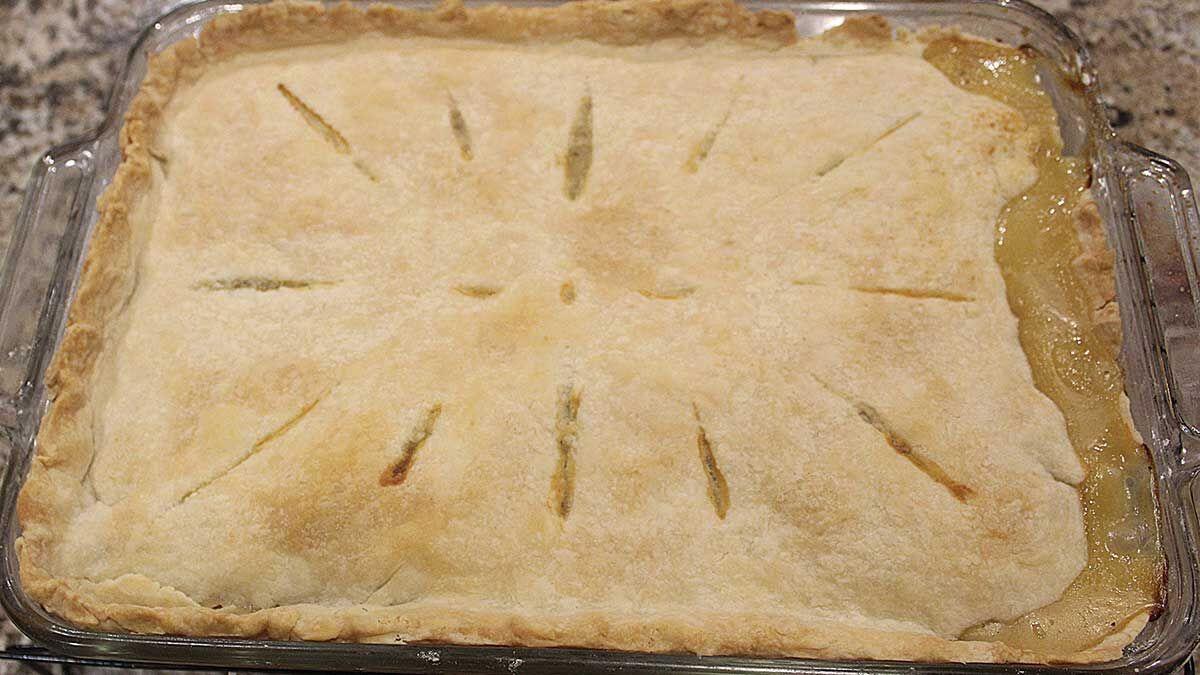 Makes 3 9X13-inch pans.
For filling:
Meat from 2 WondeRoast (rotisserie) chickens
4, 12-oz. packages of frozen carrots and peas
2 onions, chopped and sautéed
32 oz. chicken broth
60 oz. chicken stock
1 C. flour (make a roux with some of the broth before adding it)
2 tsp. salt
4 T. plus 1 tsp. of St. Elmo Steak Seasoning
Sauté onions in a small amount of olive oil. In a bowl, whisk flour with 2 C. of broth. Gradually add more broth until all is used. Put in large stock pot on stove with onions and remaining ingredients except chicken. Cook until hot and bubbly, stirring to prevent sticking. Add cut-up chicken pieces. Pour mixture into the three pans, dividing evenly.
For pie crust:
4 1/2 C. flour
1 1/2 tsp salt
1 T. plus 1 1/2 tsp. sugar
1 1/2 C. plus 3 T. lard
3/4 C. plus 2 T. water
Put dry ingredients into large mixing bowl and whisk until blended. Add lard and cut into flour mixture until crumbly dough holds together when pinched. Add water and mix until it can be shaped into three balls. Roll out each ball onto floured parchment paper until about 1/8- to 1/4-inch thick. Lay crust on filling and bake at 375° for 45 minutes, or until golden brown. Serve with recommended sides of mashed potatoes, corn and cranberry sauce.