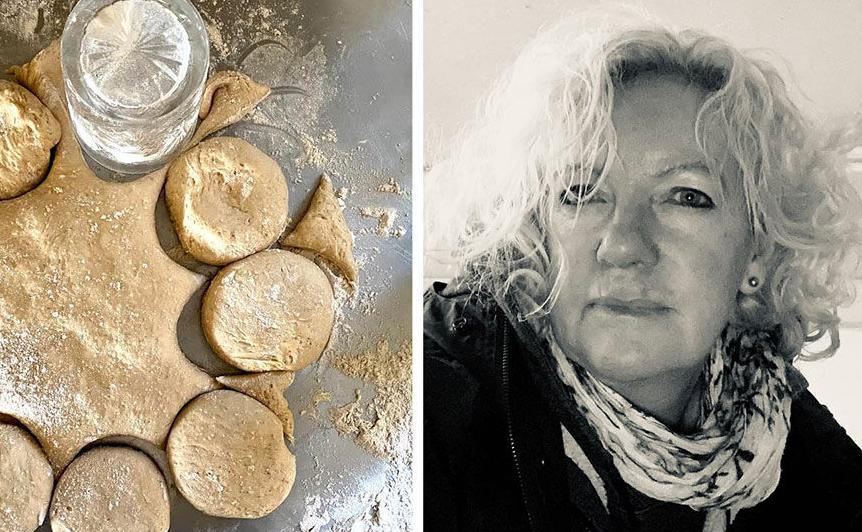 As a baking troubleshooter, Cecilia Gunther often saves the day for home bakers, especially during the COVID-19 pandemic.
She is the customer care manager for Janie's Mill. She tests the company's flour and recipes in her own kitchen at home and fields calls from bakers having trouble.
The organic flour mill, in Ashkum in eastern Illinois, saw a boom of new home bakers last year when suddenly everyone was quarantined at home and had more time in the kitchen.
Sometimes Gunther gets a basic question, like "Why is my bread brown?" The answer: Usually because the baker used whole grain flour instead of white flour.
Other times a baker has a specific need and wants to make something with the ingredients they have.
"If I can't find the right recipe, I create it," Gunther said. "I was asked by a home baker the other day whether I had a recipe that her children could use for toast and that her husband could make into sandwiches for lunch. I asked her what she had in the fridge and what kind of bread they like to eat."
This particular caller had all-purpose flour and high protein bread flour and a few other small bags.
"What do you like to eat?" is the most important question she asks callers, Gunther said. This home baker had specific wishes for her bread.
"The family wanted a pan loaf, no big holes, soft on the inside and not too crusty," she said.
So, Gunther wrote a Family Sandwich Bread recipe.
Sometimes it takes a couple of weeks of calling and baking to get the perfect recipe for someone. There are differences in flour, water and ovens which affect the final product.
"It's important for me that they succeed," said Gunther, who grew up in New Zealand.
She originally came to Iroquois County in eastern Illinois looking for an organic grower to farm her mother-in-law's land near the mill. She found Janie's Farm, operated by the Wilken family, fifth-generation farmers using certified organic and regenerative farming practices. Soon the Wilkens were farming her land and she was the retail manager at Janie's Mill, which uses Janie's Farm grain and that of other local farmers with the same mindset.
Sometimes Gunther and a caller end up collaborating on a recipe. She gives the example how her new English muffin recipe was created.
"A home baker called me one Friday and asked if I had a recipe for English Muffins. I did not. Horrors! So she and I decided to have a bake-off over the weekend. She baked her old recipe and after some research and some figuring, I baked mine and we had a virtual 'show and tell' on Monday. I adapted a little of her recipe and she adapted a little of mine," Gunther said.
Gunther also writes a blog and posts pictures of her bread creations using Janie's flour. She has one overarching rule.
"I hate fussy food," she said.
You can chat with her at cecilia@janiesmill.com or connect with other home bakers through the Janie's Mill bakers group on Facebook.